Manu on February 27th, 2014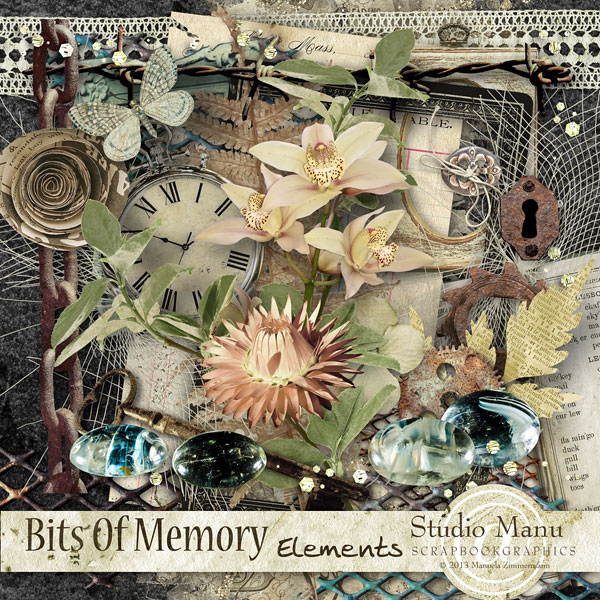 My Guest Spot at DigitalScrapper is slowly coming to an end and here is my last release.
It is called Bits Of Memory – on sale for 20% off as usual.
In addition to the page kit there is a set of Clusters and Stamps.
Loved playing with the kit so much. And I'm also so excited to show you what my CT
created with that Kit – absolutely amazing!
Bits Of Memory – Page Kit 20% off
Bits Of Memory – Clusters 20% off
Bits Of Memory – Stamps 20% off
Previews:
In the papers pack are included 6 main papers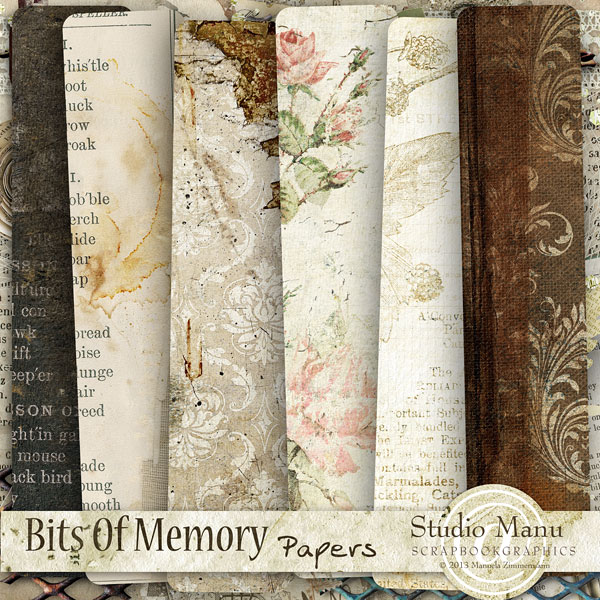 …. and 7 extra papers (modified versions of the originals)
see them all on the previews below: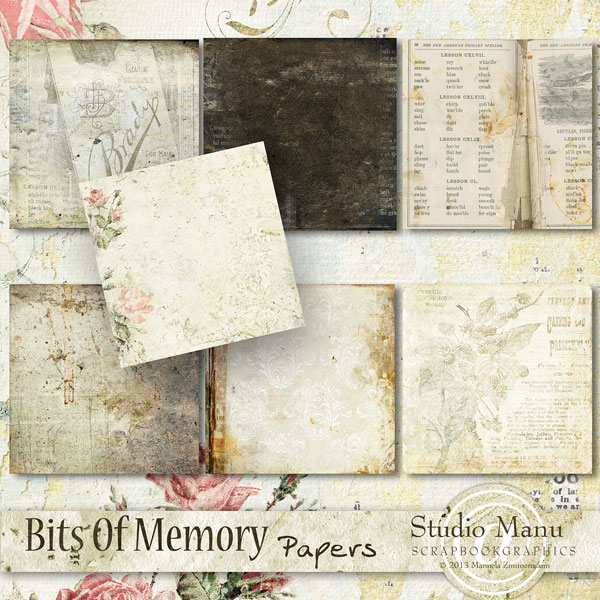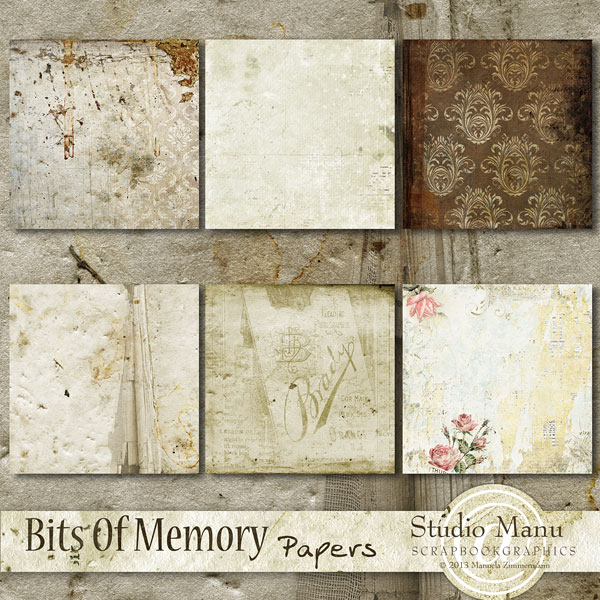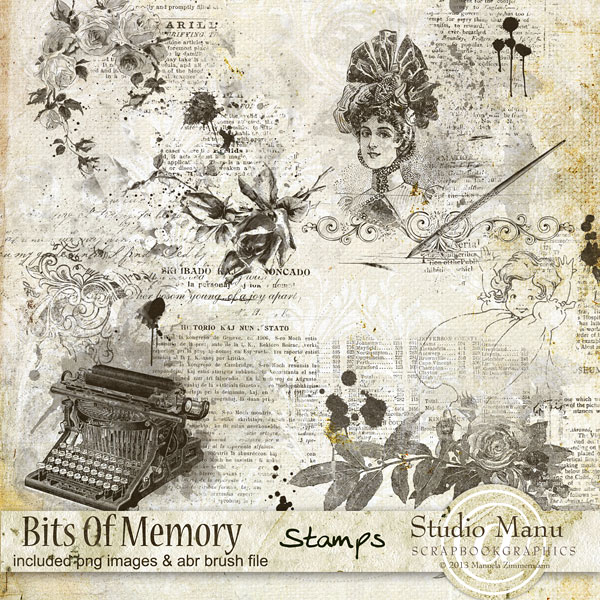 Sample Layout using Stamps – by Yvonne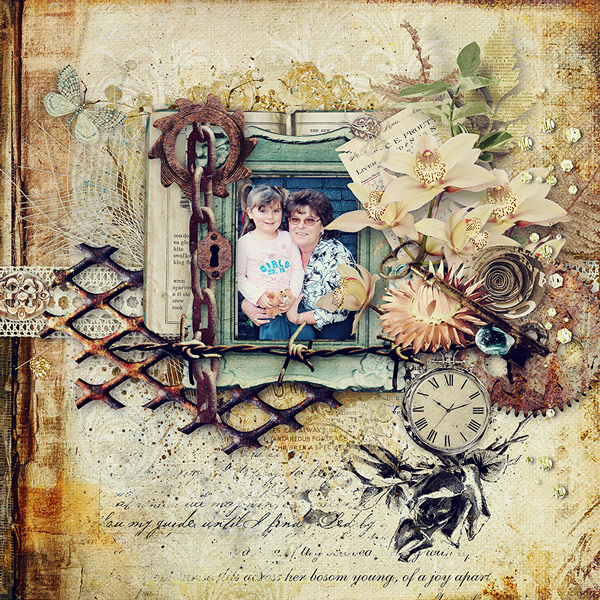 A set of 6 Clustered Elements made with the *Bits Of Memory* Page Kit ready for you to use. Shadows already added.
6 Clusters come without frame and
6 Clusters come with already frame added (Frame Clusters)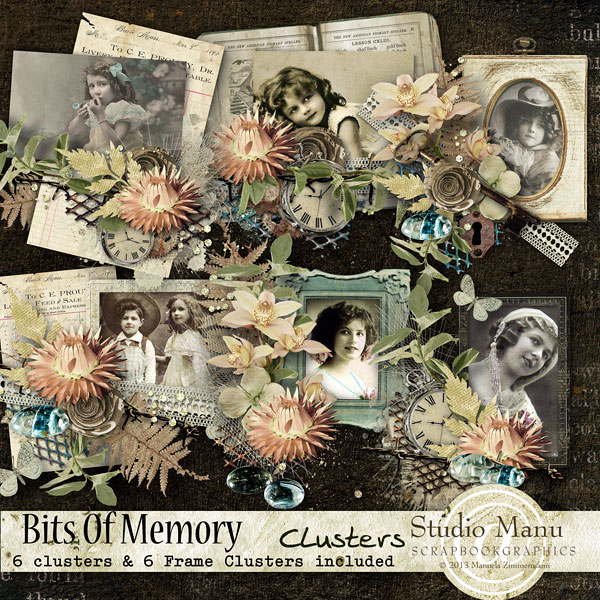 Preview without Frames: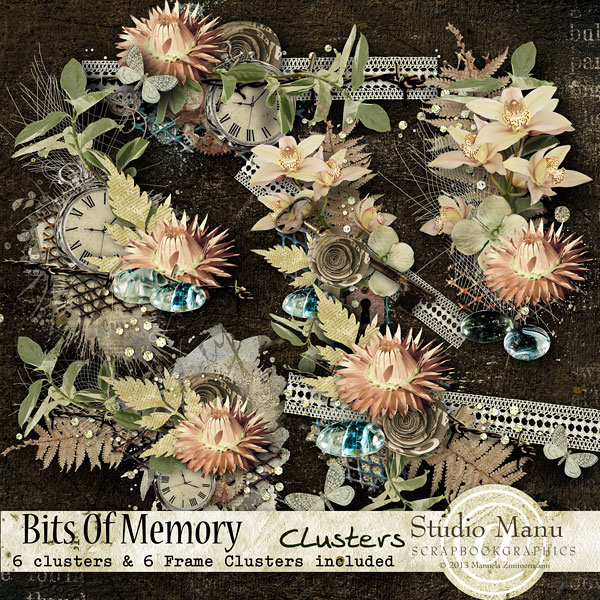 Sample Layout using Clusters: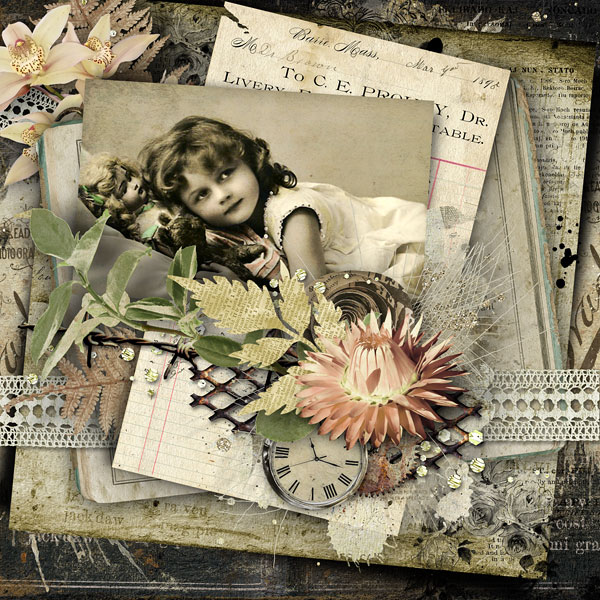 Papers and Elements are also separately available
Check Out the entire Collection here
Inspiration
By Nathy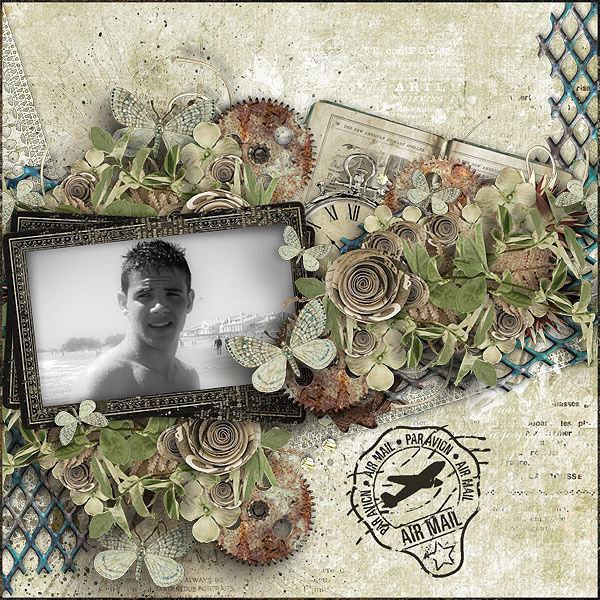 By Yuki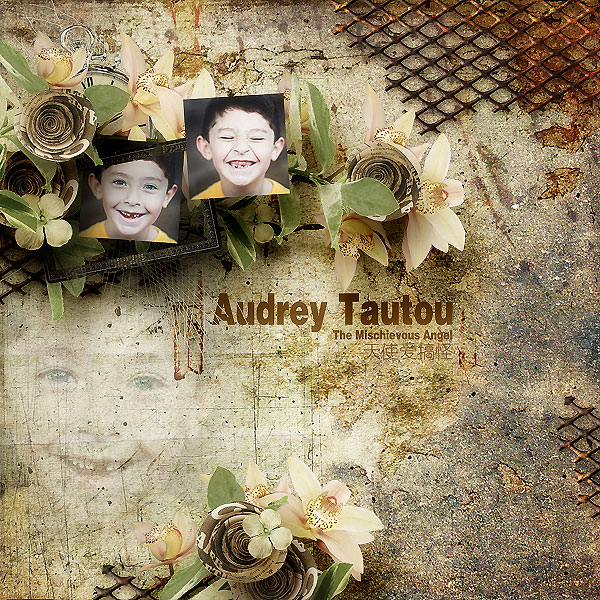 By Sandra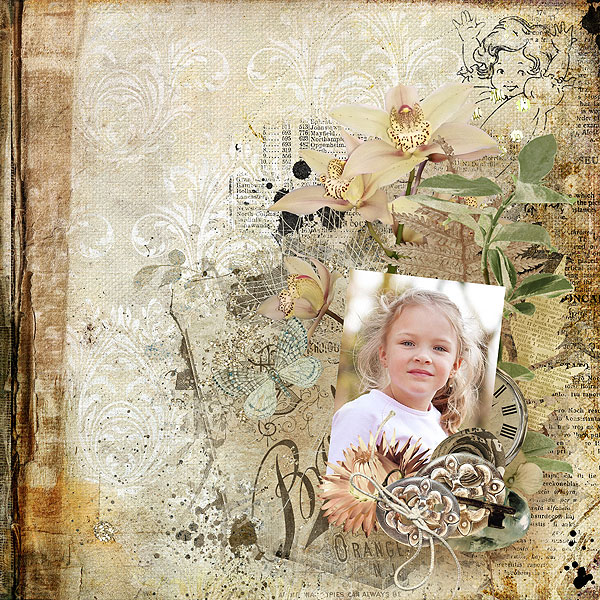 By Yuki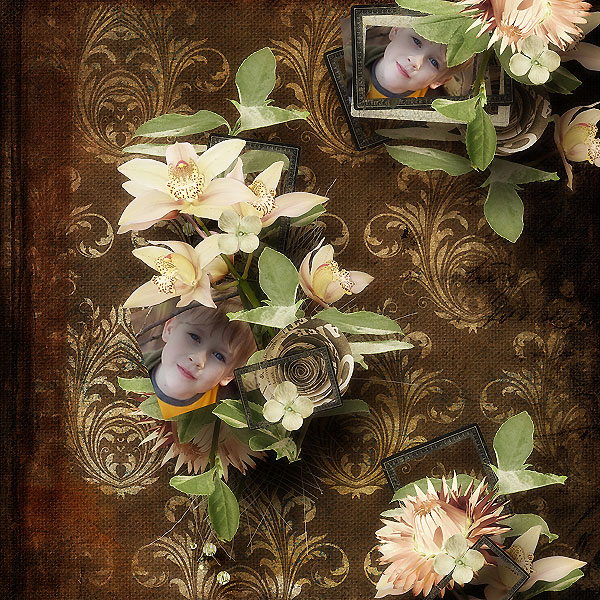 By Cath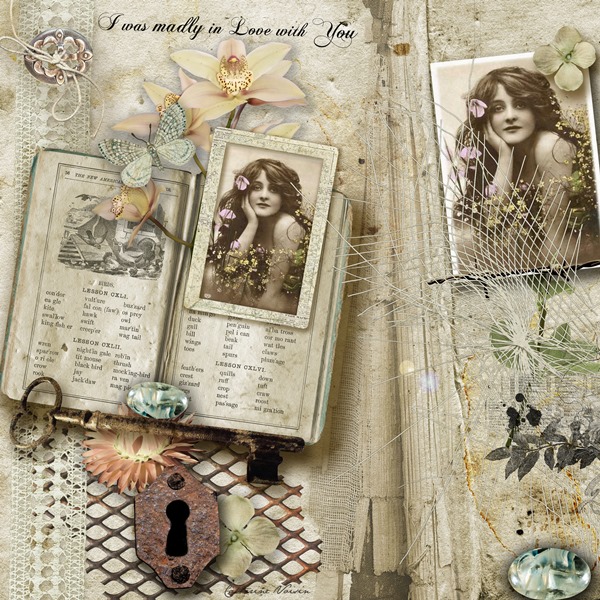 By Tracey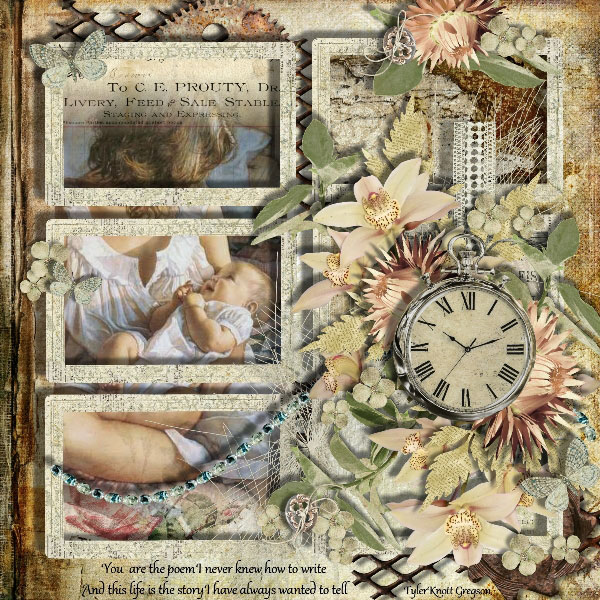 By Jacqueline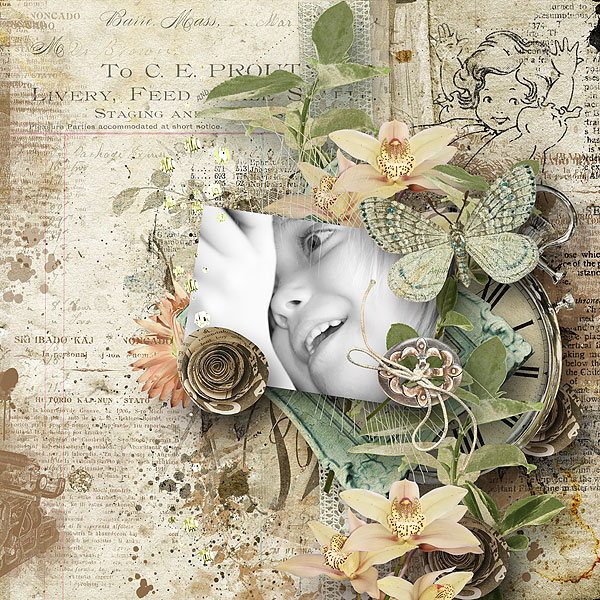 By Yuki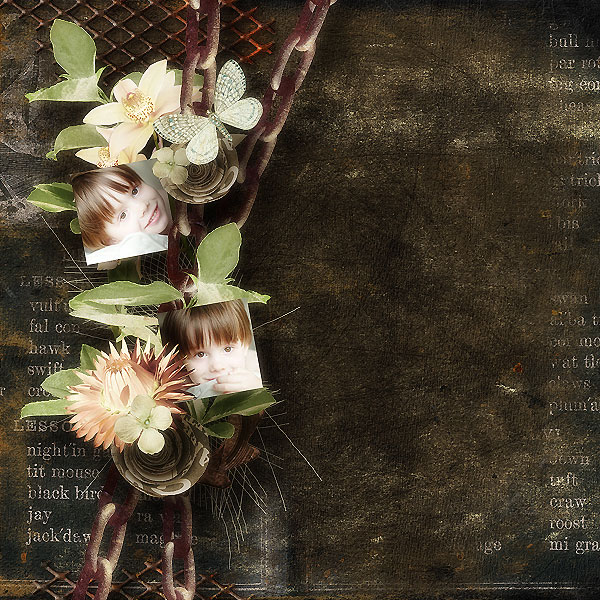 Newsletter Freebie
Today's Newsletter Freebie comes later this day and it comes from Nathalie.
She created a wonderful QUick Page for you and added also a cluster for you toplay with.
Absolutely amazing! Thanks to Nathalie ♥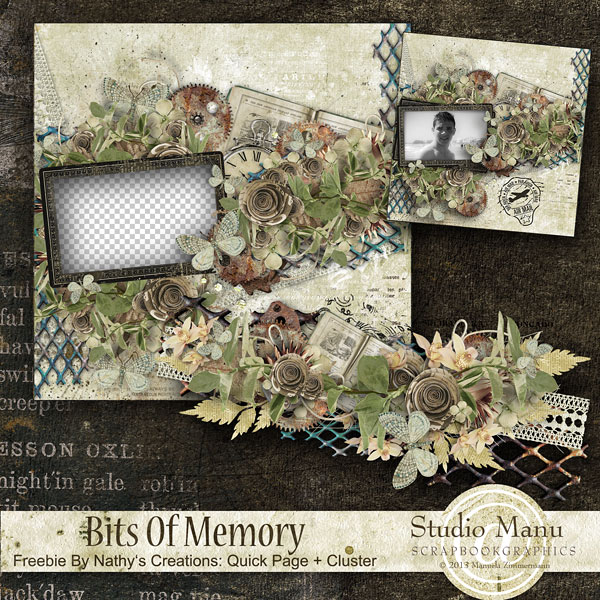 2 Blog Freebies
And today you will get two amazing Freebies from two even more amazing ladies

The first is this another wonderful Quick Page by Jacqueline. This girl is just too awesome.
Always love the way she uses the stamps – Thank you so much, Jacqueline: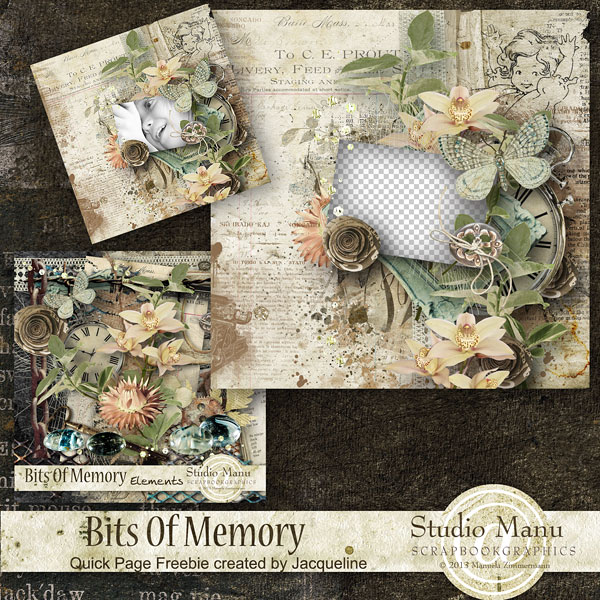 And another super stunning Quick Page comes from the super talented Yuki!
Always, always, always love her really unique pages.
Thank you very much, Yuki ♥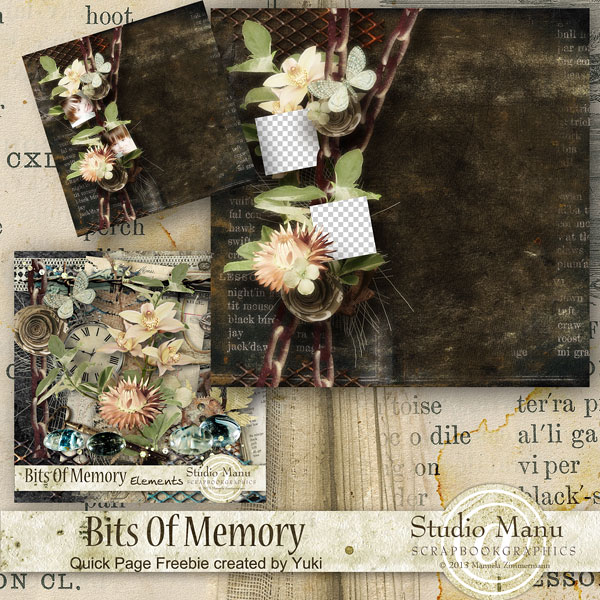 Tags: clusters, digital scrapbooking, frame cluster, freebie, guest spot, quick page, vintage scrapbook kit
Manu on February 27th, 2014
This never happened before – End Of Winter Sale @ Studio Manu.
All Xmas & Winter products are at least 50% off,
Bundles are up to 72% off
Sale ends: March 8, 2014
The newest Xmas and Winter Items (A Sparkling Christmas & Snow Wonder Collection) are not included in sale!
In fact, Winter here never arrived this time. I know some of you had much more of this white stuff  than usual and I know some of you can't see the snow anymore.
We had about one week snow. It felt most of the time like Spring and I should be happy about it, cause I'm definitely not a Winter Girl. But for the kids I wished they had a bit, a tiny little bit more snow

Okay … let's hope for an amazing Summer and for now enjoy the End Of Winter Sale!
Check out the Winter Products here
Check Out the Christmas Products here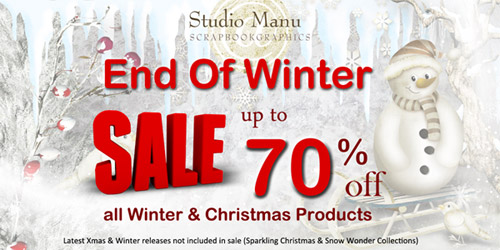 Tags: christmas, End Of Winter Sale, Studio Manu, winter, xmas
Manu on February 20th, 2014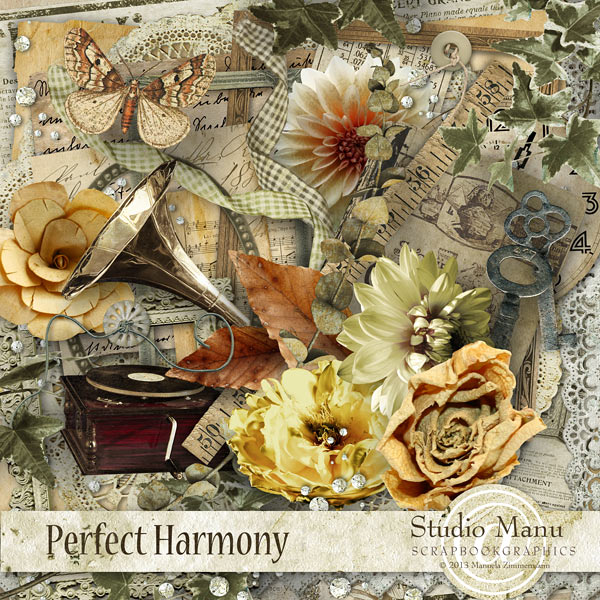 Hi everyone, I'm so excited to show you my 2nd release in my guest store for the month of February.
This one was so much fun, the colours are very harmonic and so I called it: Perfect Harmony!
In addition to the Page kit there is a set of wonderful vintage stamps and also stunning Quick Pages.
You have to look at all those beautiful CT pages – and I got a lot of them.
Each set is on sale 20% off only for a limited time
Perfect Harmony – Page Kit
Perfect Harmony – Quick Pages
Perfect Harmony – Stamps
Perfect Harmony – Papers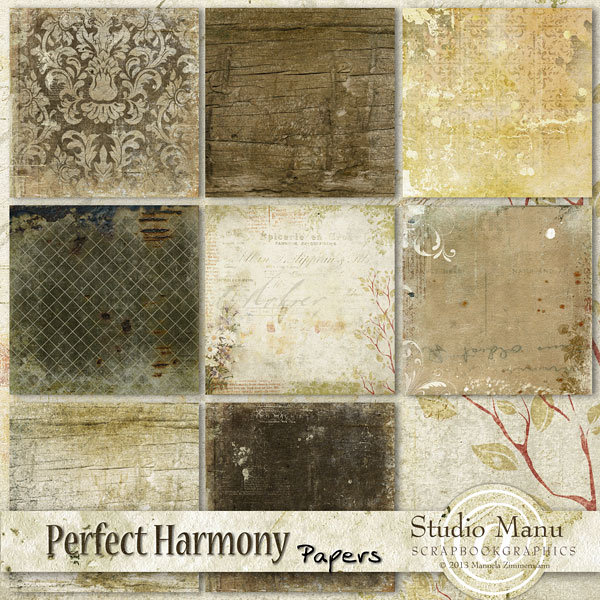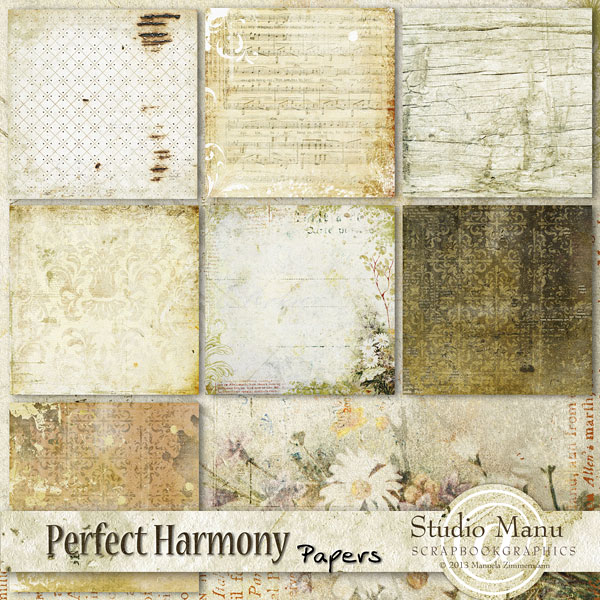 Included are .png images and .abr brush file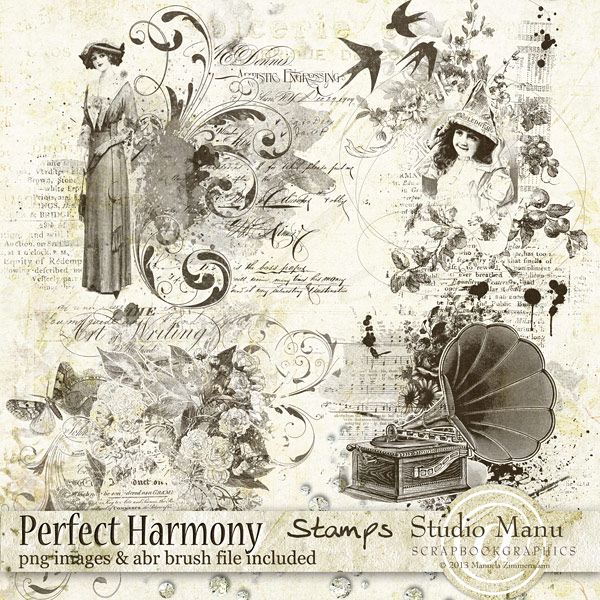 Sample Layout by Cath using the Stamps: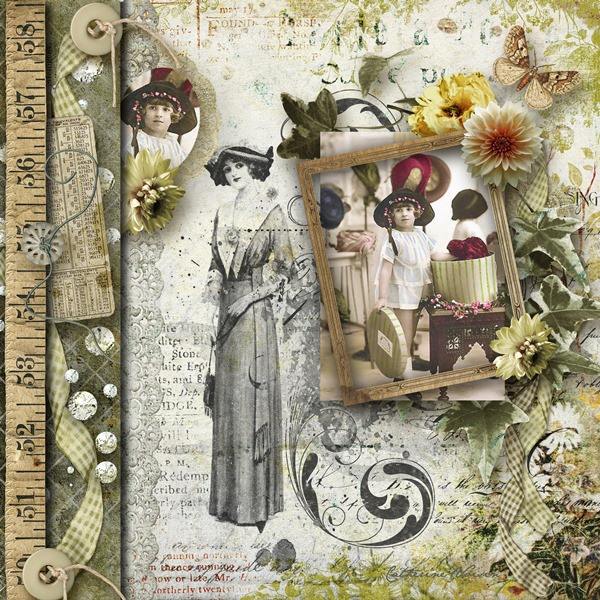 A set of 4 beautiful Quick Pages created with the Perfect
Harmony Page Kit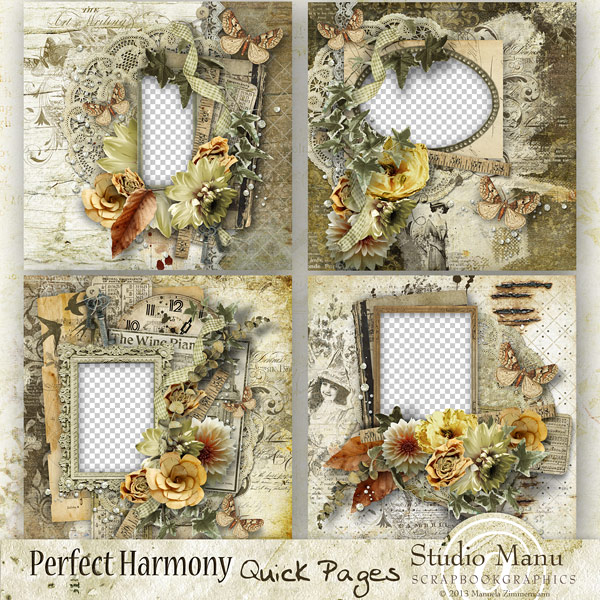 Sample Layout – Quick Pages: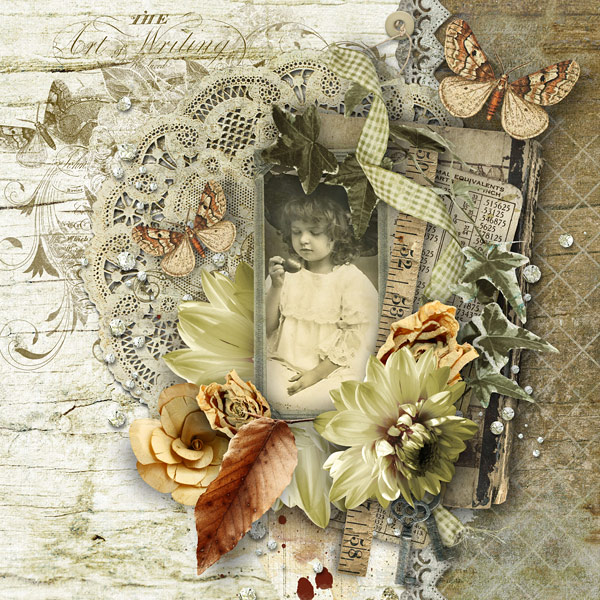 Papers & Elements are also separately available!
Check out the entire Collection here!
Inspiration:

Such super wonderful pages created by my CT Girls, they did a wonderful job showing the kit in action.
I got so many pages this time and Imyself made 4 pages so I can't show each one by one:
By Janet, Cath, Jeannette, Jacqueline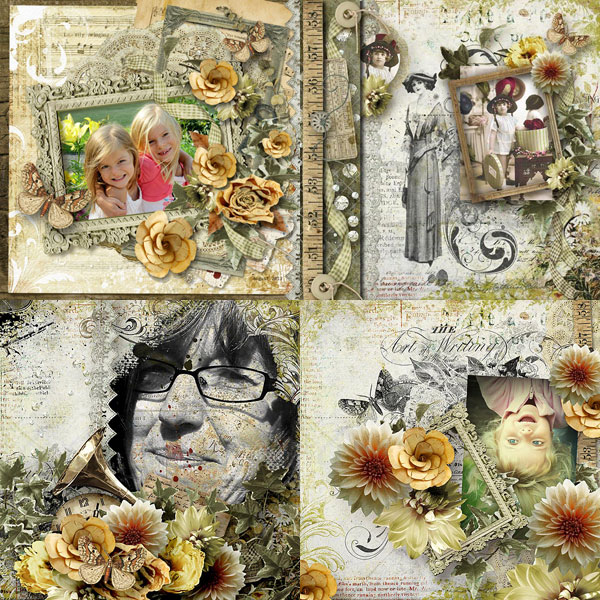 By Yuki, Manu, Tracey, Janet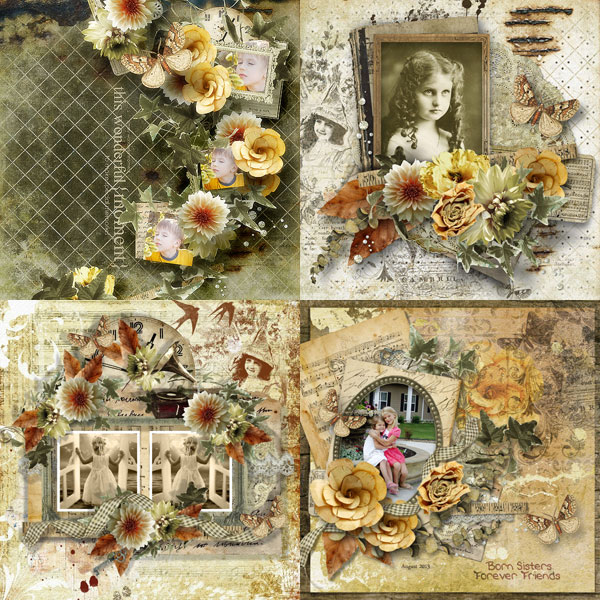 By Manu, Cath, Nathy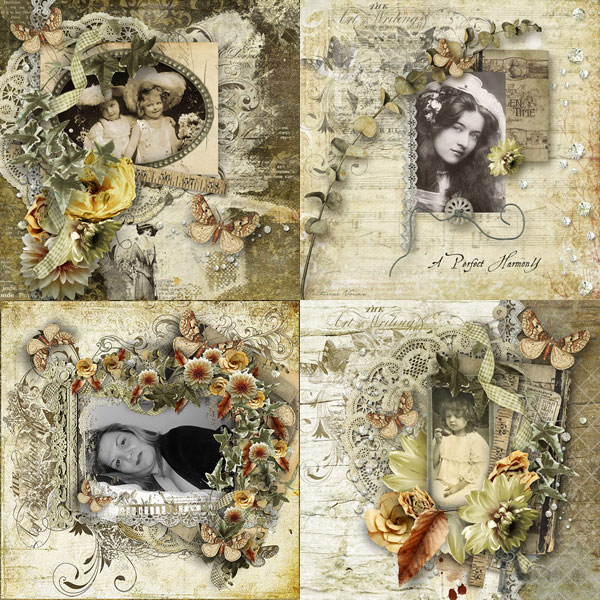 By Janet, Irene, Yvonne, Tracey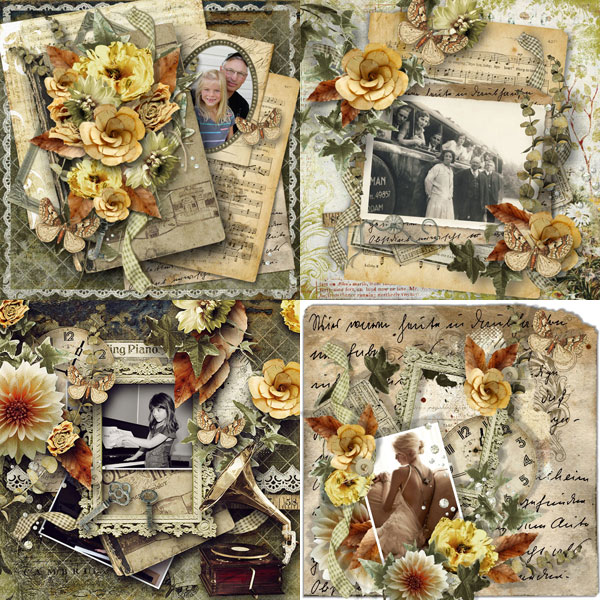 Winner!
First let me say I so much appreciate all your wonderful comments – OMG, you are so awesome!
Many, many BIG thanks!
Unfortunately only one can win the collection (usually), but this time I chose 2 winners and
also only this time I've not used the random generator.
The winners are Roberta (comment 16) and Susan (no. 36)
Congrats girls, I'll email you shortly

Newsletter Freebie
Later this day all Studio Manu Newsletter Subscribers will get an amazing Freebie created by Nathy!
She made a wonderful Cluster Pack for you. Included you'll find 2 Frame Clusters and 2 Deco Clusters to
add to you pages and make them "shining"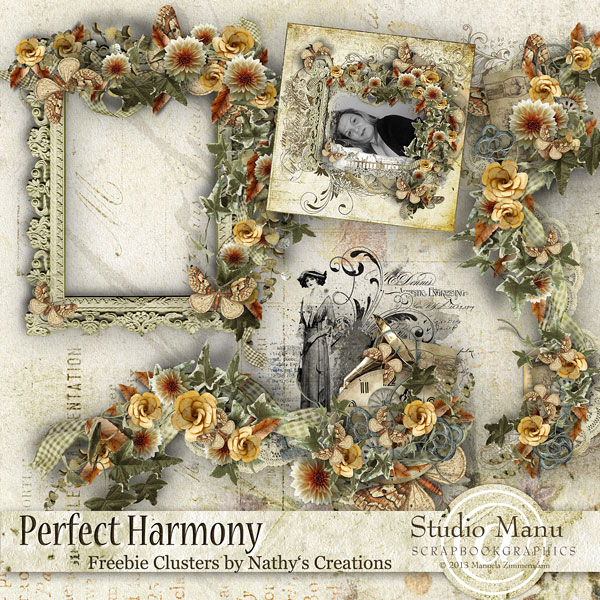 Thank you Nathy

Blog Freebie
This time you can get right here an absolutely wonderful Quick Page
created by Jacqueline!
Here is her layout, I so much love her pages and she always has those beautiful photos: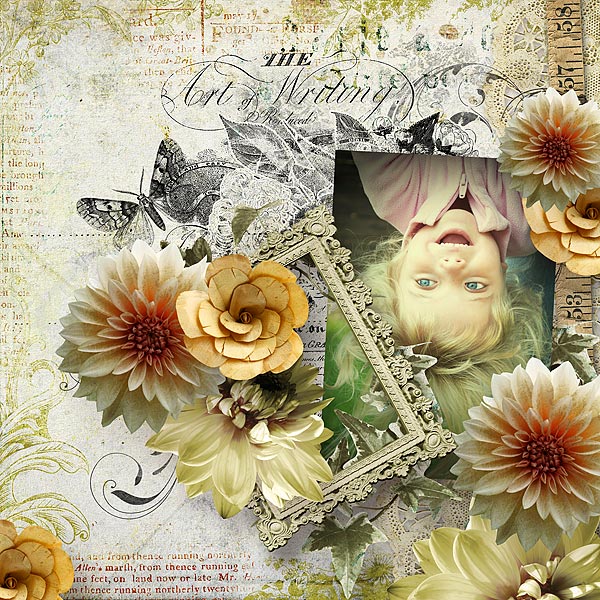 And she turned it into this beautiful Quick Page:
Click the image to download or the link below the preview!
Thank you so very much, Jacqueline!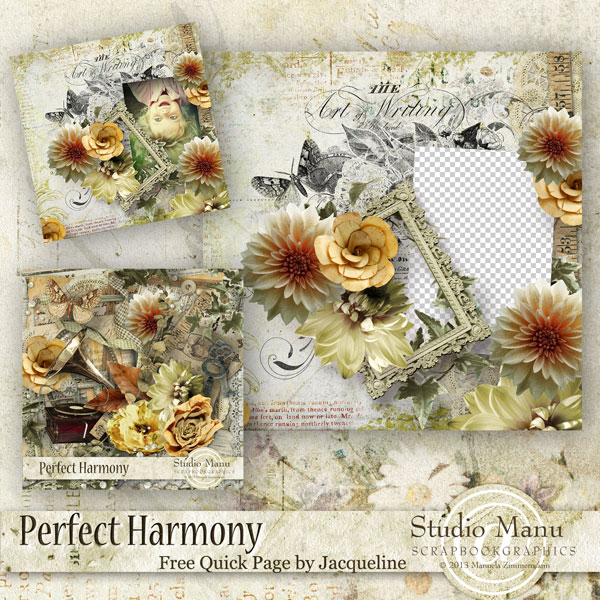 Enjoy the rest of your week

Tags: brushes, freebie, guest store, page kit, perfect harmony, quick pages, stamps, vintage