Was bedeutet Scrapbooking?
Man unterscheidet beim Scrapbooking zwischen 3 Formen:

traditionelles Scrapbooking

digitales Scrapbooking

Hybrid Scrapbooking

Scrapbooking is classed into 3 different kinds:

traditional scrapbboking

digital scrapbooking

hybrid scrapbooking
Traditionelles Scrapbooking

Wörtlich übersetzt ins Deutsche heißt Scrapbooking Schnipselbuch.
Die Fotos werden dabei auf Seiten oder in Alben (in sogenannten Scrapbooks) aufgeklebt und mit passenden Dingen, wie z.B. Hintergründen, Rahmen, Blumen, Schleifen, Bändern, Klammern usw. verziert. Je nach Anlass kann man auch Eintrittskarten z.B. von einem Konzertbesuch oder Flugtickets von einem Flug in den Urlaub oder Muscheln als Mitbringsel aus dem Urlaub auf/einkleben.
Der Fanatsie sind dabei keine Grenzen gesetzt.

Traditional Scrapbooking

Scrapbooking means you preserve your personal and family memories in form of photographs in decorated albums, so-called scrapbooks.
Photos are sticked on a layout or album and embellished with coordinating things like bows, frames, eyelets, ribbons and so on. As background are used papers.
According the event that need to be scrapped are also used tickets such as a concert visit or flight tickets you got while traveling or seashells as a souvenir from your last trip.
The possiblities are endless.
Digital Scrapbooking

Mit Beginn der 2000er Jahre entdeckte man das digitale Scrapbooking.
Dabei werden die Seiten / Layouts am Computer mittels eines Grafikprogramms erstellt.
Genau wie beim traditionellen Scrapbooking verziert man auch hier die Fotos und Seiten mit Beiwerk, wie Schleifen, Bändern, Hintergründen, Rahmen usw. nur das alles in digitaler Form vorliegt.
Man kann sein Werk dann entweder selbst ausdrucken und mehrere Seiten zu einem Album zusammen binden oder eines von den zahlreichen Onlineangeboten, z.B. snapfish, shutterfly, zum Drucken und Binden nutzen.

Digital Scrapbooking

With the beginning of the 2000ers scrapbboking become also famous in digital format.
Usinf this way means you create the pages /layouts on your computer using a graphic program. Just as traditional scrapbooking you also use different things like bows, frames, ribbons, eyelets, flowers and so on to embellish your pages, only that is everything digital.
After you finished your digital scrapbooking layout you can print it and together with other pages you can bind everything together to album or scrapbook.
You also can use one of the numerous online offers like snapfish or shutterfly to print and bind your pages as albums.
Digital Scrapbooking Layout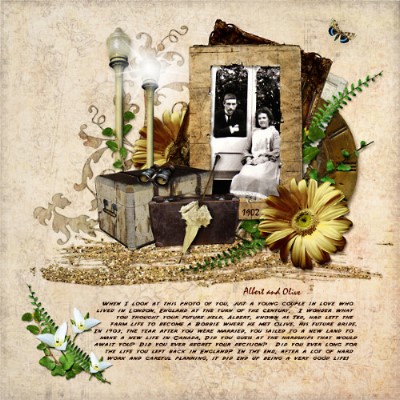 Hybrid Scrapbooking

Dies ist eine Form in der man die beiden anderen Scrapbookarten kombiniert.
Man kann z.B. am Computer digital scrappen, das Ganze ausdrucken und mit traditionellem Scrapbooking Material vollenden.
Oder man druckt sich nur einen schönen Hintergrund aus und scrappt dann traditionell weiter.

Hybrid Scrapbooking

That's a kind where you combine both versions of scrapbooking.
For example you can scrap on your computer, print what you created and finish your project with traditional scrapbooking material.
But you also can print just a digital paper and use it to decorate your layout with traditional scrapbooking embellishes.