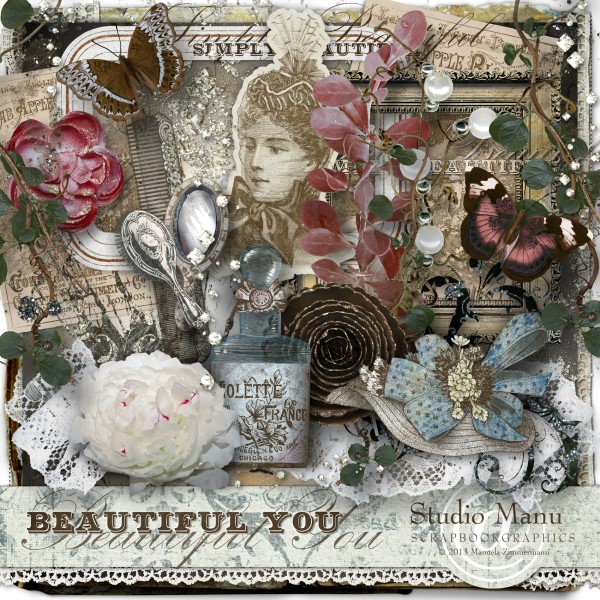 Hi everyone and Happy Weekend!
This week I have a wonderful scrapbooking kit for us women – or for a very special person in your life. It's all about the beauty of a woman or girl. Includes everything you need to make a prettiness: hairbrush, comb, perfume bottle, mirror,  hat, fashion woman (sketch), sparkles, beads, lace, glittery overlays and flourishes … and of course to complete the page kit it has 5 background papers and 5 extra papers (which are modified versions of the originals), you can take a deeper look on the previews below.
Additionally to beautify also your scrapbook layouts there is a set of amazing stamps embellished with fashion and beauty things in a pretty vintage style.
Beautiful You – Page Kit
Beautiful You – Stamps 
*******
Hallo zusammen und ein schönes Wochenende wünsche ich euch!
Diese Woche habe ich etwas für uns Mädels oder für einen ganz speziellen Menschen in eurem Leben. Es geht um alles was das Frauenherz begehrt und mit Schönheit zu tun hat. Das Kit beinhaltet unter anderem eine Haarbürste, einen Kamm, einen Spiegel, ein Hut darf nicht fehlen, eine Frau oder Lady als Zeichnung, vieles was glittert, schimmert, scheint, Perlen an einem Ast, Bordüre (Spitze), Overlays und Flourishes …. und um das ganze Kit komplett zu machen natürlcih auch noch 5 Hintergründe + 5 extra Papiere (abgeänderte Versionen der Originale). Kann man gut auf den Vorschauen weiter unten sehen.
Und damit ihr auch eure Scrapbook Layouts noch etwas verschönern könnt, habe ich noch ein set mit wunderschönen Stamps gemacht, verziert mit modischen Sachen und schönen Dingen. Das ganze in einem tollen Vintage Style.
Beautiful You – Page Kit
Beautiful You – Stamps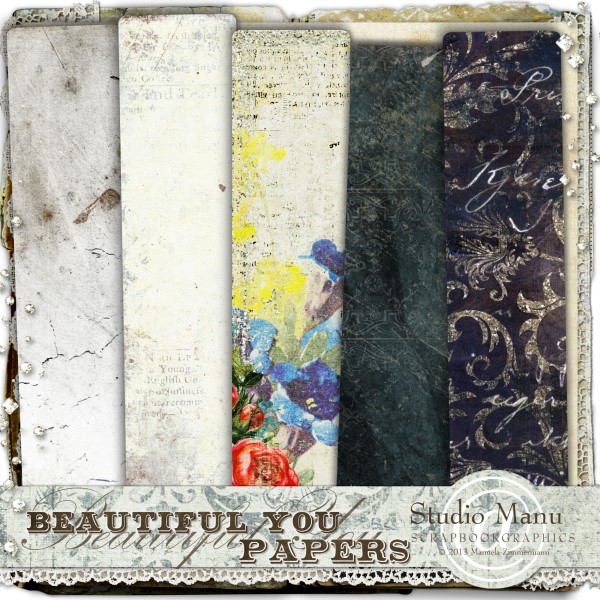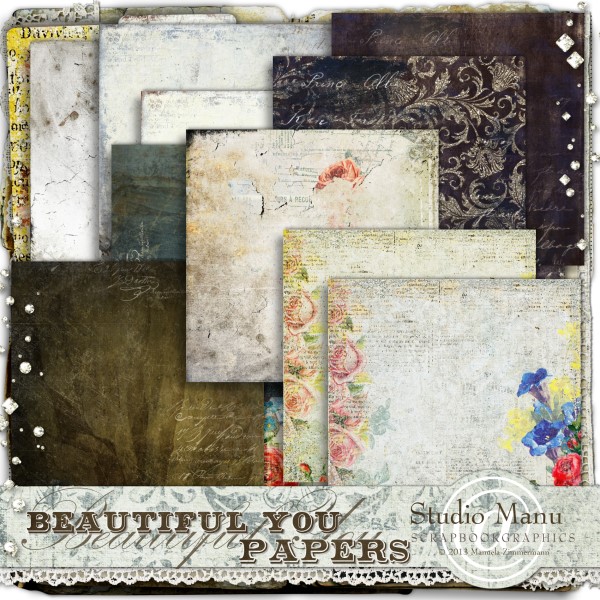 These stamps are the perfect addition tothe Beautiful You Page Kit.
Let your layouts stand out!
Embellished with antique fashion and beauty things, jewelry, antique text/words, flourishes … distressed with an awesome vintage look.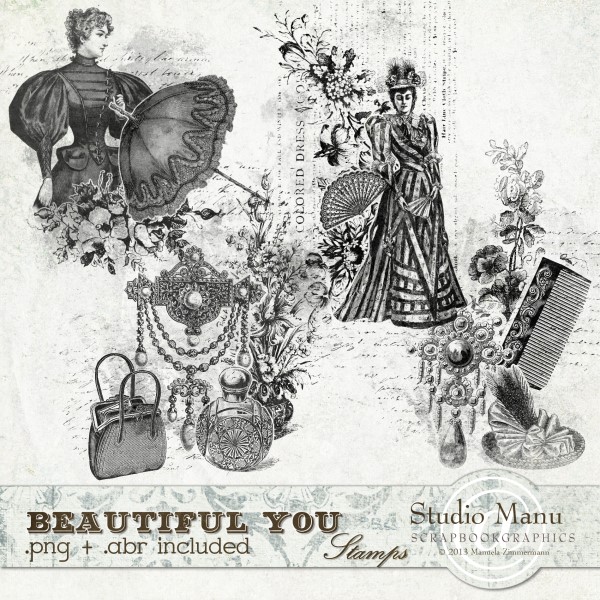 One stamp of this set comes with as well as without text / title: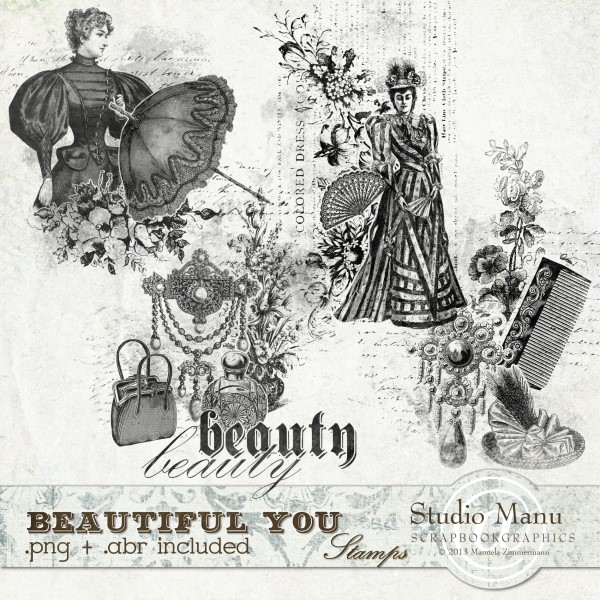 Inspiration Layouts
Gosh … my Creative Girls again made some fabulous pages. I just LOVE them all and hope you get inspired too.
By Yvonne
Yvonne has the perfect picture, the hairstyle of her beautful granddaughter. Always love her compostion and layering.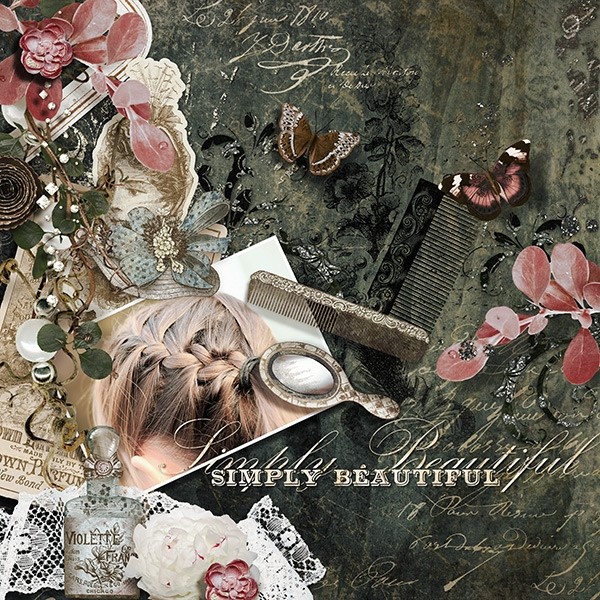 By Tracey
What a wonderful page Tracey created, pretty woman on the photo. The title work is perfect.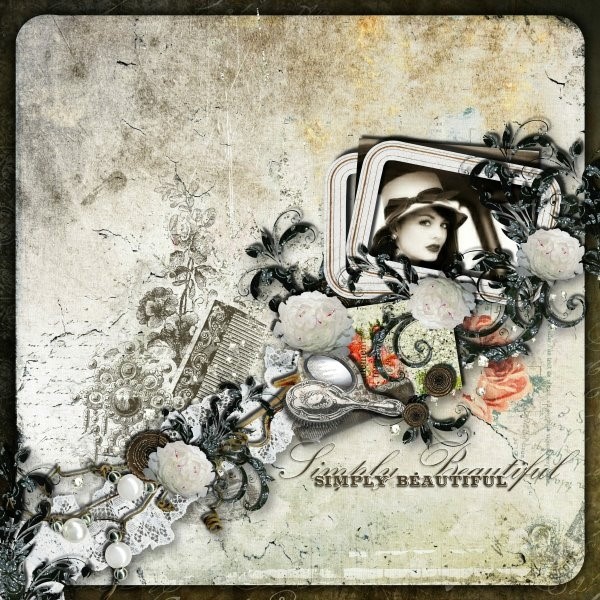 By Jeanette:
The paper work in the background is just awesome with the laces peep out.
Amazing vintage layout and here too – love the photo ♥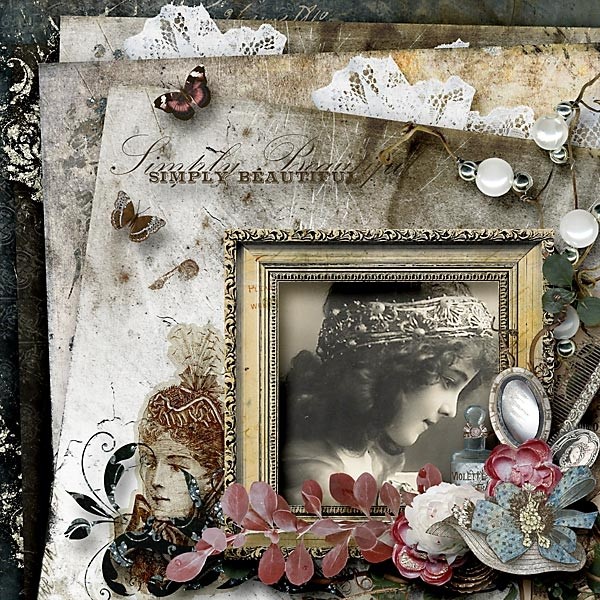 By Manu <— it's me 🙂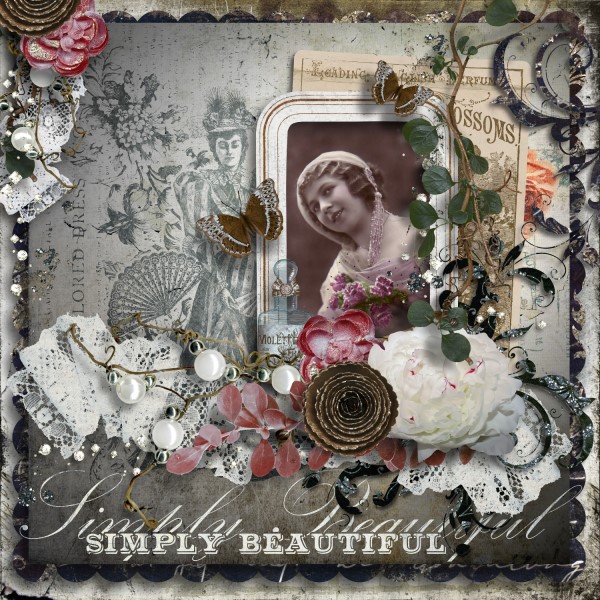 Sneak Peek Time
Oh – it's a while ago that I had a sneak peek game. I even forgot how it is written. Sneek Peak, sneak peak … not so easy if english is not your language – lol
Okay, I remembered and hope it's right: Sneak Peek Time
Leave me a little comment here below and say something, anything you want – some ideas, if you wish:
Is there snow wherever you are in the world or summer right now?
What do you love more: Summer or Winter?
Do you do dance crazy when no one is looking? – hahahaaa
Beach or snowy mountains?
Every comment enters for a chance to win the complete new collection – Good Luck to you!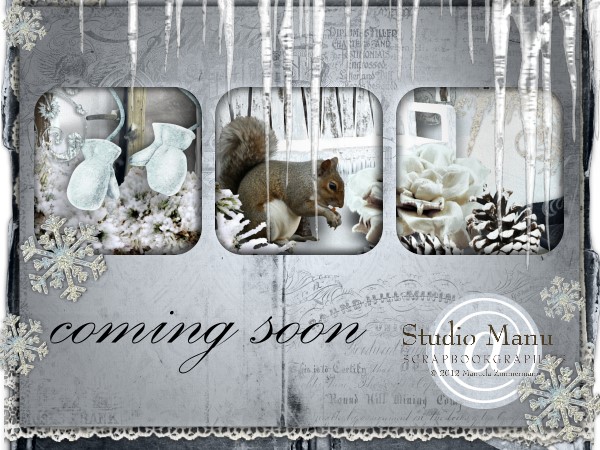 Blog Freebie
For today's Blog Freebie I turned my Layout I created last week with the Thinking Of Home Collection into a Quick Page. You can download it right below the preview. Hope you like it!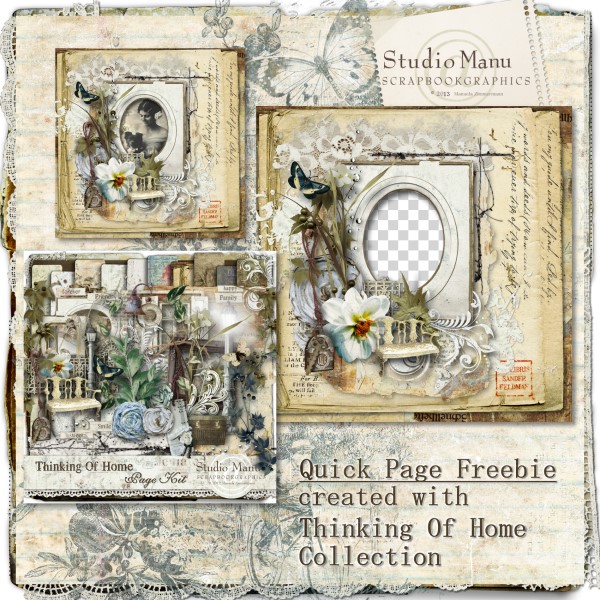 I hope you have a wonderful Winter Weekend 🙂