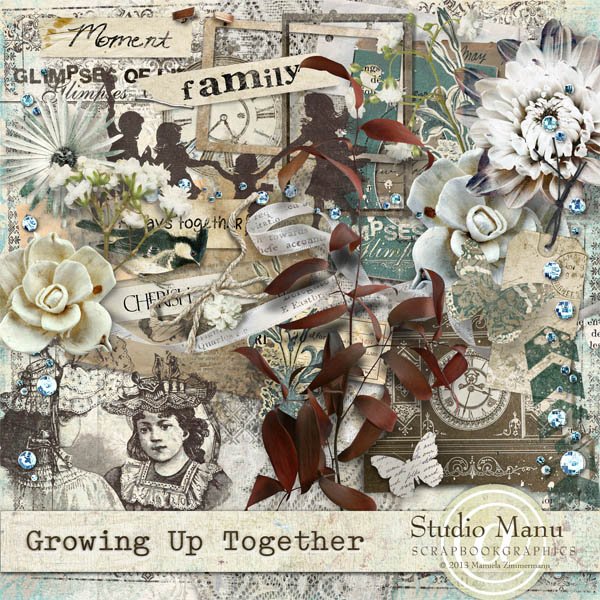 Happy weekend! It seems that Spring is finally arrived here, at least I can see a few sunbeams among the clouds and no snow is too see anymore. Phew … that was time.
Okay, I have this week a new Page Kit, related to siblings or children growed up together, neighborhood's kids, families in general.
The title of the new kit is Growing Up Together. It has a lot of unique elements, stamps, page overlay, brushed overlays, labels (blank (you can add your own words) and written with words). Complete list of content can be seen on the product page in store. There is also a coordinating set of amazing Page Borders available with 4 pieces.
And I have a new set of beautiful stamps created, coordinating with the There's A Smile Page Kit.
At the bottom of this post you can download a Quick Page Freebie created by the amazing Yuki and all newsletter subscribers will get later this day a Photo Mask Freebie.
Growing Up Together – Page Kit – 50% off
Growing Up Together – Page Borders – 25% off
There's A Smile – Stamps - 25% off
Growing Up Together – Papers
Included 5 Papers + I made 5 extra papers: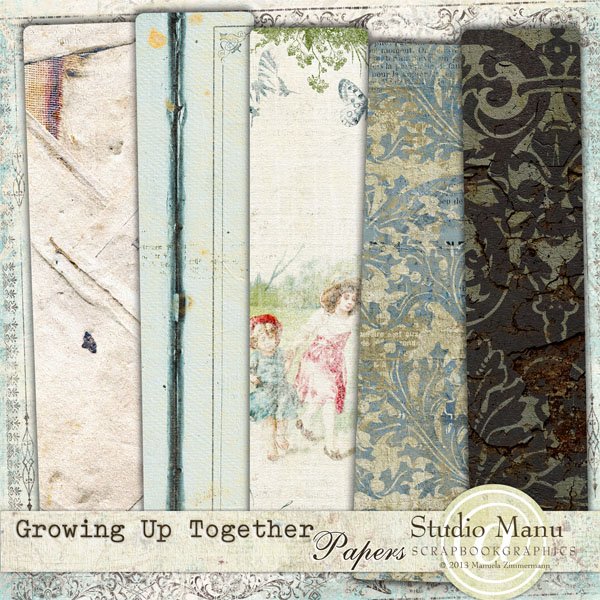 There is a total of 10 papers included: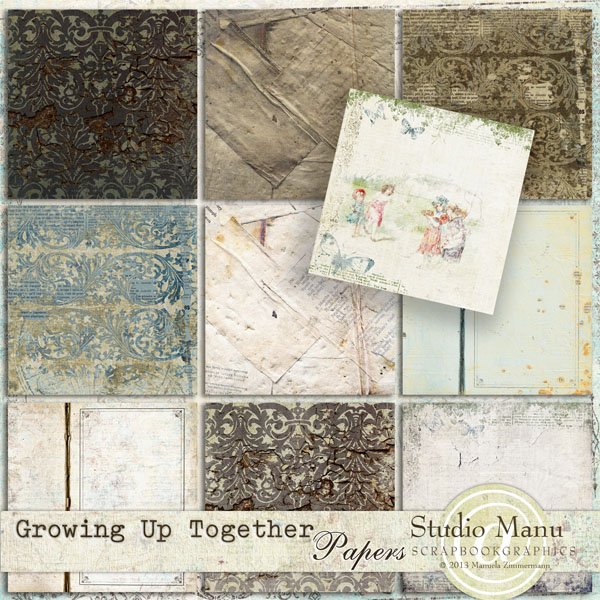 Growing Up Together – Page Borders
This set contains 4 page borders, working perfect together with the  *Growing Up Together* Page Kit.
Included in this set are 4 page borders and each page borders comes
in separately saved .png file format in black, beautiful embellished with flourishes, butterflies and of course cute, little children, siblings, friends

Use them in any colour you wish to fit to your background.
Try texture, layer styles, blend mode or layer one border over the other.
Rotate them. There are endless possibilities to make your layouts stand out.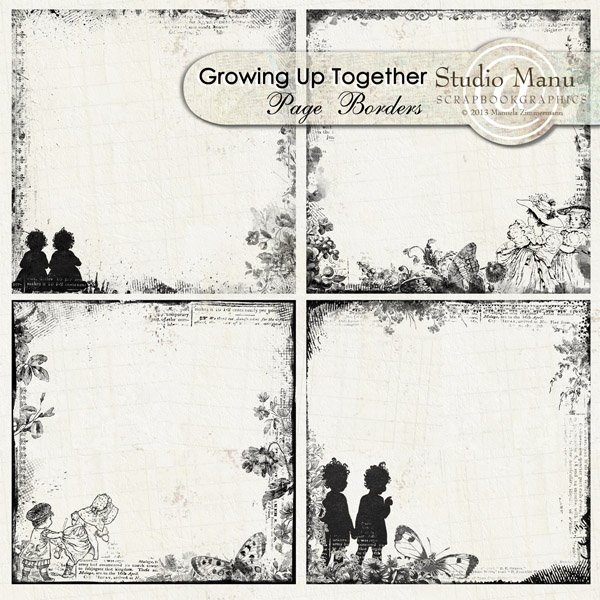 And I want to show you a sample layout! This is created by Yvonne. She used the kit and the Page Borders together on her page – truly a beautiful layout: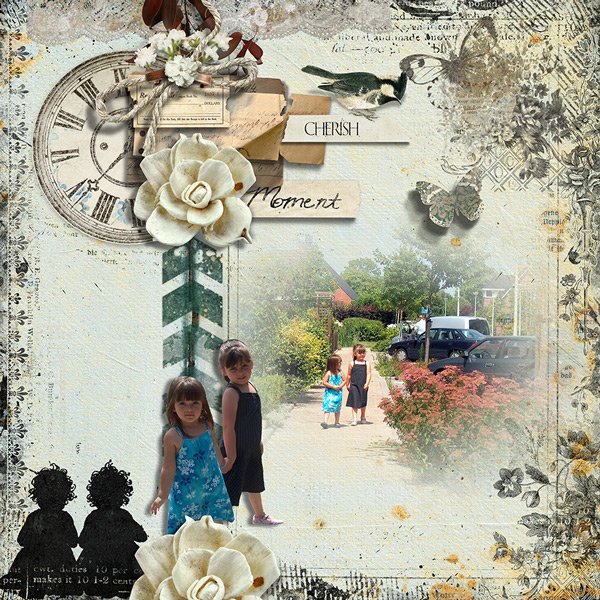 These stamps and brushes are the perfect addition to the *
There's A Smile
* Page Kit.
Beautifully embellished stamps with things like flourishes and grunge, dirty, antique texts/words, butterflies and as the name says: There's A Smile cute smiling children.
Included separately saved .png files and an .abr file for photoshop!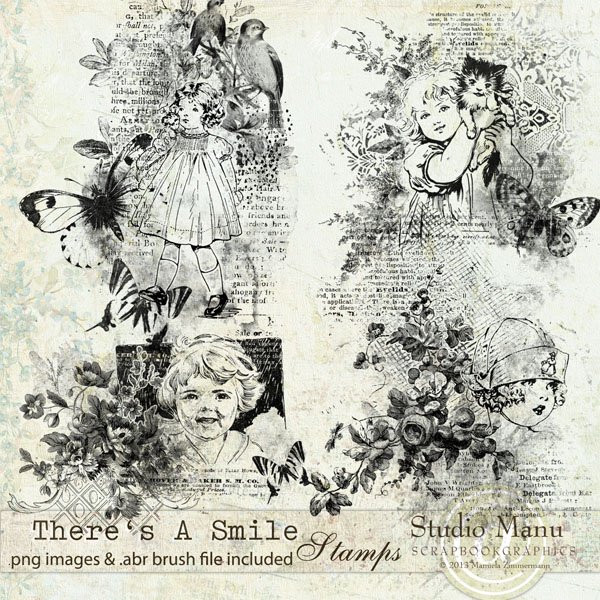 Here is a sample page created by Cath using the Stamps together with the Growing Up Kit: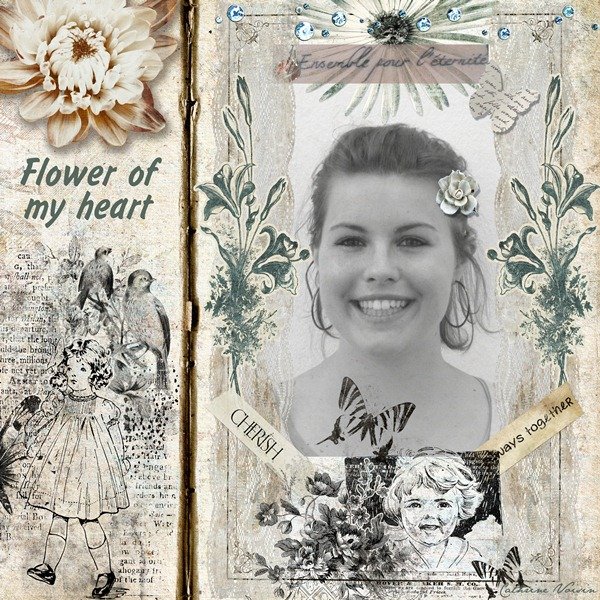 Inspiration Layouts
As always – my CT Girlies did a great job showing the kit and additional supplies in action:
By Tracey: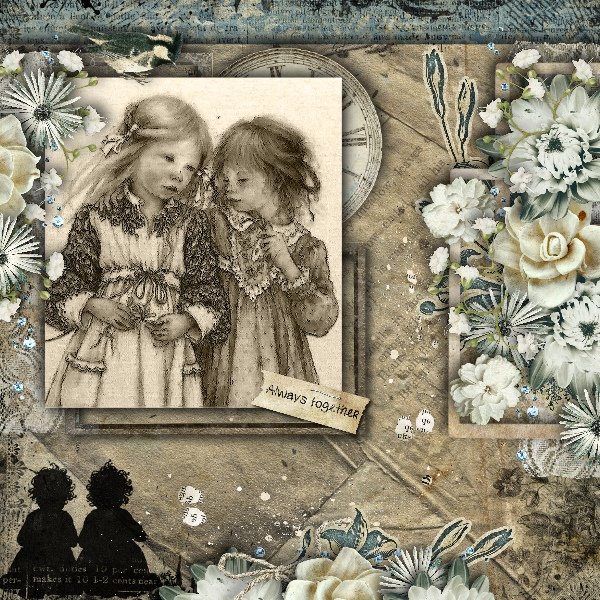 By Irene: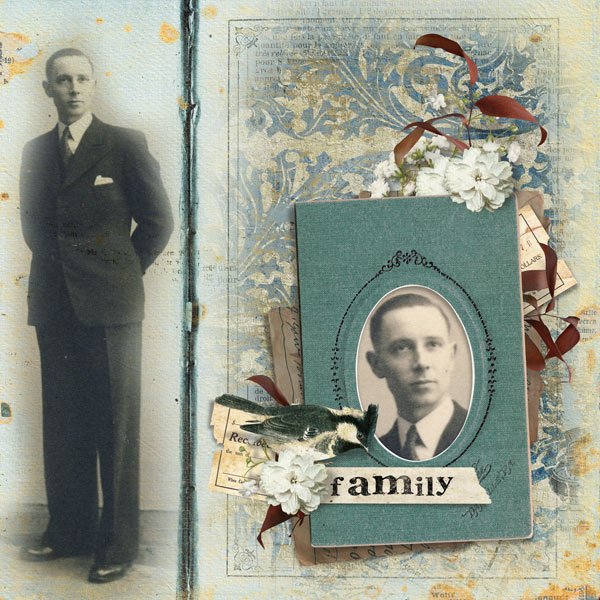 By Jeannette: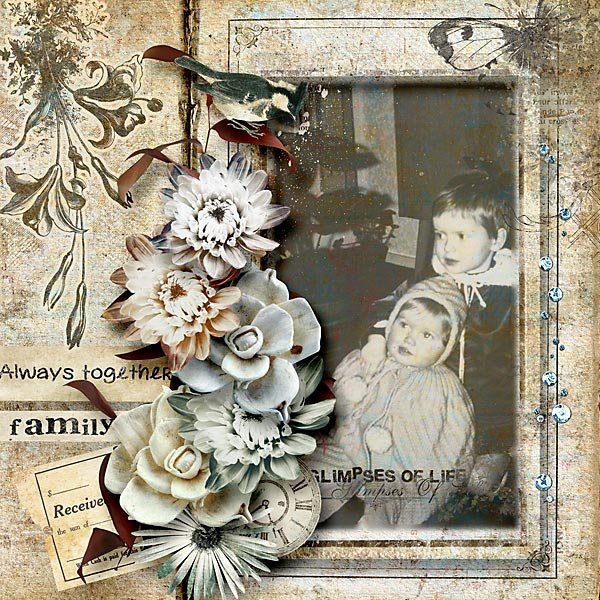 ByYuki: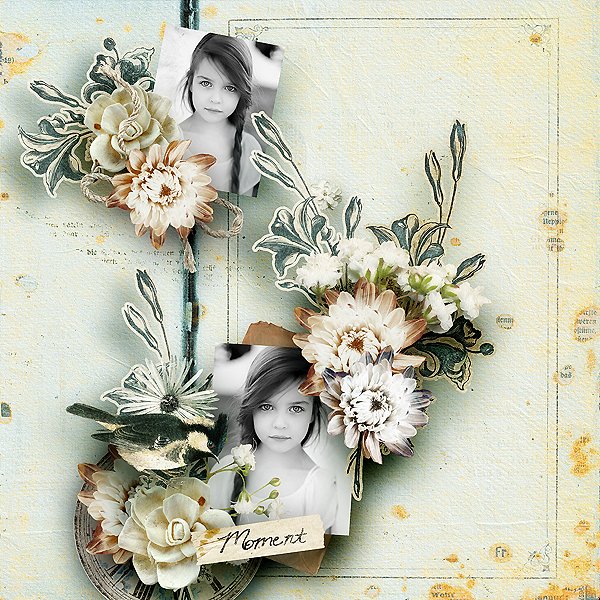 By Cath: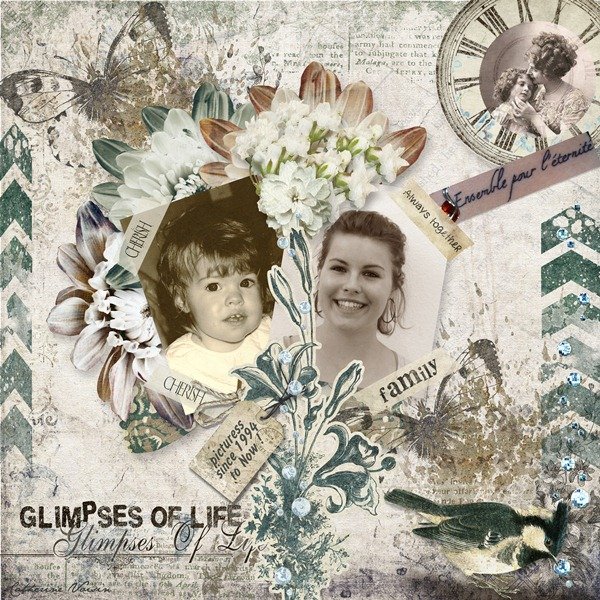 By Carla: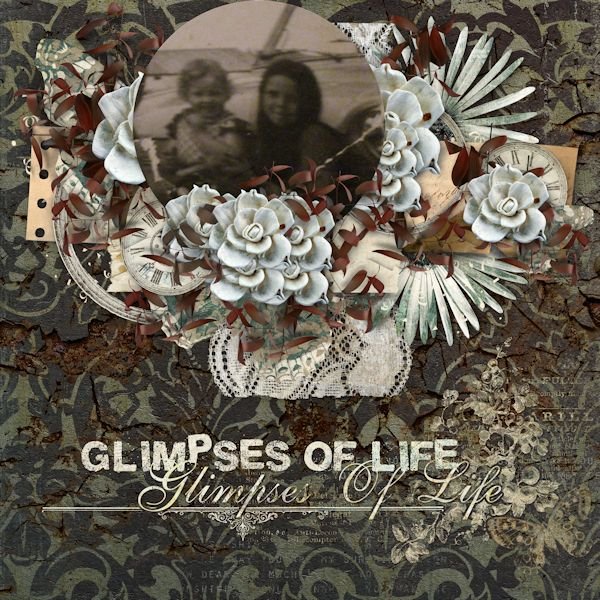 And last but not least a page I made myself:
It is pretty much the same like I showed you in my post yesterday on using the clipping masks, but not exactely; it has no photo mask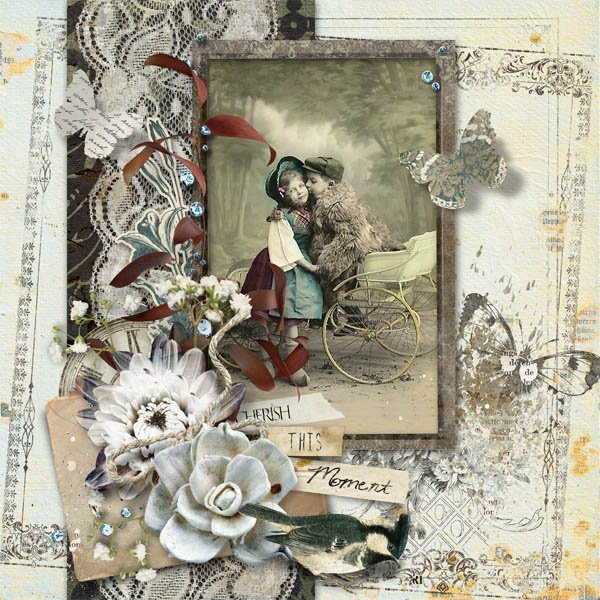 Newsletter Freebie:
Yesterday I had fun playing a bit with photo masks and trying to use them in different ways. I thought why not make another photo mask and send it to the subscribers, so here it is: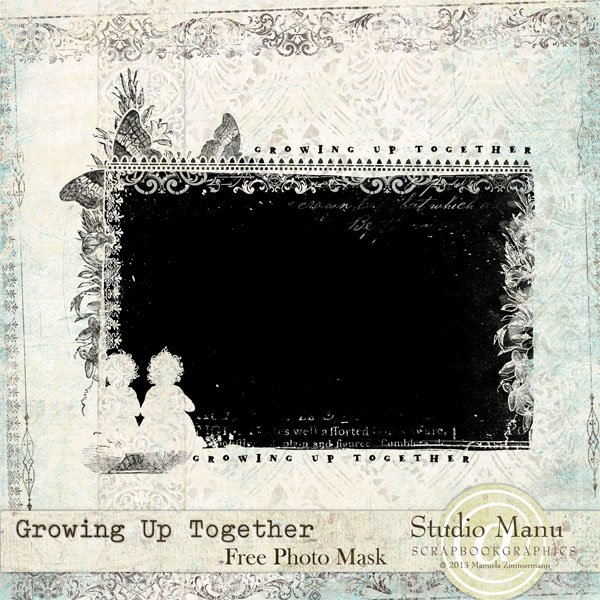 It comes later to all subscribers right away in your inbox.
Blog Freebie
Again the amazing Yuki turned her beautiful layout into a Quick Page and you can now download it right below the preview.
There is the .tif Quick Page available in a separate download option as well as just the .png Quick Page.
In the .tiff zip file I included a help file for PSD and TIF files, because when you open the page with your program there is no page to see, first you have to make the layers visible. How it works I discribed here – a little PSD & TIF Help Tutorial, but it is also included in the .zip file: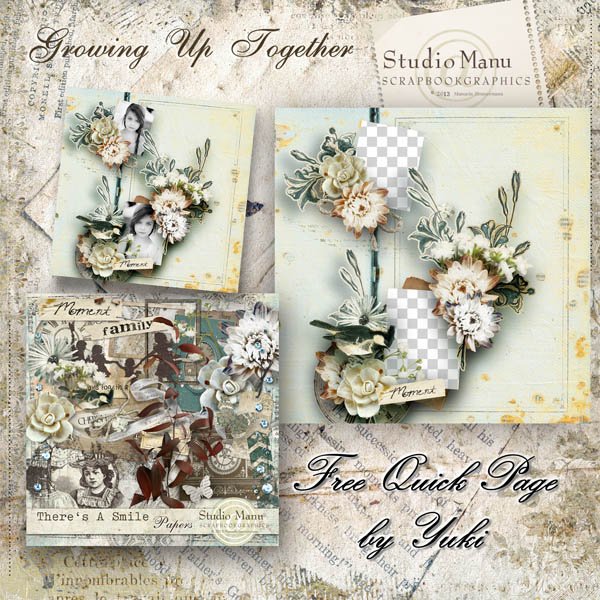 I hope you have a wonderful, super fantastic weekend!
>>>> D O W N L O A D .png Quick Page <<<<
>>>> D O W N L O A D .tif Quick Page <<<<
Tags: abr, brushes, digital scrapbooking, free photo mask, free quick page, freebie, page borders, page kit, png images, siblings, stamps