I am an absolutely coffee junkie and I swear; no day starts without coffee,
For this new Collection But First … Coffee! we again worked something out together with Mariella of Laitha's Designs.
Everyone of us has the same theme and color palette and created each a wonderful collection.  After we had them both in our stores we bundled our collections together into a Big H u g e Jumbo Bundle with an even huger discount + a Free Mini Kit on top!
First let's see the previews …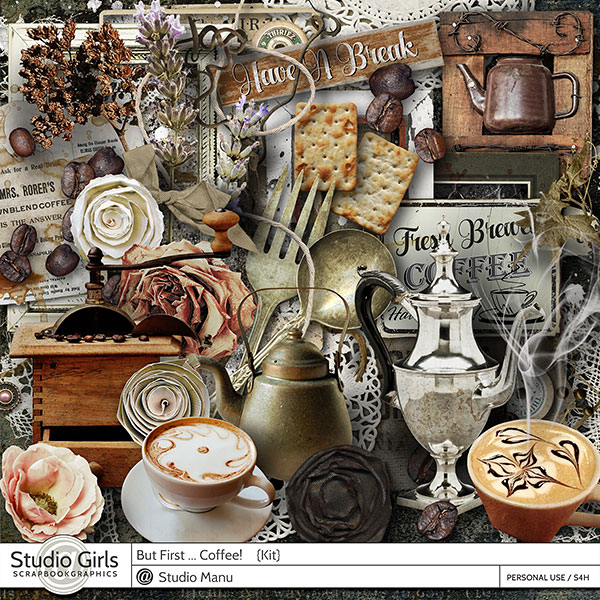 You'll get such amazing, beautiful and unique elements like spoon and fork, coffee pots, cups, cookies, coffee grinder, beans, overlays, frames, lavender, flowers, steam, paper doily, laces and a lot more
Also included in the kit are 7 papers + 7 extra papers: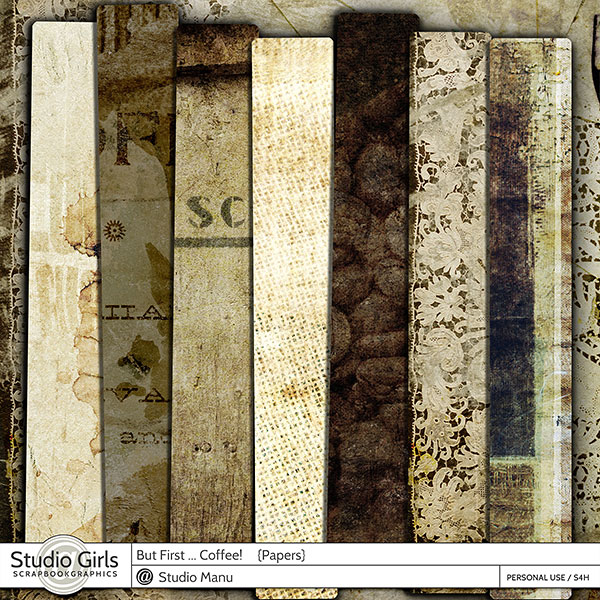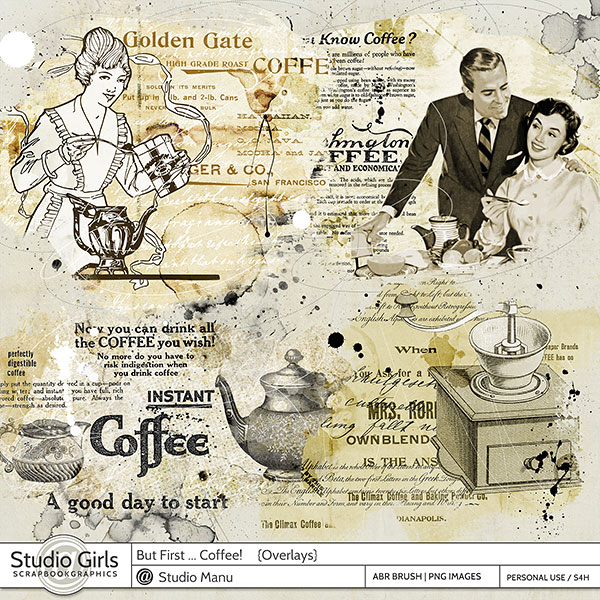 Content:
4 beautiful Overlays
separately saved .png files, created at 300 dpi.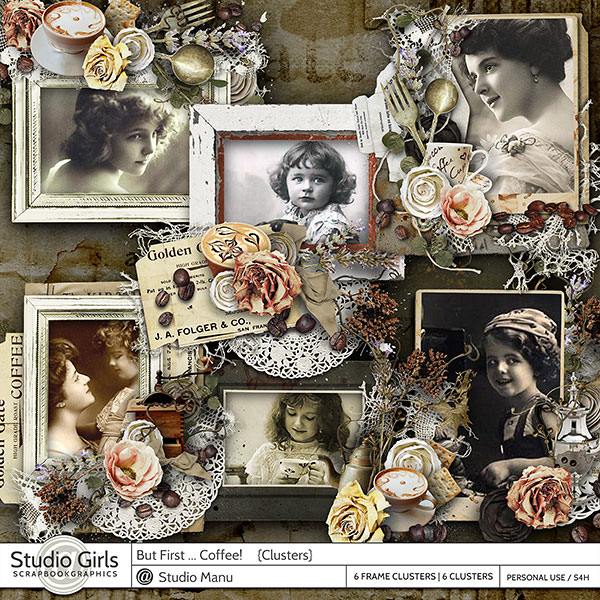 I love clustering and had a lot of fun creating these.
6 Clusters come without frame and 6 Clusters come with already frame added.
So for your own creativity and needs you can choose your own frames or use the finished Frame Clusters.
Preview without frames: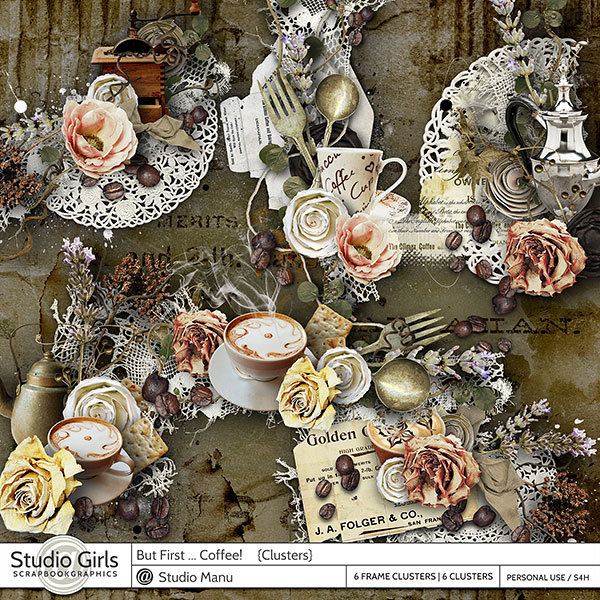 Sample Layout – in this page I used the overlays, stamps and clusters. Added a background paper and a photo of my Grandma and Grandpa. Not sure what they are talking and why they have such "hats" on their heads, but they sure have fun 🙂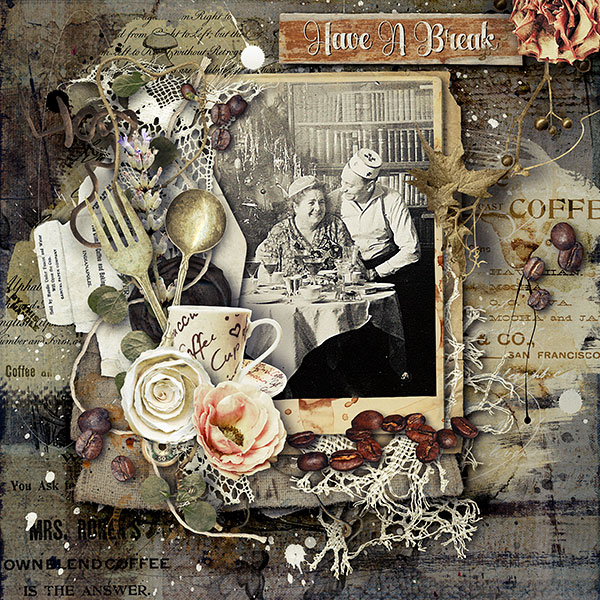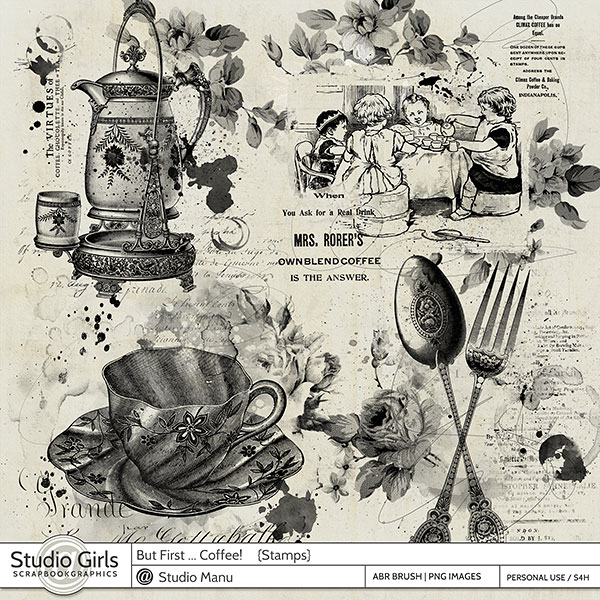 A Set of 4 beautiful Stamps and Brushes
Included:
4 transparent png files
ABR Brush File for Photoshop CS6 + CC
ABR Brush File for Photoshop up to PSCS 5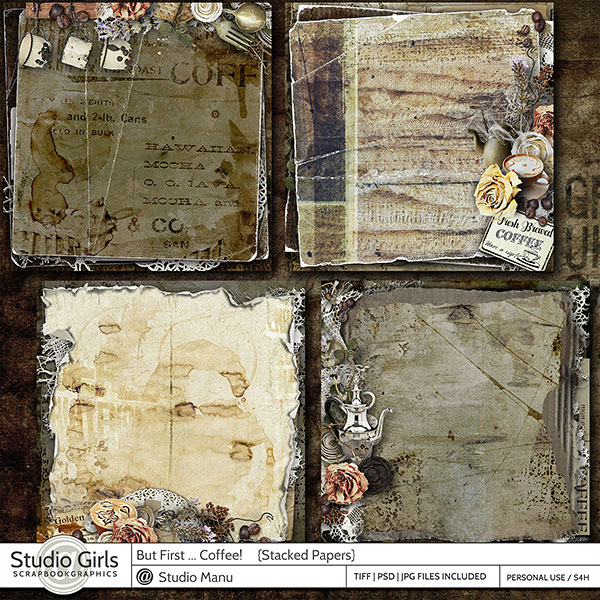 And here is a set of Stacked Papers, absolutely love these. So fun and easy to use and so versatile.
Included are flattened .jpg files and .psd files as well as .tiff files with elements and backgrounds on separate layers.
---
In this Full Collection you find everything mentioned above: Overlays, Stamps, Kit, Clusters and Stacked Papers.
It is 55% off on limited time intro sale!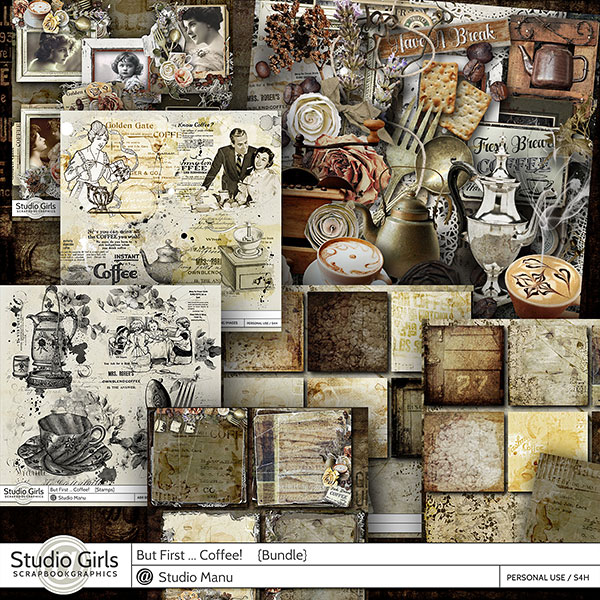 Let's have a look at Mariella's But First … Coffee! Collection: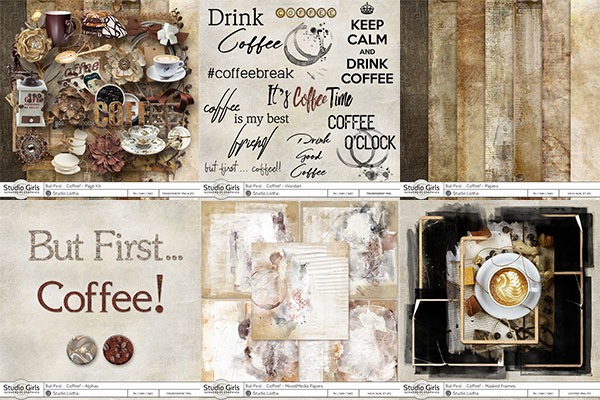 ---
That is the Big Huge Jumbo Bundle with both our collections + A Free Mini Kit inside
This bundle will be only available for 2 weeks.
The total discount is 60%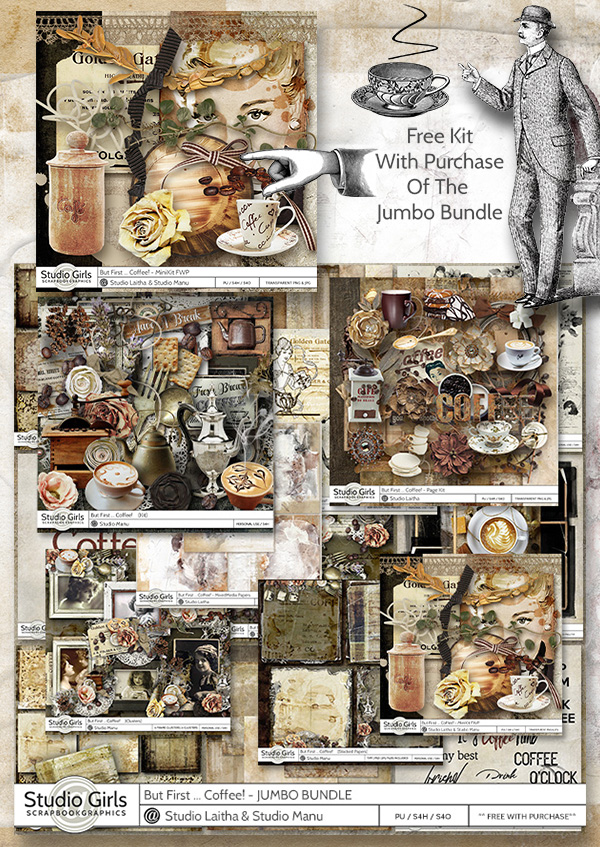 You'll get
2 complete Kits
Mixed Media Papers
Clusters and Frame Clusters
Masked Frames
2 Alphas
Stamps and Brushes
Stacked Papers
Word Art
Overlays
Don't miss it before it is gone!
---
Inspiration
Such fabulous pages created by the CT girls, love their layouts:
---
Newsletter Freebie
Also there is a wonderful Freebie for all Newsletter Subscribers.
Really love this one, hope you like it too: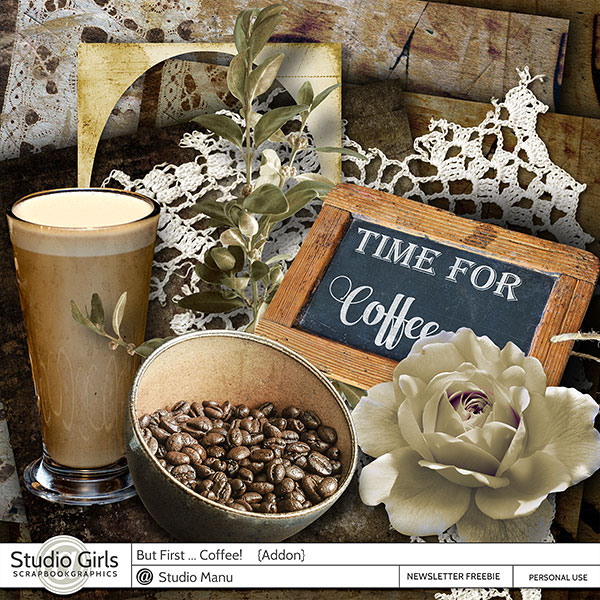 ---
Blog Freebie
Of course here is a Blog Freebie for you today too.
I turned my layout into a Quick Page which you can download below right away: