I realized that I need a bit more room for lots of new things that will come to Studio Manu ….
Don't miss your chance to get another super big bundle, if not the biggest ever seen at an incredible price!
This No.2 Retiring Bundle contains an enormous amount of different elements, papers, clusters, word art, photo masks, alphas …  
worth an unbelievable $153.54  – now $14.99 (Discount 90%)
Everything you need for creating spectacular digital scrapbooking pages, invitation cards, photo books ….
whatever you can think of is in this massive Giga Pack!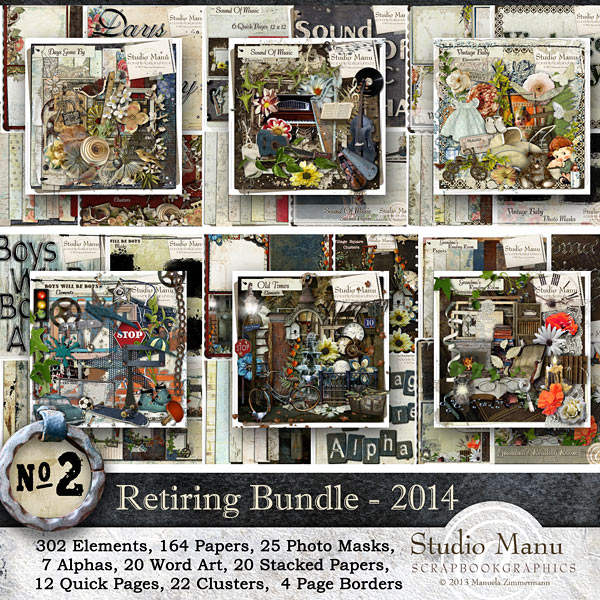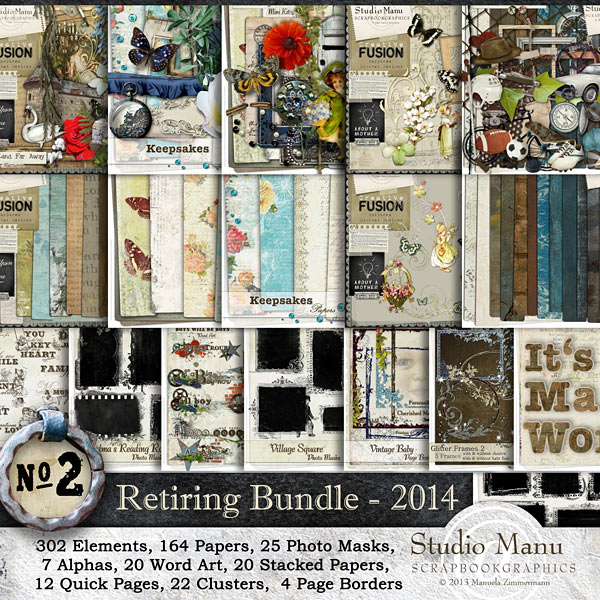 What you get:
302 unique Elements

164 Papers

7 Complete Alpha Sets

20 Word Art  

(light colors for dark backgrounds as well as dark colors for light backgrounds, with as well without decoration)

20 Stacked Papers

(16 come in psd files as well as jpg files, 4 come just in jpg files)
Clusters, Quickpages come in already
shadowed Version – ready for you to use
You'll find inside all these amazing things:
Vintage Baby Collection + Extras Page Borders (worth $19.99)

Days Gone By Collection + Extra Photo Masks + Word Art (worth $24.49)

Boys Will Be Boys Collection + Extra Word Art (worth $20.49)

Grandma's Reading Room Collection + Extra Photo Masks(worth $20.99)

Sound Of Music Collection (worth $17.49)

Village Square Collection + Extra Photo Masks (worth $20.99)

5 various single page kits/sets + a frames set (worth $29.10)

 Total worth an incredible $153.54
you can get all together for just $14.99 – 90% off
 *** LIMITED TIME OFFER ***
And only for a limited amount of time you can get it for just $14.99 instead of  $153.54
After expiration of the deal all products included are leave for good!