Happy Weekend everyone,
I'm really very excited to show you what I have new in store this week.
A wonderful new collection with the even more wonderful name *Charming*
Charming comes with a Page Kit of course, an amazing set of Vintage Stamps & Brushes, Stacked Papers and Clusters.
Everything is on intro sale for a short time only and the Full Collection you can get at amazing  51 % off!
I can tell you my CT loved scrapping with this collection and they were sooooo very busy 😉
You can take a look at everything here
Charming Papers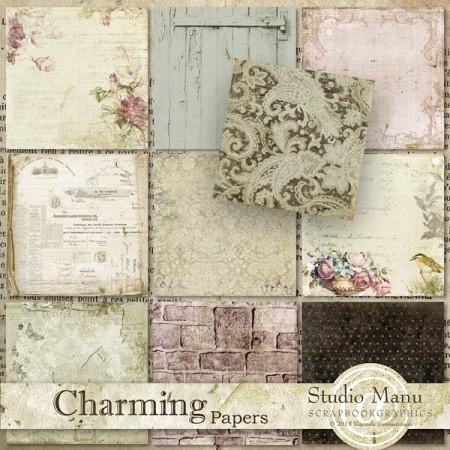 Charming – Clusters
Charming – Stacked Papers
Charming – Stamps
Charming – Bundle
Absolutely amazing pages by my wonderful CT Girls.
Beware, they were really very, very busy … so there are a lot of layouts for you to look at.
There is coming this wonderful "charming" Mini Kit Freebie to all Studio manu Newsletter Subscribers today.
If you are not signed up yet you can do so here
Another cute, amazing, wonderful and charming Quick Page created by Yuki!
So generous of her and I'm really thankful!
Thanks, Yuki!