YAY! Happy iNSD 2016, it is that time of the year again.
We celebrate interNational Scrapbook Day, 1st Saturday in May.
We have a store wide Sale at Scrapbookgraphics, everything is 40% off.
Get a Free Gift with purchase of $10 or more, each day a new secret Gift Bag designed by the designers.
I have a Grab Bag today for you, included 5 brand new products (78% off)
And a Gift with purchase of $7.50 or more too.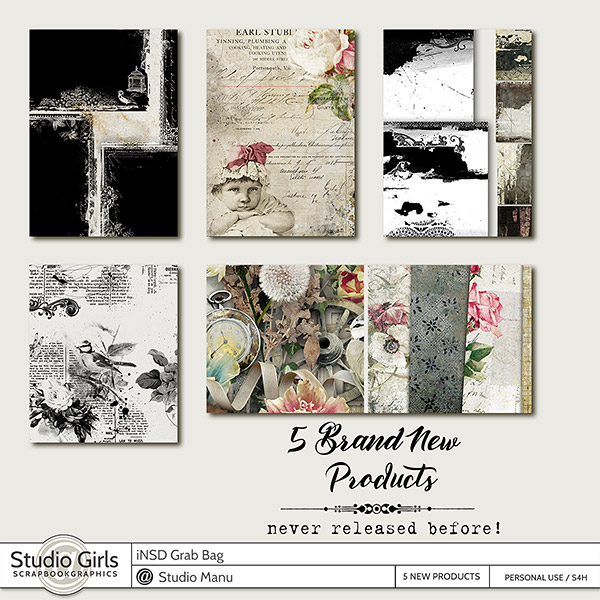 Included are 5 new products:
Patience Page Kit
Patience – Stamps / Brushes
Book Of Memories – Overlays
Sense Of Bliss – Photo Masks
Serenity – Page Overlays / Templates

Worth $22.88 – save 78%
---
We have come together with Laitha and created also a CU Grab Bag.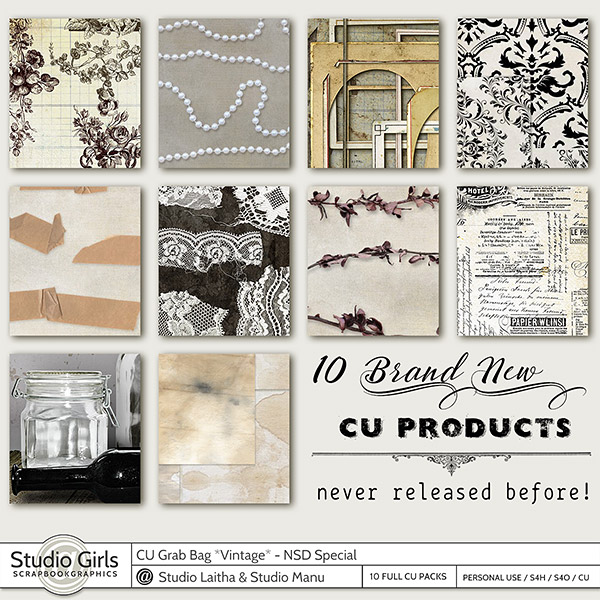 Vintage Special iNSD Edition
10 brand new Commercial Use products included
Only available for a limited time!
Included are:
Flourish Stamps / Brushes
Pearls / Jewelry
Antique Paper Frames
Damask Overlays
Tapes
Torn and worn Laces
Dried Nature (Branches, Greenery)
Messy Words Stamps / Brushes
Bottles & Jars
Old Paper Texture
Get this Word Art Set FREE with any purchase of $7.50 or more with Studio Manu products.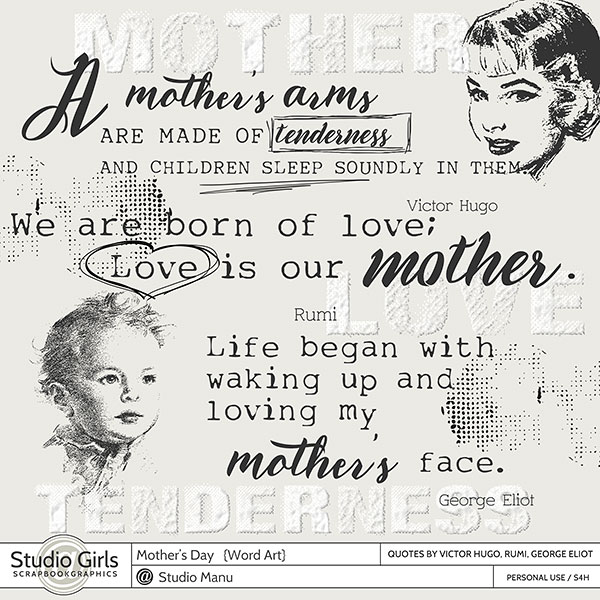 Included are
3 Word Art / Quotes by Mark Twain.
2 Face Stamps (Mommy, Baby)
3 Single Words (coordinating with Word Art)
4 Decors
How to get this product for FREE?
1st – Add products to your cart worth $7.50 or more by Studio Manu
2nd – Add the Word Art Set to your cart and it appears as FREE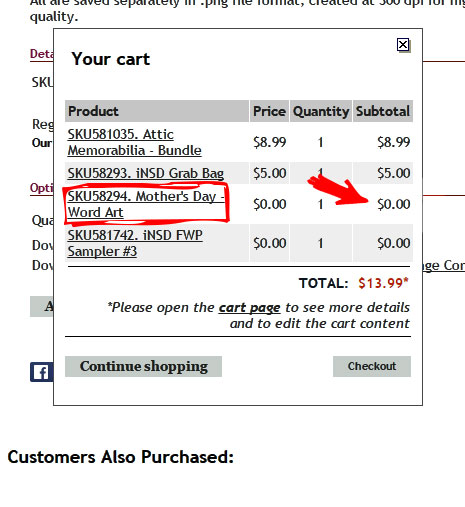 ---
This is our first time ever Store-Wide sale at SBG.
Almost all products are 40% off — yes, from each individual designer!
You should not miss it!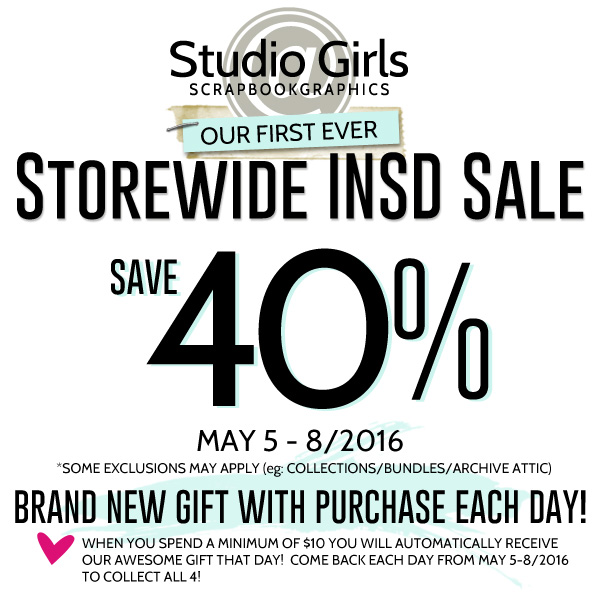 Some exclusions may apply … collections, archive attic products, collaborations
And it gets even better. You get each day a FREE secret Grab Bag (designed by the designers) with purchase of $10.
There is a total of 4 Bags, today you can get no. 3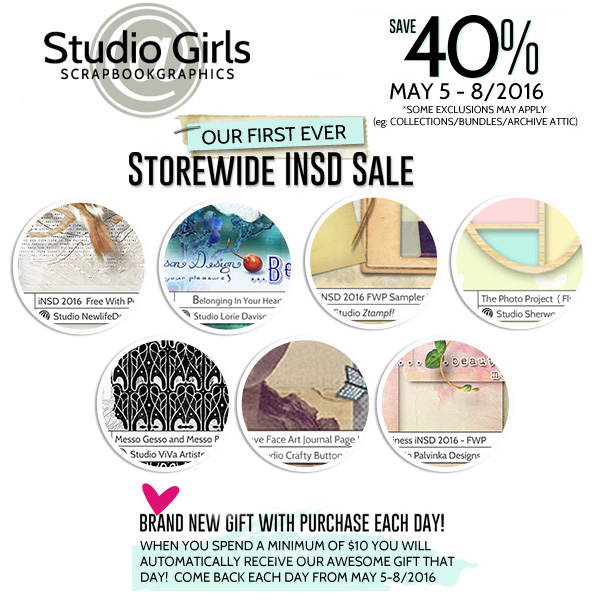 It will be automatically added to your cart if it is worth $10 or more: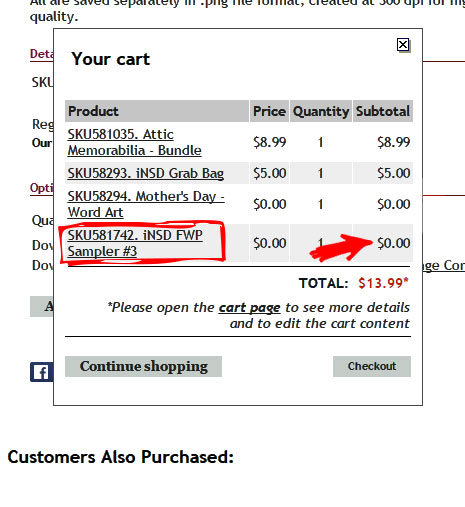 You see two products for FREE in my cart – YAY!
---
Layout Inspiration
Here are some fantastic pages created by my amazing CT girls using the Page Kit, which is included in the Grab Bag
Look what a fabulous page Yuki created with the new page kit (included in the Grab Bag).
It is called Patience.
Her layout is so amazing, the colors are perfect and her shadow work as usual fantastic!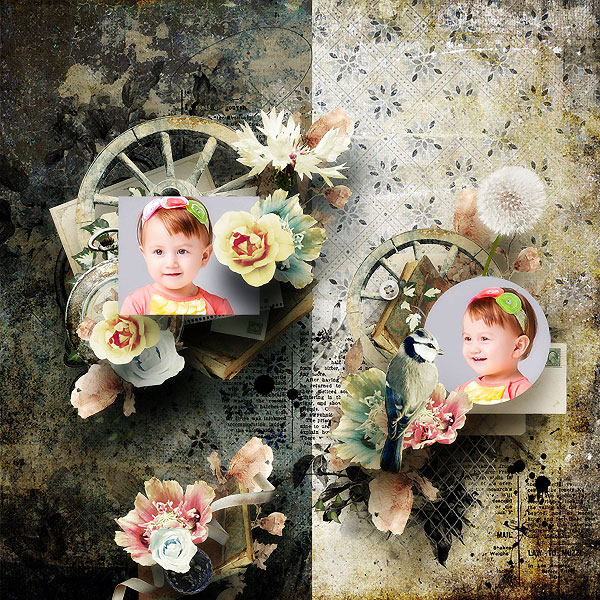 This Quick Page comes later to all Newsletter Subscribers!
Thanks so very much, Yuki!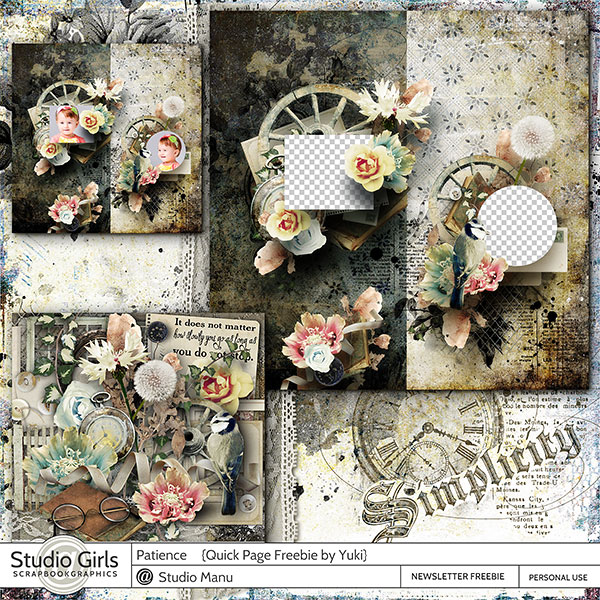 And here comes another Layout and Quick Page by Yuki.
In this layout she just used the Attic Memorabilia Addon.
I'm impressed what an amazing page she made with just using the Mini Kit Freebie: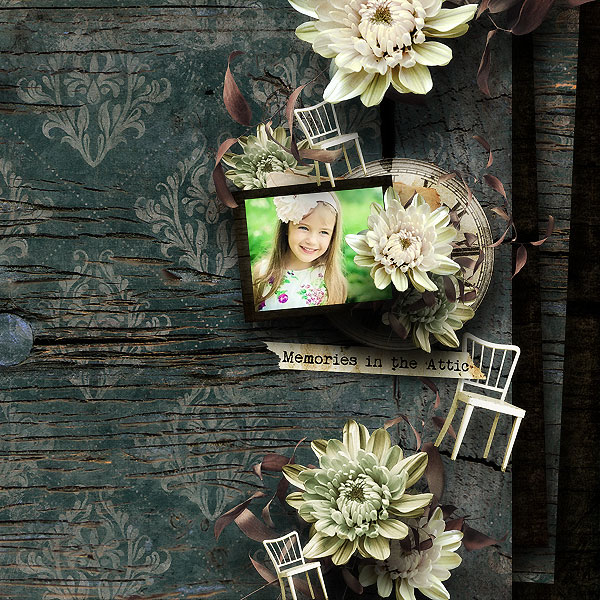 Thank you once again, Yuki!
You can download the Quick Page right here;
just click the preview or the link below: