I was busy this week and created new planner pages for the next 5 weeks.
Absolutely love them.
3 planner pages come in a winter look. Then there comes the Valentine's Day, so this week is full of Love. and last page amazing vintage style with snowdrops lurking at the bottom.
38% off intro sale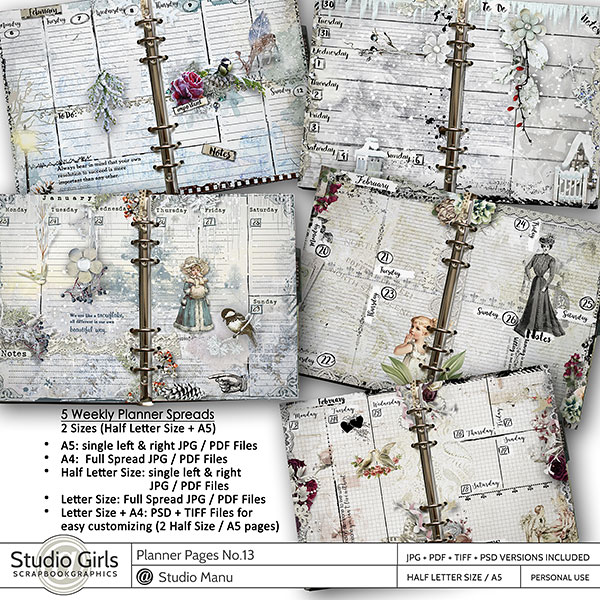 Included are 5 Weekly Planner Spreads to insert in your binder / organizer.
Completely customizable to whatever week/month/year you wish using PSD / TIFF Files!

Ready made printable versions also included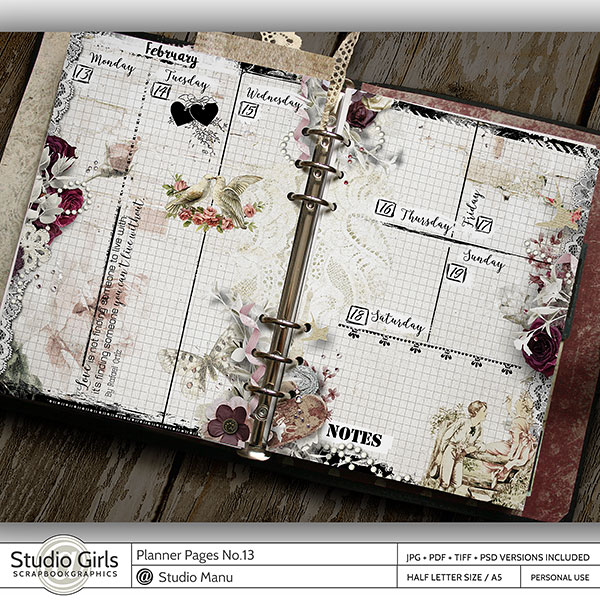 Included are 2 sizes:
Half Size (11x 8,5 / 5,5 x 8,5),
Full Spread (Letter Size) consisting of both half size pages (left and right)
A5 (2480 x 3508 px / 1748 x 2480 px),
Full Spread (A4) consisting of both A5 pages (left and right)
You can choose your desired size in the download section! No need to download the entire package!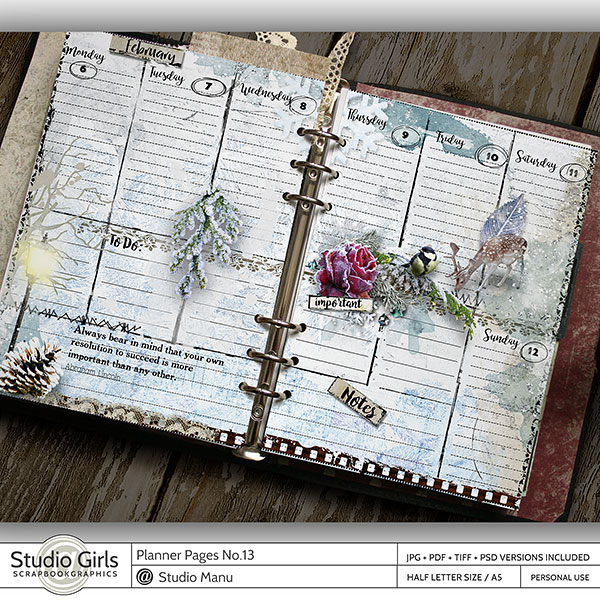 Each page comes as half page as well as full spread.
Included versions of each page:
PDF, JPG, PSD, TIFF
(PSD + TIFF Versions have the full sheets, half sheet, weekdays, dates and month on separate layers)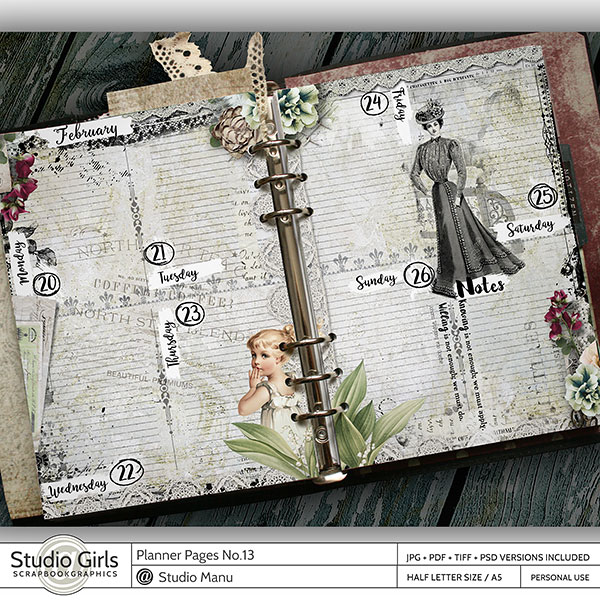 3 Options:
1st – If you have no Graphic Software/Program: 
Just print the PDF or JPG sheets and insert the dates, weekdays and the month manually after printing. Then hole punch and add to your binder/organizer!
Or print the ready made sheets, cut and hole punch.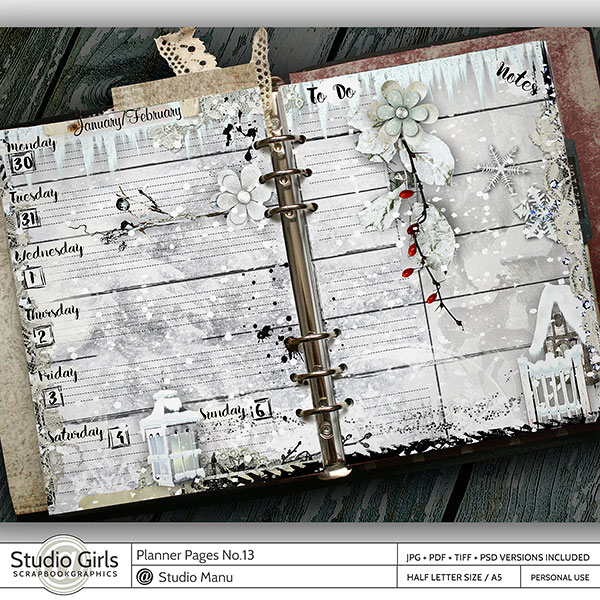 2nd – Your graphic software/program doesn't support PSD or Tiff files: 
Open the JPG sheet in your graphic program, add the dates, weekdays and name of month.
Then save and print!
3rd – If your graphic software/program supports PSD and/or TIFF files: 
Open the layered file. Make the layers in the layers palette visible and start customizing your page.
You even can change Monday with Sunday, if your week starts with Sunday!
Add/change dates and name of month.
You can use this page again and again.
Save as JPG or PDF and print and hole punch and done!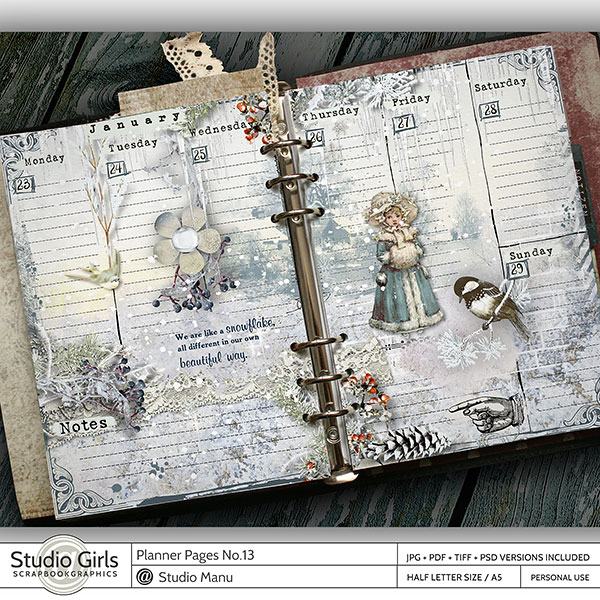 On introductory sale for a limited time only!
Save 38%
---
I had this week another amazing project which I absolutely love.
I made a real vintage planner for 2017. Everything is handmade.
I changed the dates from the planner pages last year to 2017.
Then I printed them all, back and front.
Cut them and hole punched using my bind it all.
I got some wire-o binding and made an amazing cover using the papers
I designed for Blue Fern Studios.
I made an dashboard, which is laminated.  And a start page.
Really I am very impressed and happy with the result.
This is certainly an unique Vintage Weekly Planner for 2017.
If you want to get it in your hands check out my Etsy Store
---
This time Antonia has a beautiful Quick Page Freebie she wants to share with you.
First here is her beautiful layout, I just love this Winter scene, so quiet, so wonderful.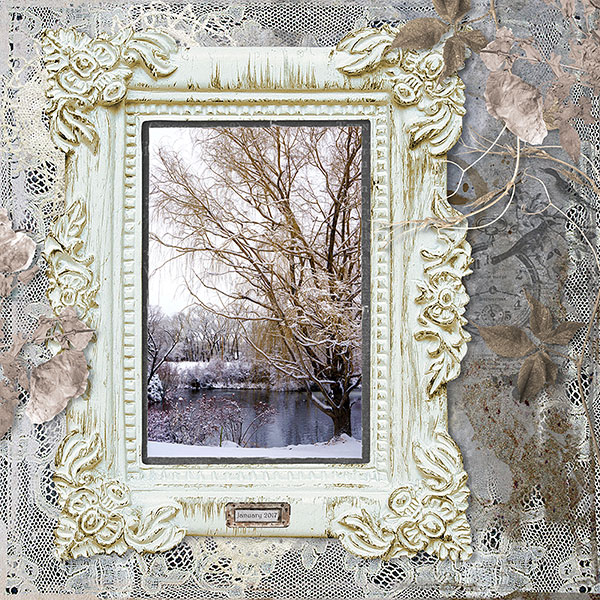 Later Studio Manu Newsletter Subscribers will get a Free Quick Page of her layout.