Hello everyone, I hope you enjoy a lovely weekend.
Seems Autumn finally arrived.
And so is called the new collection: Autumn's Here
I can tell you my CT girlies did a fabulous job, wow – so many fantastic pages.
So let's start with the previews;
Here are the
Autumn's Here Elements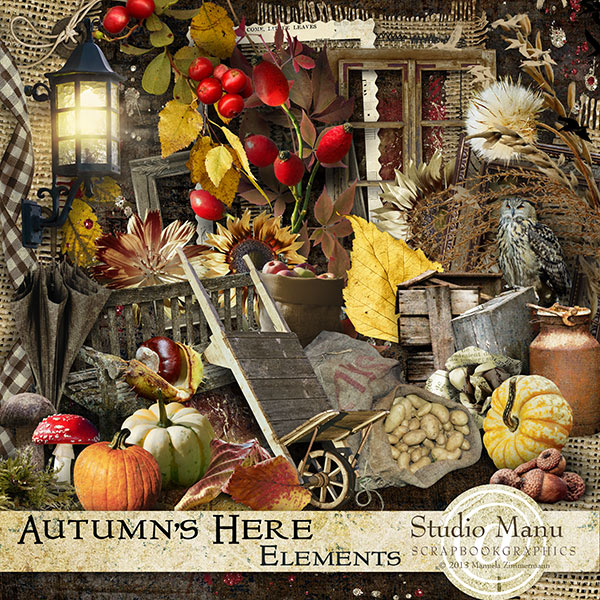 included shadowed elements as well as without drop shadows.
Acorns (Bunch), Bench, Branch with Leafs, Brick Overlays, Branch with Apples, Burlap Mat, Button, Chestnut, Dandelion, Dogrose, Flock Of Birs (two colors), Flowers, Foliage, Frames, Grass Pieces, Lantern (with as well as without light), Leafs, Milk Can, Piece Of Old Wooden Boxes and Milk Can, Moss, Mushrooms, Overlays, Owl, Pumpkins, Rain Overlay (12×12), Ribbon (curled), Sack Of Apples, Sack Of Potatoes, Umbrella, Wheelbarrow, Window
Autumn's Here Papers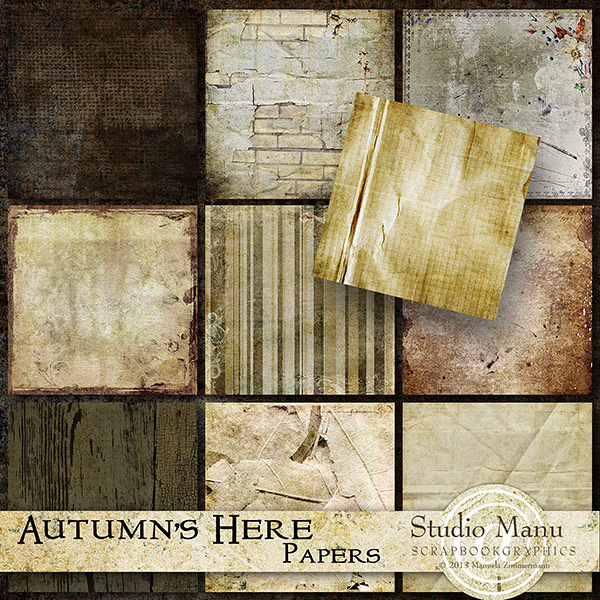 Included are 10 beautiful textured papers created at 300 dpi.
Size is 12×12 (3600×3600 px).
Also included 11 extra papers in modified versions of the originals – total 21 papers included.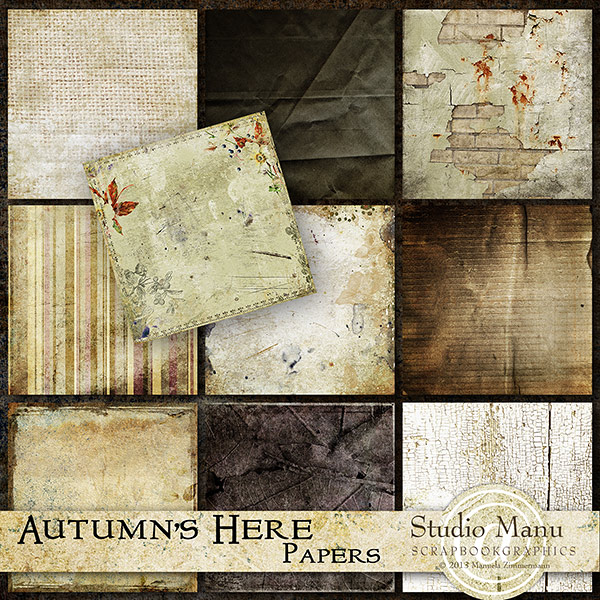 A set of 6 Clustered Elements made with the
*Fall Into Autumn* Page Kit ready for you to use.
Shadows already added.
6 Clusters come without frame and 6 Clusters come with already frame added.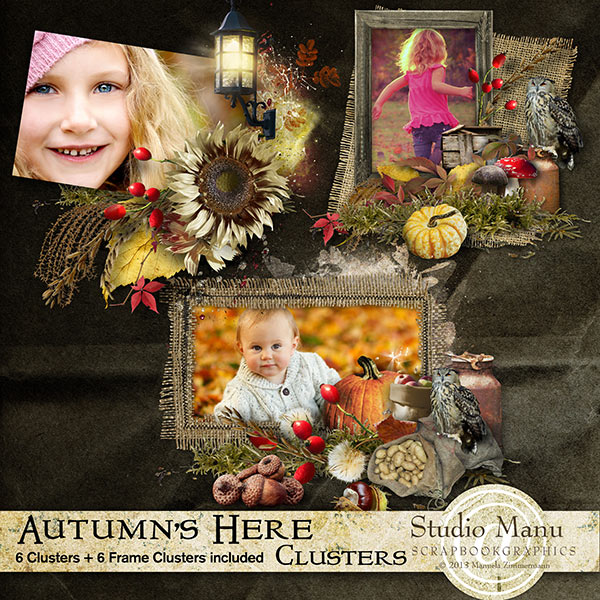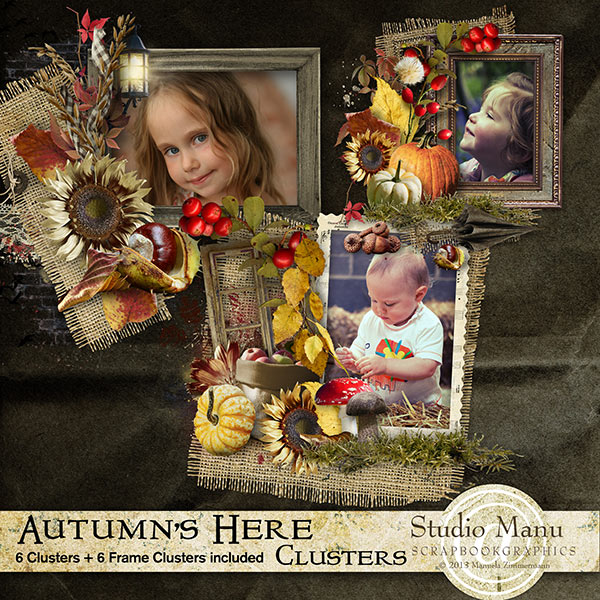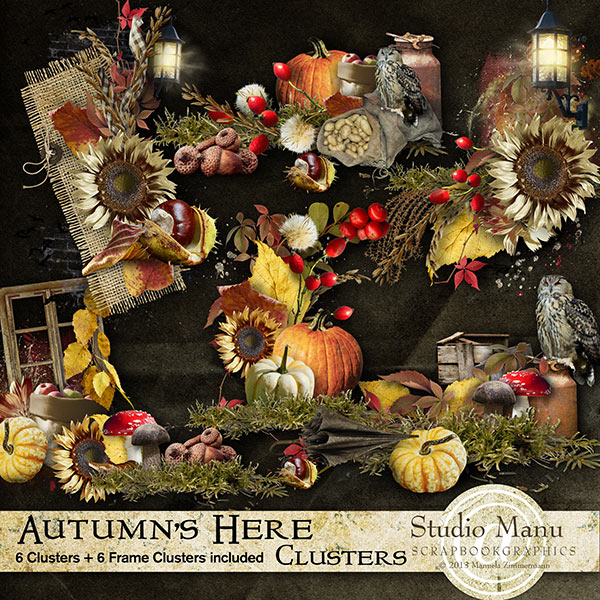 Autumn's Here – Stacked Papers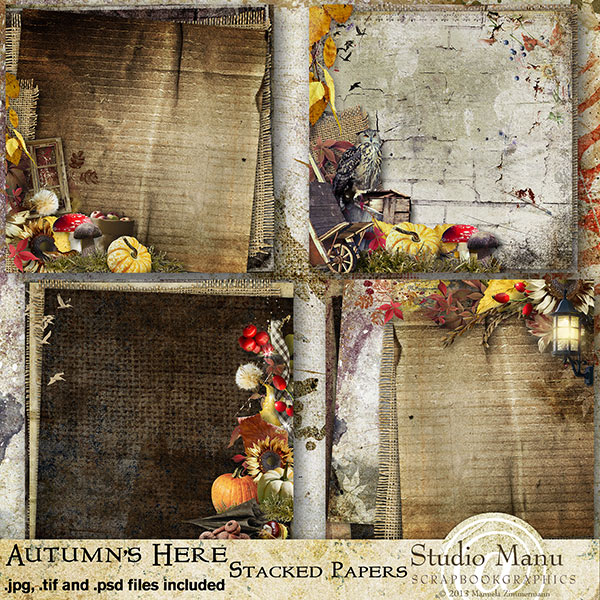 Included in this pack are .jpg files as well as .psd files and .tiff files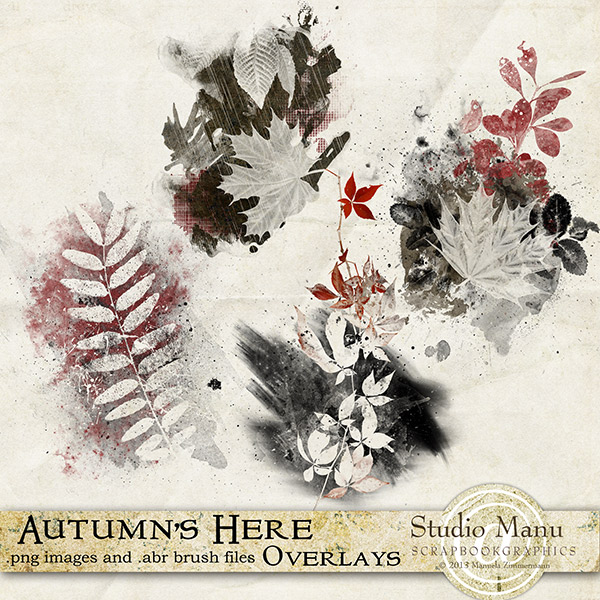 Included are
4 Autumn Overlays +
4 Copper, Bronze Sparkle Overlays to use with.

Files:
separately saved .png files
.abr brush file for Photoshop CS5
and a more big brush set for PS CS6 + CC

Add colors or textures, use blend mode to make them fit to your background.
Blend mode used on the preview below together with the sparkling overlays.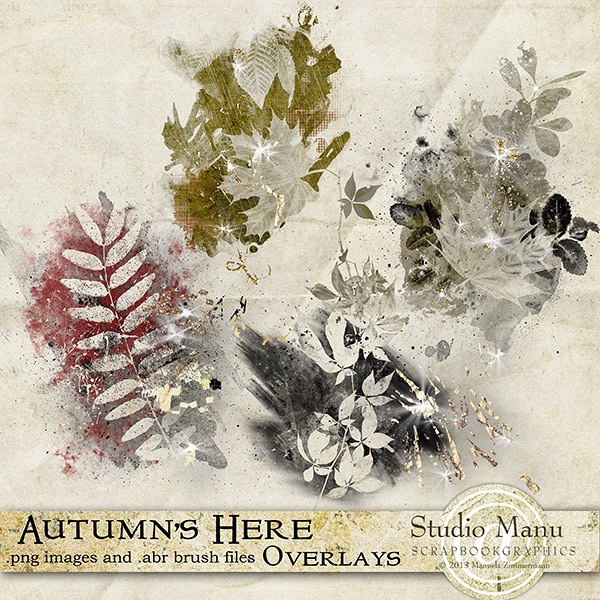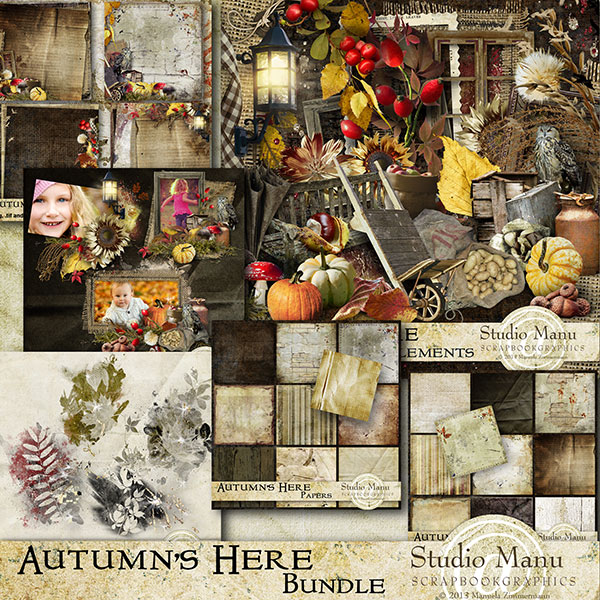 Included everything named above at a HUGE discount – save 51% on special intro sale only for a short time!
Click here to see the entire collection!
Inspiration
Wow, I really really loooove all the pages my amazing Creative Team created with the collection:


Click here to see the entire collection!
Newsletter Freebie
Of course as always there will be a little Mini Kit Freebie to go with the Autumn's Here Collection.
It will come later to all Studio Manu Newsletter Subscribers —> check your inboxes!
Blog Freebie
And the amazing talented Jacqueline created this wonderful Quick Page for you!
Thank you so very much, Jacqueline. It is such a stunning page!
Click the preview to download or the link below the preview!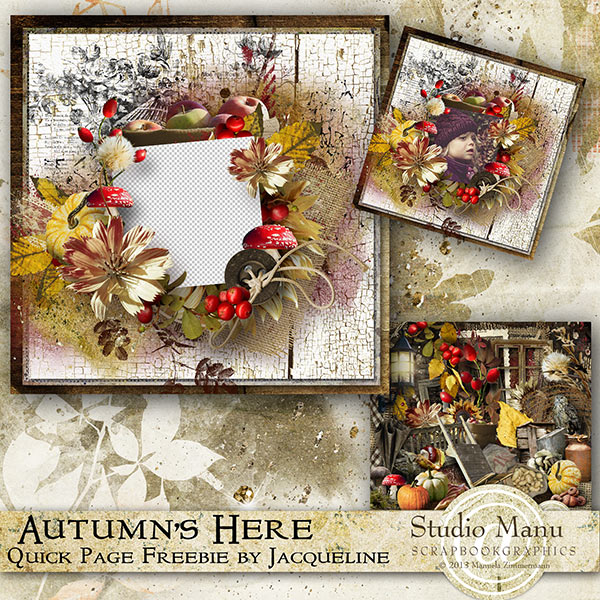 Thank you so much for your visit and hope you enjoy your Sunday!