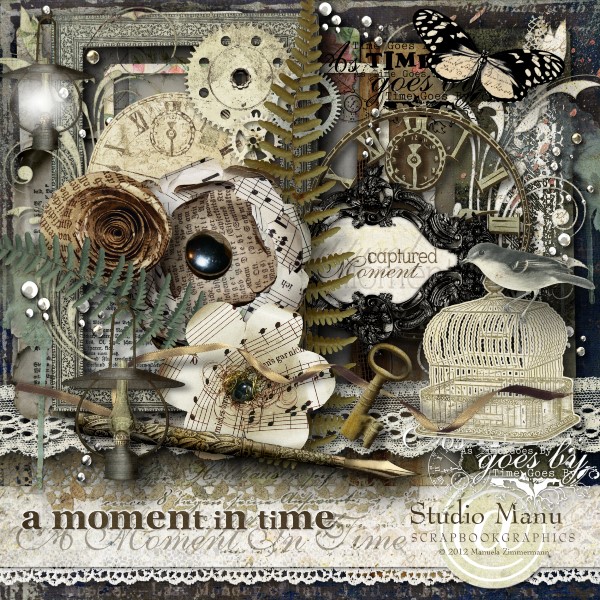 Happy weekend – Are you busy with all the Christmas preparations? Our kids enjoyed the snow and it was pretty clear that before Christmas is arrived it will be gone and now it looks exactely like this. Okay, we still have hope, it's still a bit time and who knows, maybe the winter will come back till Christmas.
Today I bring a new kit / collection*A Moment In Time* and I'm really excited about this one. I love the antique look. I used very few colors anf this gives the complete collection a very harmonic touch. I worked with old newspapers and vintage music sheets, included old/antique watches.
It is really great usable for all kind of vintage photos. If you make genealogy – this is the prefect kit to preserve your family's unique story.
Beside the Page Kit I also made some wonderful clusters (as always come with and without frames – so you have even more versatility) and there is also a beautiful set of Stacked Papers (included layered PSD files and jpg files) – endless possiblities because of the layered PSD files.
And there is also a Glitter Styles Pack – 9 textures included + .asl file + 3 sparkles.

In the collection I bundled everything together at a very special introductory price for a short time

And there is also another set (separately – not included int the bundle) of awesome Stamps – you just have to see. Those stamps are help you tremendous to let your pages and layouts shine.
A Moment In Time - Page Kit 18% off
A Moment In Time - Clusters 17% off
A Moment In Time - Stacked Papers 11% off
A Moment In Time - Glitter Styles 16% off
A Moment In Time - Bundle - 

50% off
A Moment In Time - Stamps - 31% off
******
Hallo zusammen – ich hoffe, ihr habt ein tolles Wochenende und seid nicht zu sehr gestresst von all den Weihnachtsvorbereitungen. Unsere Kids haben den Schnee sehr genossen und es war echt klar, daß alles wegtaut noch vor Weihnachten. Im Moment sieht es ja ziemlich danach aus. Okay, ein klein wenig Hoffnung können wir noch haben, noch ist etwas Zeit und wer weiß, vielleicht haben wir ja Glück und bekommen weißt Weihnachten.
Heute habe ich ein super schönes neues Kit / Kollektion *A Moment In Time* und ich bin riesig begeistert davon, habe selbst auch wieder fleißig gescrappt damit und es macht riesig Spass. Ich liebe den antiken Touch dieses Kits. Ich habe nur sehr wenig mit Farben gearbeitet dieses mal und das gibt der ganzen Kollektion etwas Harmonisches. Viel benutzt habe ich dieses Mal antike, alte Zeitungen und Vintage Music Sheets, habe einige alte Uhren mit hineingepackt.
Man kann damit super alte Vintage Fotos verscrappen und es ist bestens geeingnet für Ahnenforschung beispielsweise – um auf einzigartige Weise die Familiengeschichte festzuhalten.
Neben dem Kit gibt es auch ein Set mit wunderschönen Clusters (kommen mit sowie auch ohne den Rahmen, was sie noch vielseitiger macht) und es gibt auch noch ein Set mit Stacked Papers (als .jpg und .psd enthalten, somit ziemlich endlose Möglichkeiten, alles zu variieren).
Im Bundle ist alles zusammen enthalten und das Ganze zu einem SUPER SPECIAL Preis – nur für kurz:
Zusätzlich zur Kollektion (nicht im Bundle enthalten) habe ich noch ein paar wirklich tolle Vintage Stamps gemacht – verziert mit antiken Uhren, Blumen, Schmetterlingen und Vögeln, antiker Schrift …. als .abr brush set und .png images enthalten.
A Moment In Time - Page Kit 18% off
A Moment In Time - Clusters 17% off
A Moment In Time - Stacked Papers 11% off
A Moment In Time - Glitter Styles 16% off
A Moment In Time - Bundle - 50% off
A Moment In Time - Stamps - 31% off
A Moment In Time – Papers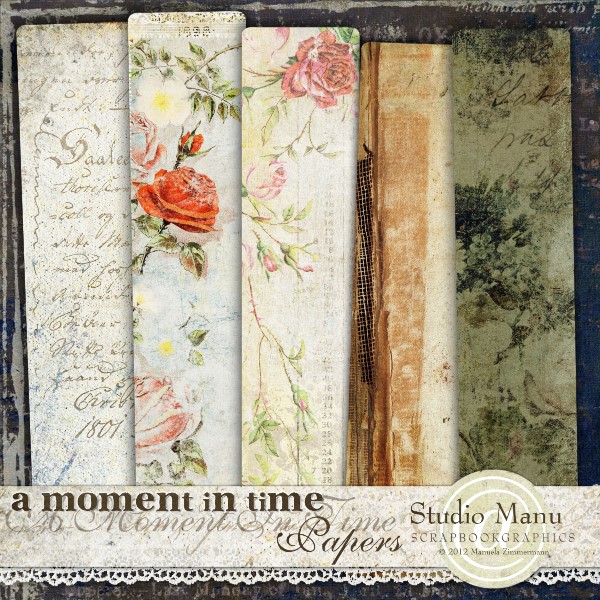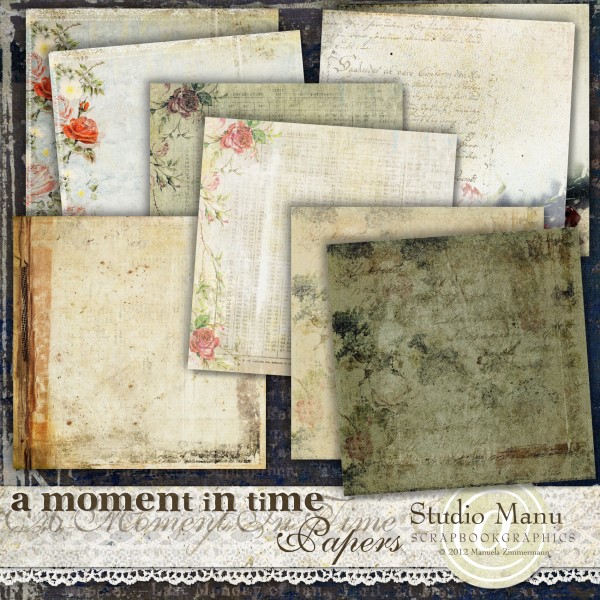 included two versions of each cluster: they come as frame clusters as well as without the frames already added, so you have the possiblity to chose a frame of your own or use it without frame or as border … that's up to you

Here the preview without frames: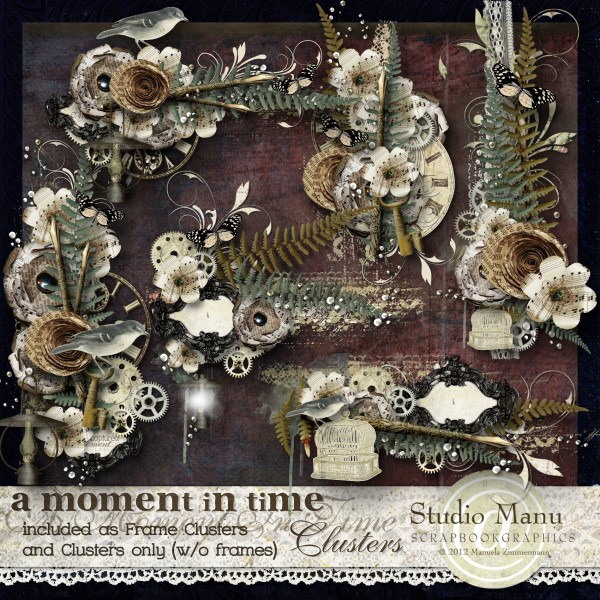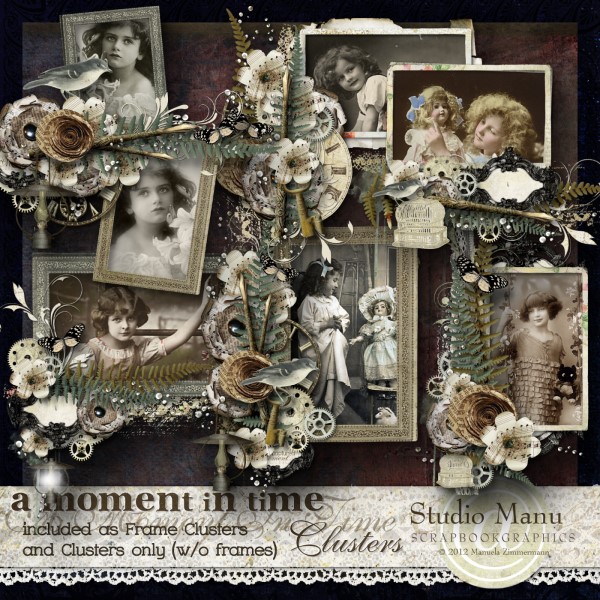 The pictures on the preview are for preview purposes only, nor included in the download!
Sample Page using the Clusters: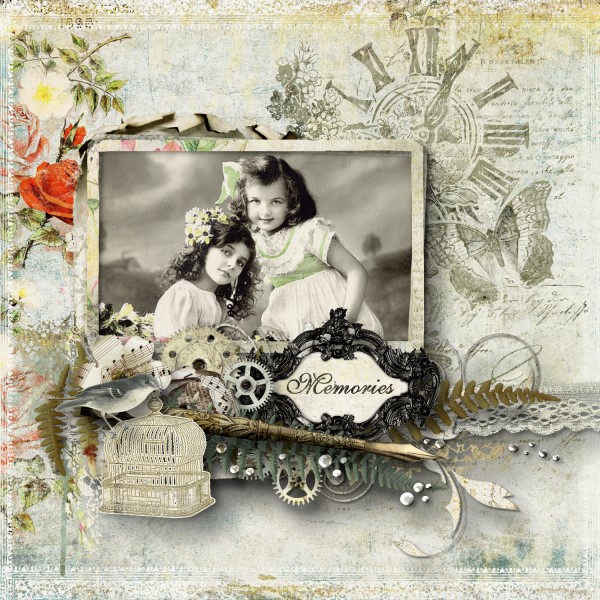 A Moment In Time – Stacked Papers
these are included as .jpg files as well as .psd files so you can mix and match them with each other, put the frames and/or pictures behind the element layer, add new elements ….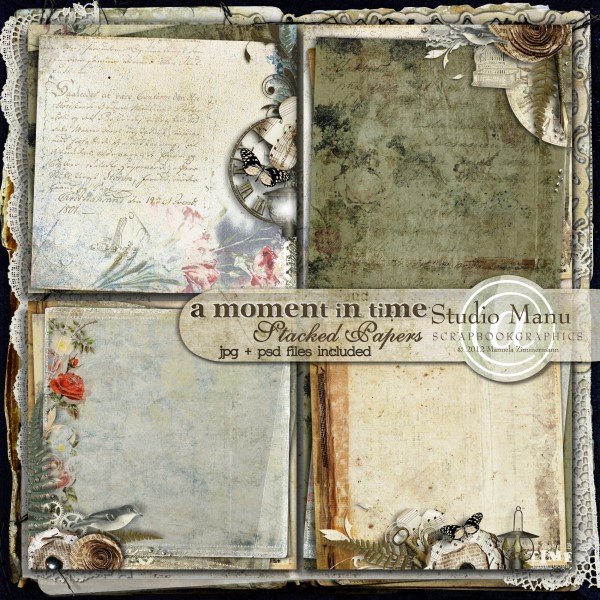 Sample Layout using Stacked Papers:
I used the stacked papers in combination with a cluster. Added a stamp (right corner at the bottom) and Photo Mask from Oh, Happy Day!
The complete page was done in almost no time, because each part was ready created. Opened a stacked paper —> opened a cluster. Chosen a stamp + picture. I thought using a photo mask it will look better. Opened photo mask. Everthing arranged a bit here and there and done!
A Moment In Time – Glitter Styles
9 glitter seamless textures saved in high quality jpg format and a layer style .asl file.
Also included 3 light flare / sparkles which let you glitter really shine and shimmer and sparkle.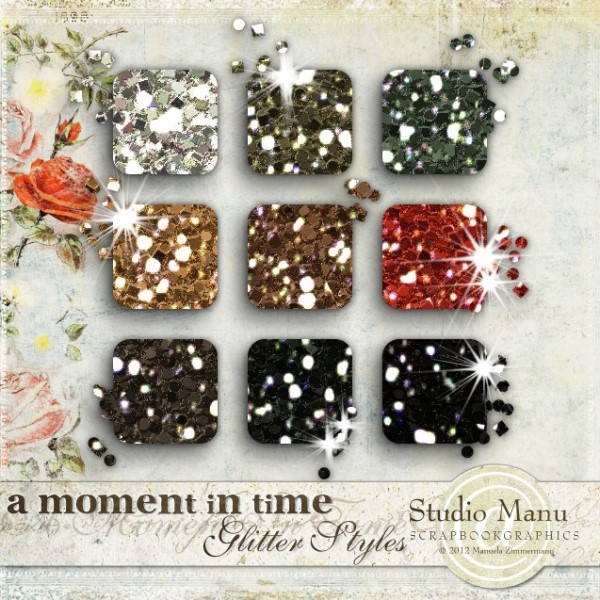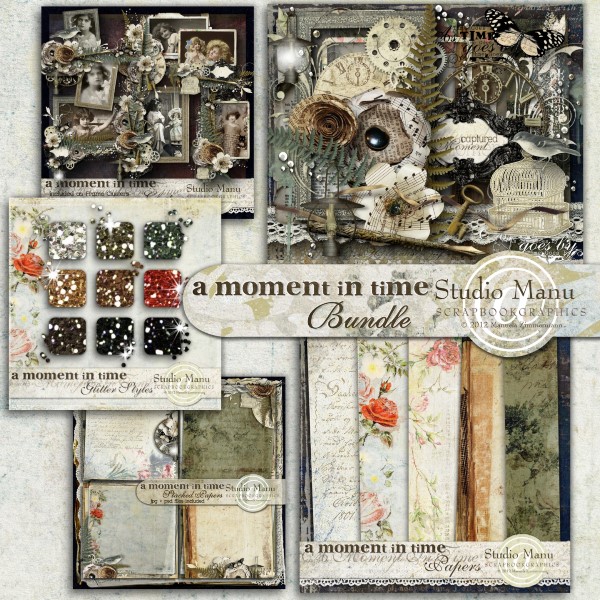 The complete collection is 50% off – only for a short time!
This set is additionally available, not included in the bundle.
Those stamps are enhance your layouts even more and give them an additonal vintage touch.
I love working with them, used them on all of the pages I created.
Included are the .png images as well as an .abr file.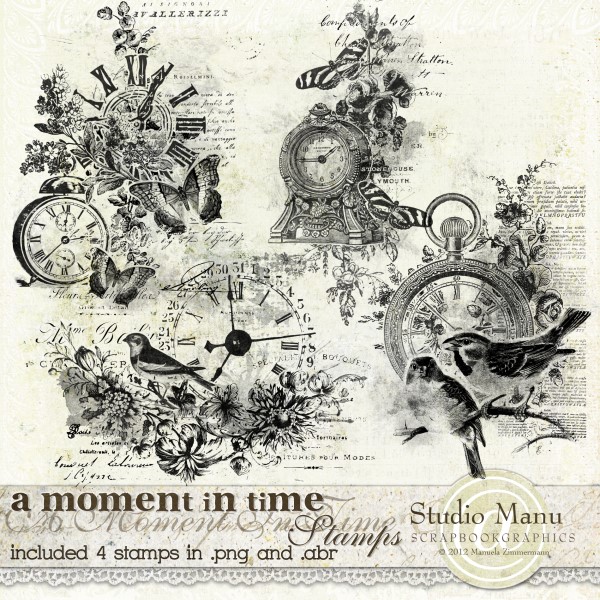 Sample Layout using the stamps by Jeannette: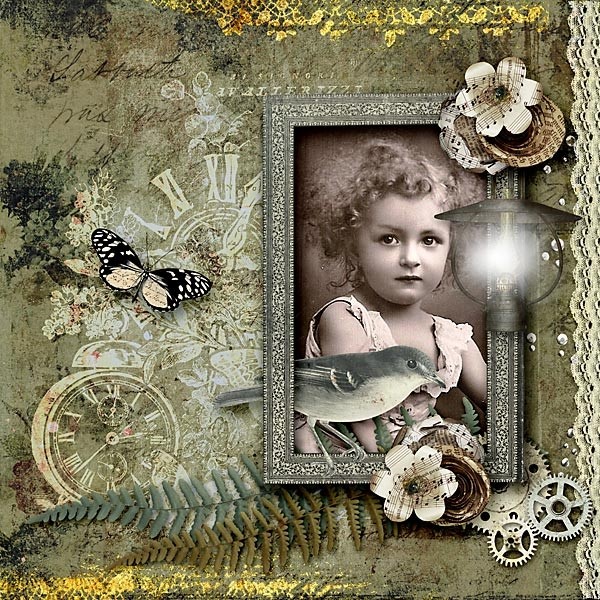 Inspiration
Here are some wonderful Layouts created by my awesome CT Girls and myself

First page comes from Yvonne:
that's such a sweet layout she made, cute photo (love that smile). Wonderfully embellished and love the composition.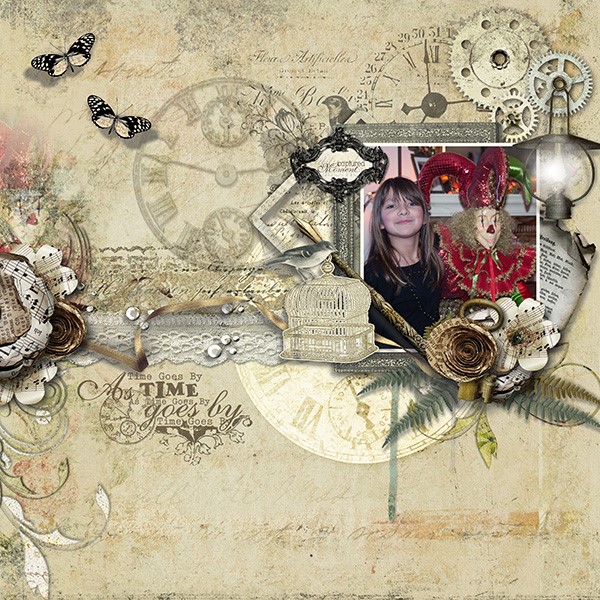 Next page by Jeannette (yes, she made two pages):
Each detail is amazing here, stunning pic too. Look how she placed the little birdie on top of the frame! Very creative layout!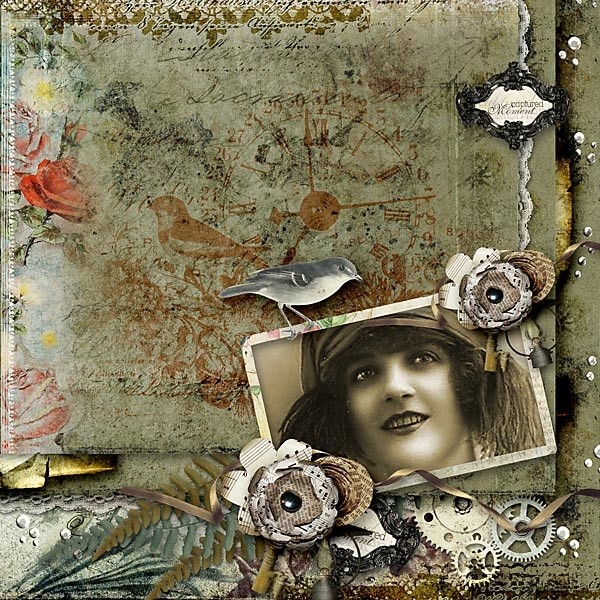 And another layout comes from Tracey:
She used the kit toscrap a wedding photo of her parents. Look, how happy they look


totally amazing layout she made!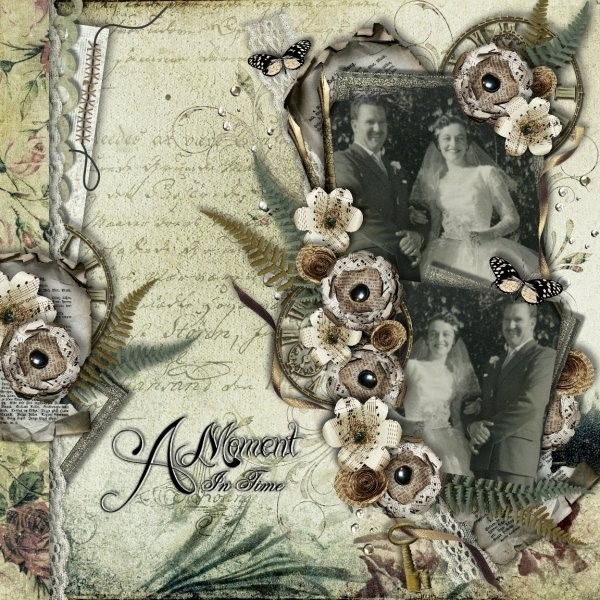 And here is a layout created by Janet:
She used a photo of her daughter & granddaughter. This is just so so gorgeous and impressive. Beautiful details, an amzing work she did here.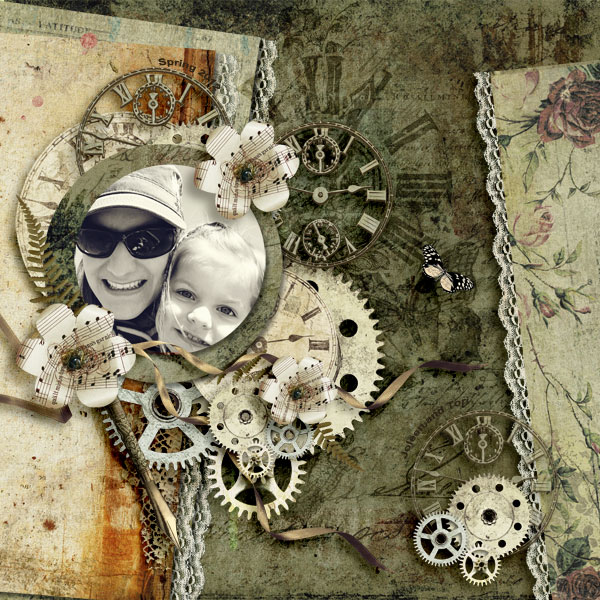 By Manu – (me)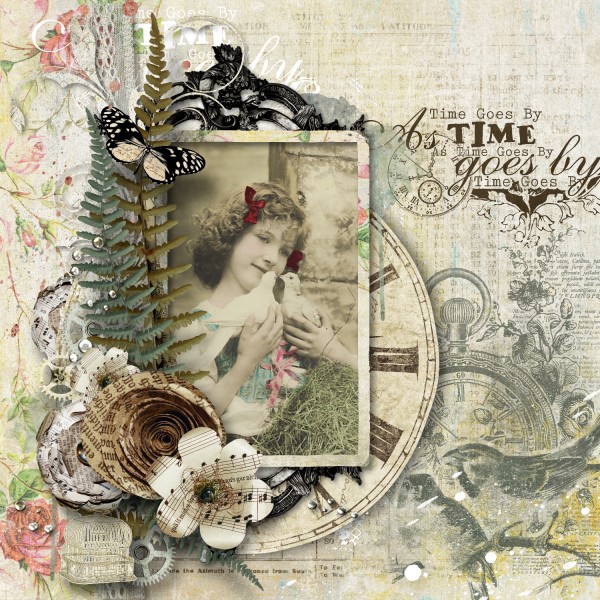 And another one by me: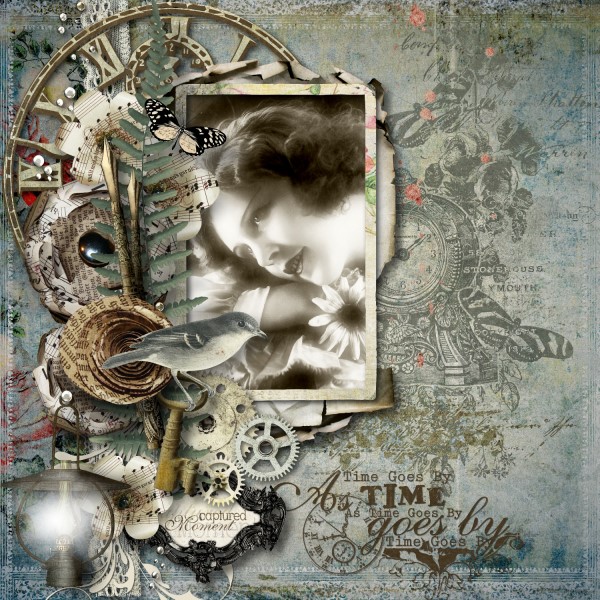 Newsletter Freebie
This little freebie comes later to all newsletter subscribers, a little Add-On to the A Moment In Time Collection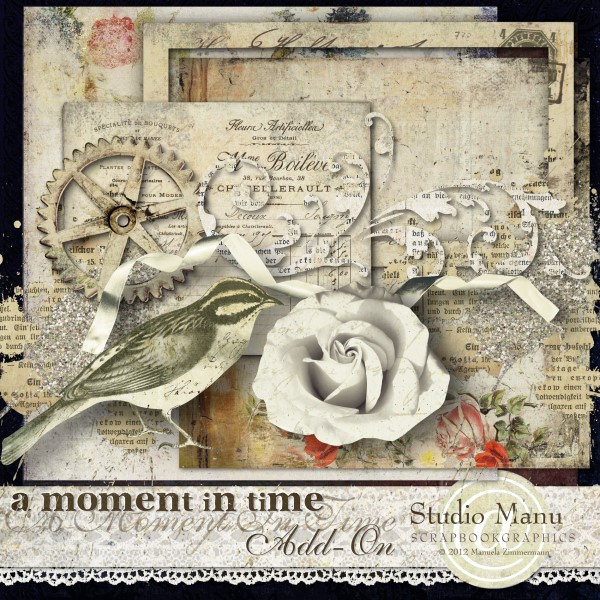 And a Blog Freebie
I have a Free Quick Page for you here – made by Yuki with the Tranquilness Page Kit.
Many Thanks – Yuki ♥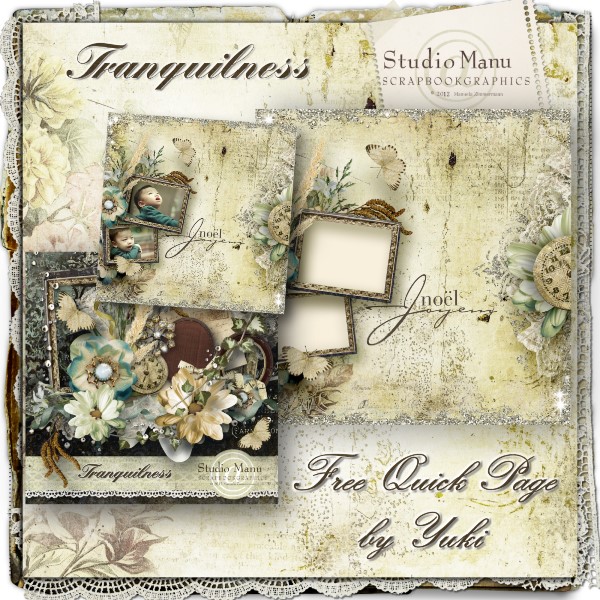 I hope you enjoy your weekend!
Tags: antique, clusters, collection, Frames, Free, freebie, genealogy, Glitter Styles, memories, moment, newsletter freebie, quick page, scrapbooking, stacked papers, stamps, time, vintage