Hi everyone and Happy Saturday! The winter is arrived here, very cold and a lot of snow. The kids have fun and beside this we are busy preparing everything for Christmas. We make cookies, the bosy love it. 
This week I have a few new things for you. There is a set of  awesome Word Art and some (hope you haven't wrapped all presents yet) beautiful Christmas Gift Tags in addition to the Vintage Christmas 3 Collection. And also I have a new Kit.
That was a lot of  fun working on it and also playing and scrapping and trying it out.
It is called Yesterday's Dreams, has a lot of awesome, unique elements inside and some beautiful papers.
The best is the deal: get it for 50% off only for a few days … you just don't have to miss the fab deal!
******
Hallo zusammen, ich hoffe, ihr habt ein tolles Wochenende. Der Winter kam ja nun diese Woche hier an, es ist echt bitter-, eisigkalt. Die Kids haben ihren Spass im Schnee. Ansonsten sind wir mächtig beschäftigit mit Weihnachtsvorbereitungen. Wir backen fleissig Plätzchen, Nick singt immerzu "In der Weihnachtsbäckerei", die Jungs lieben es einfach.
Diese Woche habe ich ein paar neue Sachen für euch! Als erstes gibt es ein Set Wordarts, dann noch (ich hoffe, ihr habt noch nicht alle Geschenke eingepackt) ein Set Weihnachts- Geschenkanhänger und ich habe auch ein neues Kit.
Das hat viel Spass gemacht daran zu arbeiten und auch es ein wenig auszuprobieren und damit zu scrappen. Es heißt *Yesterday's Dreams". Drin sind viele tolle Elemente und natürlich auch wunderschöne Vintage papers.
Das beste ist natürlich der Deal: Es ist 50% off nur für ein paar wenige Tage.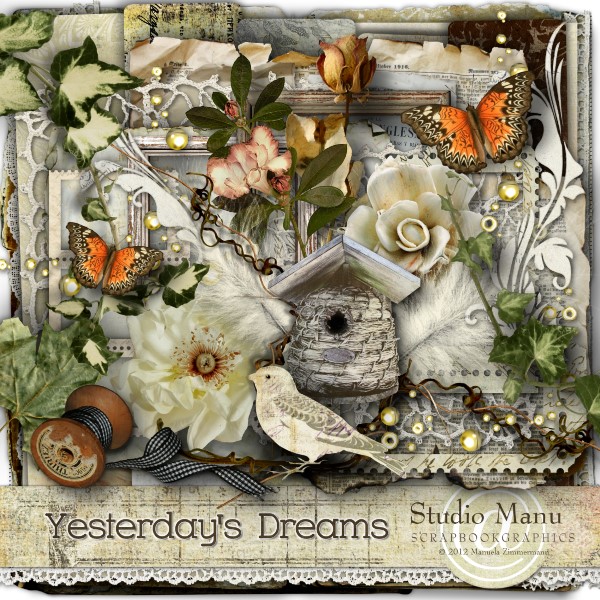 Here are the Yesterday's Dreams Papers:
There are 5 papers inside + 5 extra papers. You know, I always play a bit with a paper even it is done and then there come up awesome results and at the end it is too difficult to decide which paper I should include in the kit or not, so I put them all in – hope you don't mind 🙂
*****
Drin sind 5 Hintergründe + 5 Extra Papers. Ich muss immer noch etwas mit dem eigentlich schon fertigen Hintergrund herum spielen, dann kommen echt super Ergebnisse heraus und am Ende kann ich mich einfach nicht entscheiden, welches Paper ich nun in das Kit packe und welches nicht, so sind sie dann halt alle drin!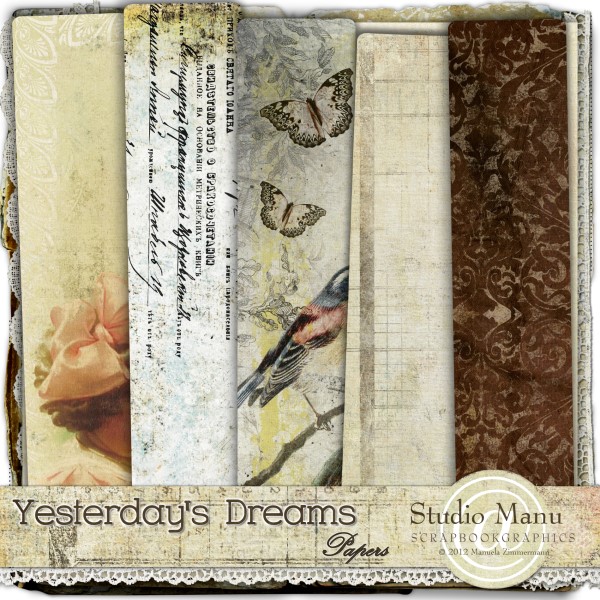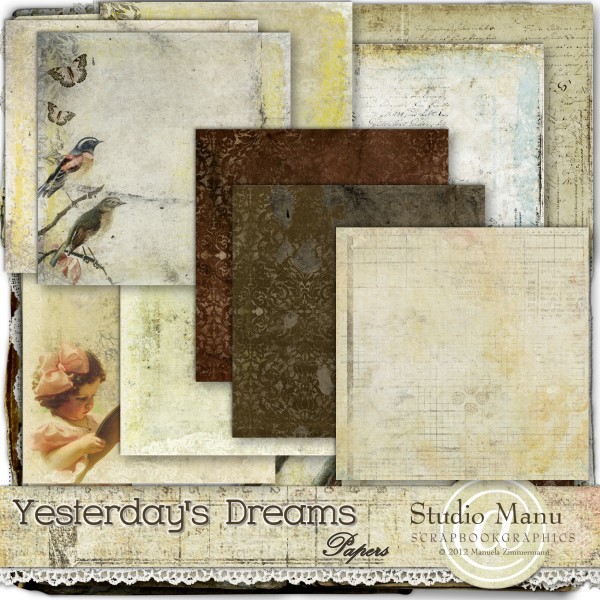 Inspiration:
Look, what awesome things my Ct girls and myself made with the kit:
This one is by Janet, really a gorgeous layout, sweet photo of her granddaughters, love how she placed the little birdie on the curled wood, the colours of the photos working perfect with the background color of the page: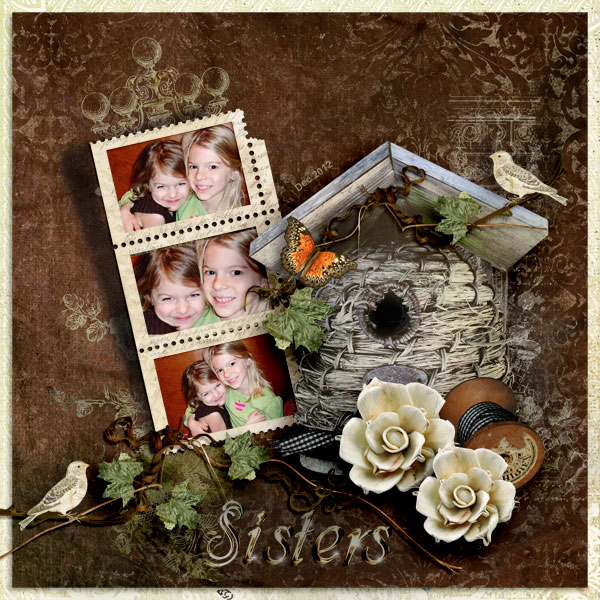 Next super stunning layout comes from Tracey. I just love that dreamy photo, and I like the way she arranged the papers in the background.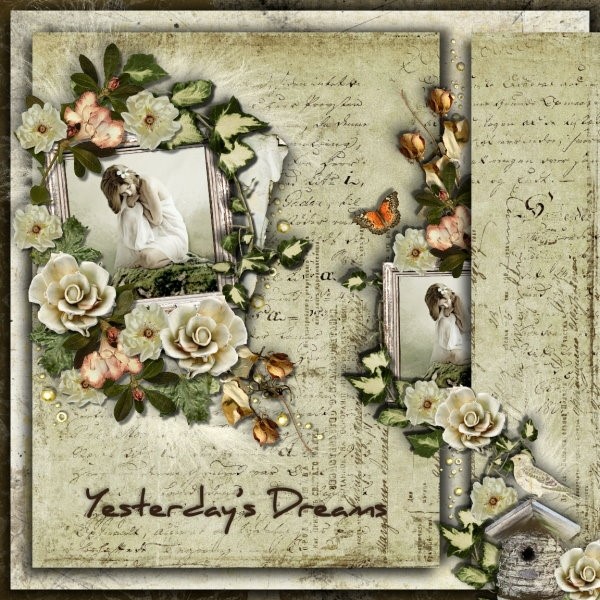 Yuki always makes such wonderful layouts. The composition here is so unique, the shadow work always gorgeous not to mention that photo, makes me smile 🙂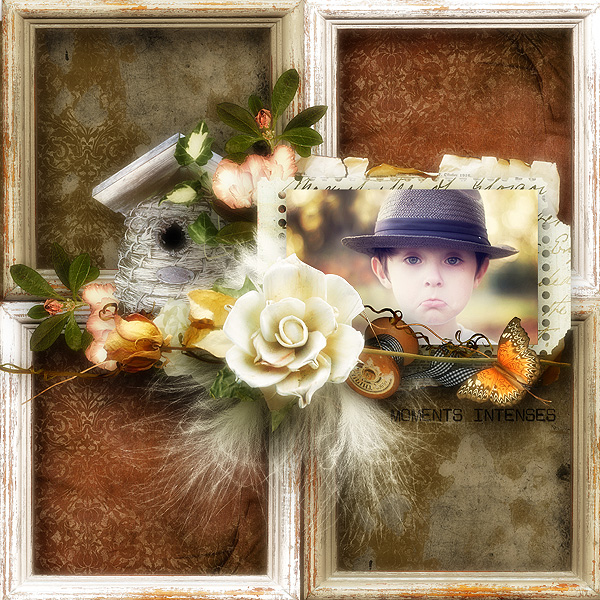 And I have one more, this is created by Manu (that's me):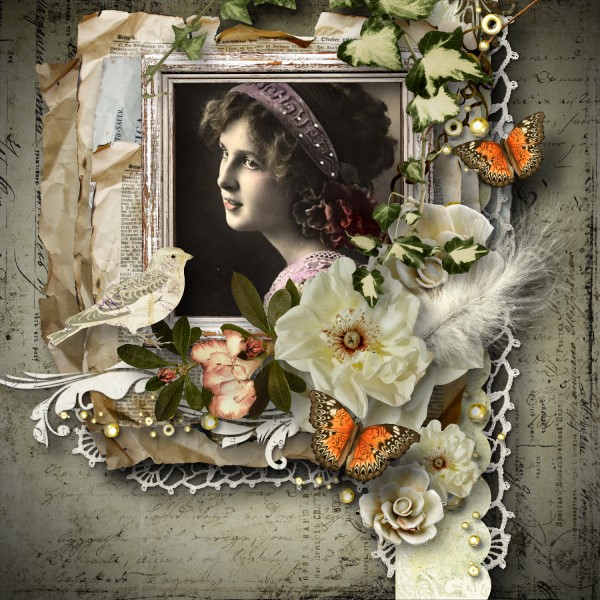 Now the next thing:
Included are 8 beautiful pieces which are coordinating with my *Vintage Christmas 3* Collection!
Each Word Art comes in a clear as well as in a distressed version!
The one Word Art with the year 2012 comes also without the year, so you can also use it for all upcoming as well as all past Christmas projects you want to scrap about.
Preview with the plain/clear word art: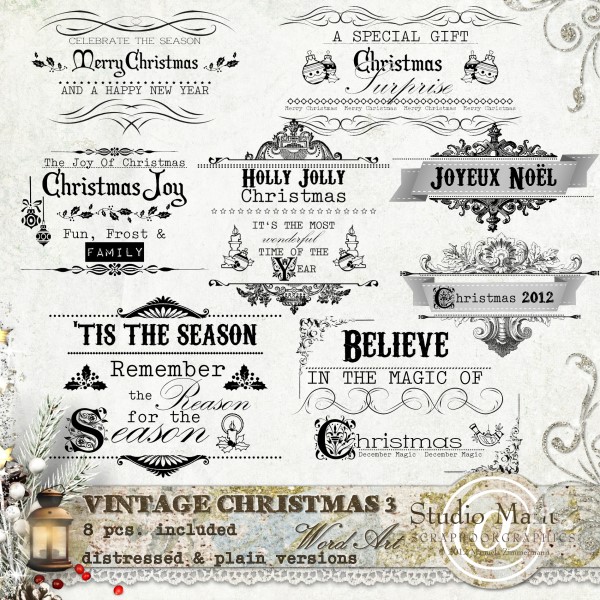 And the preview with the distressed word art: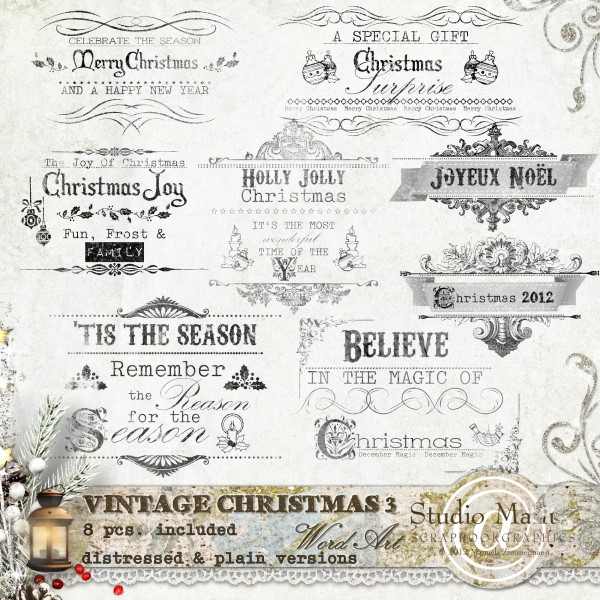 Here are a few Examples to see the Word Art in usage: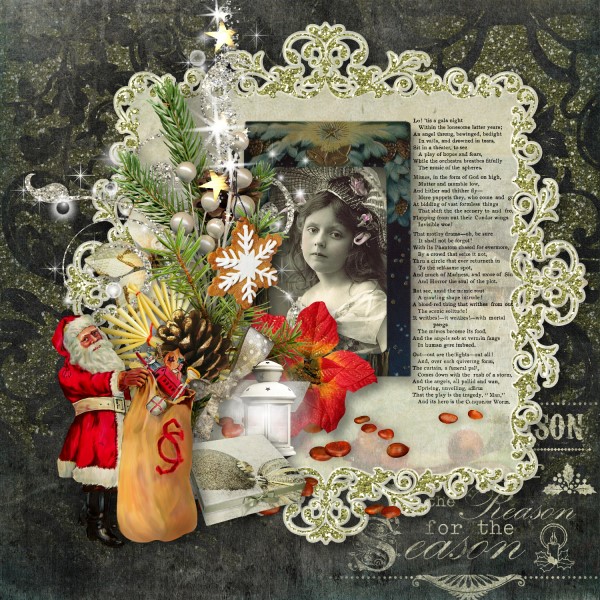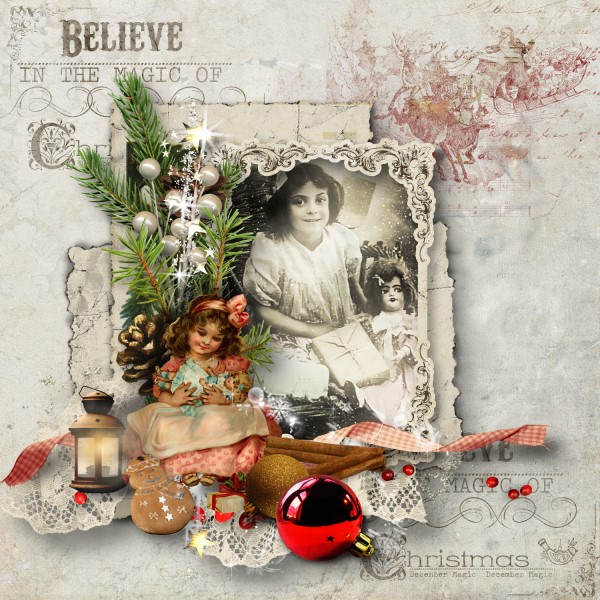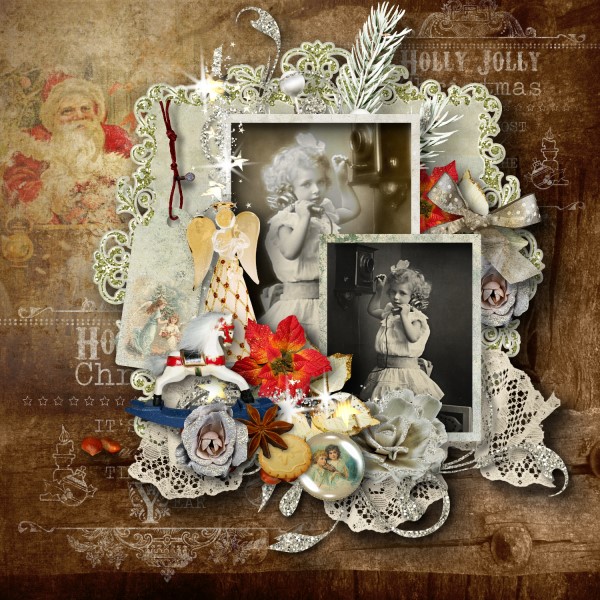 Not just Word Art – they can do more:
These Word Art are very versatile, so you can use them also to make something like a border around a photo or page. You just need to turn them around or cut the not needed parts away from the word art. Or use the lasso tool and trun the parts you want to use in an separate object.  Look at that page I made – on top and on the left of the photo:

or here is another example, where I used only a part of one word art on the right site and a bit you can see behind the sitting girl: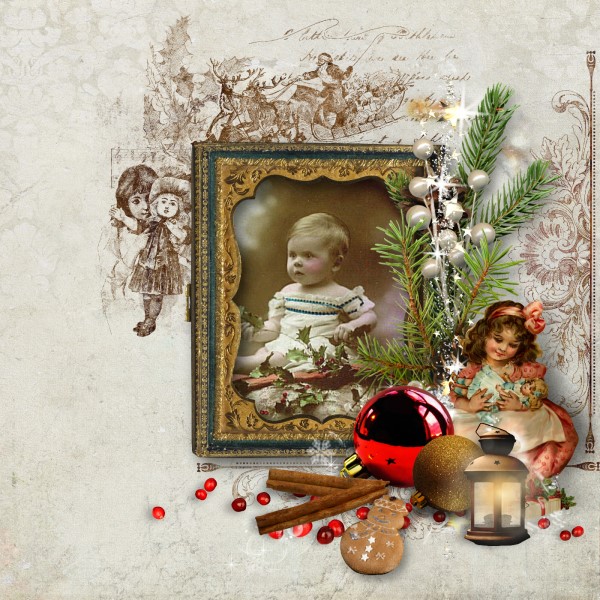 You just need them to wrap your presents.
6 beautiful Christmas Gift Tags coordinating with the Vintage Christmas 3 Collection.
Included is a english version (from, to), a german version (von, für) and a blank version of the labels.
Also included is a A4 sheet of each version ready to print for you.
Each file is saved separately in .png file format, created at 300 dpi.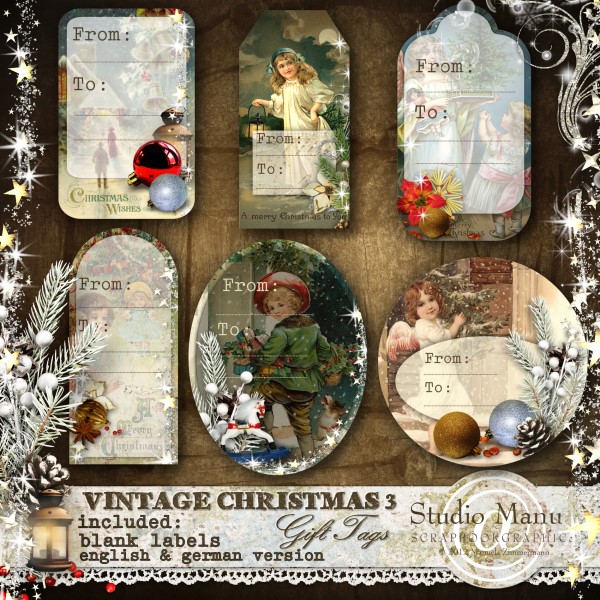 German Version – deutsche Version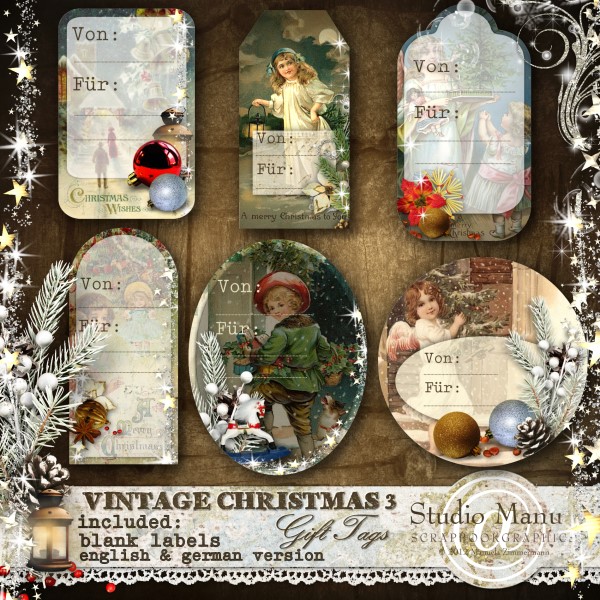 Blank Version – so you can write anything you want 🙂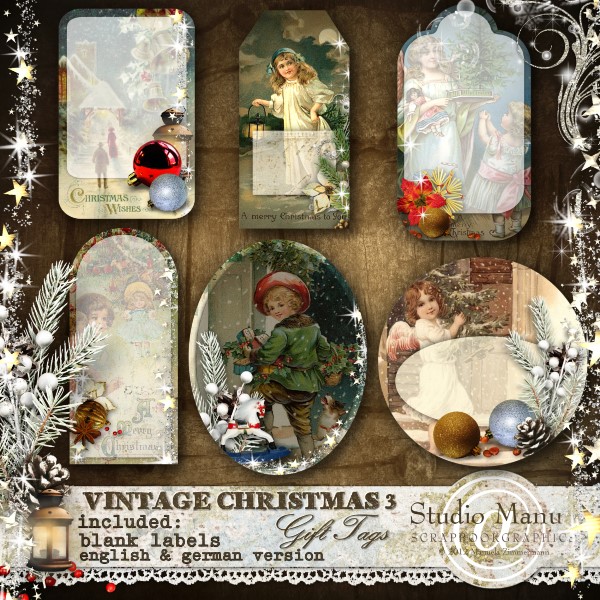 I have no sneak peek for you this week. I can show you something I'm working on.
I used my antique Vintage Sheet of Music and Old Newspapers to create some beautiful Paper Flowers.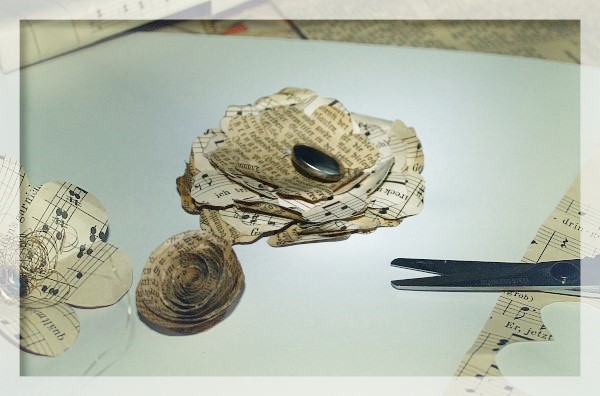 Blog Freebie
Many thanks to the wonderful Yuki for turning her awesome layout into this stunning free Quick Page.
Enjoy!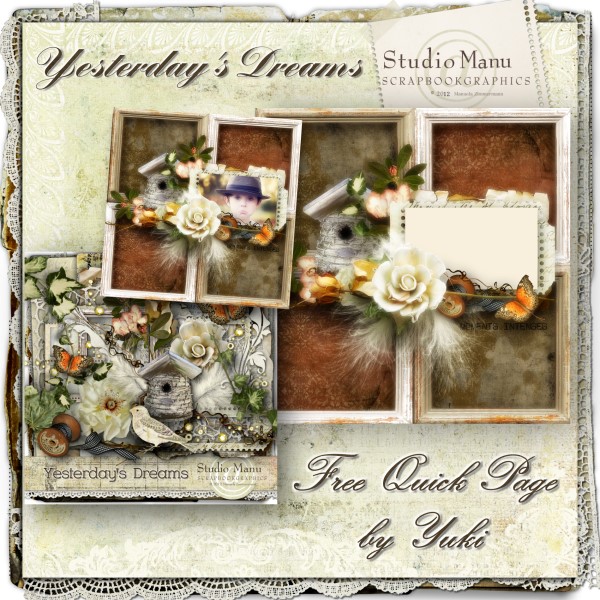 Hope you'll have a super fantastic weekend!