Isn't it unbelievable how time flies?
Only 4 weeks to go and it's Christmas Time.
Time got really hectic lately. I couldn't release an Autumn kit this year. Started working on it and it really looked already amaaaazing. But then there was no time to finish and Autumn was almost over. My last collection I released at the beginning of September. Unbelievable.
So instead I created a Christmas Kit, before it is too late for this one too.
You wonder where it will be available, after closing my store at SBG.
I will open at another super fabulous Scrapbook Store soon. But meanwhile I work on it you can get it in my Etsy store.
I am proud of this new collection. And you don't know how I missed designing AND looking at all the beautiful layouts by the Creative Team Girls. Wow … it was so wonderful to open the emails and looking at the pages.
Okay … here it is
The collection is called: Oh Holy Night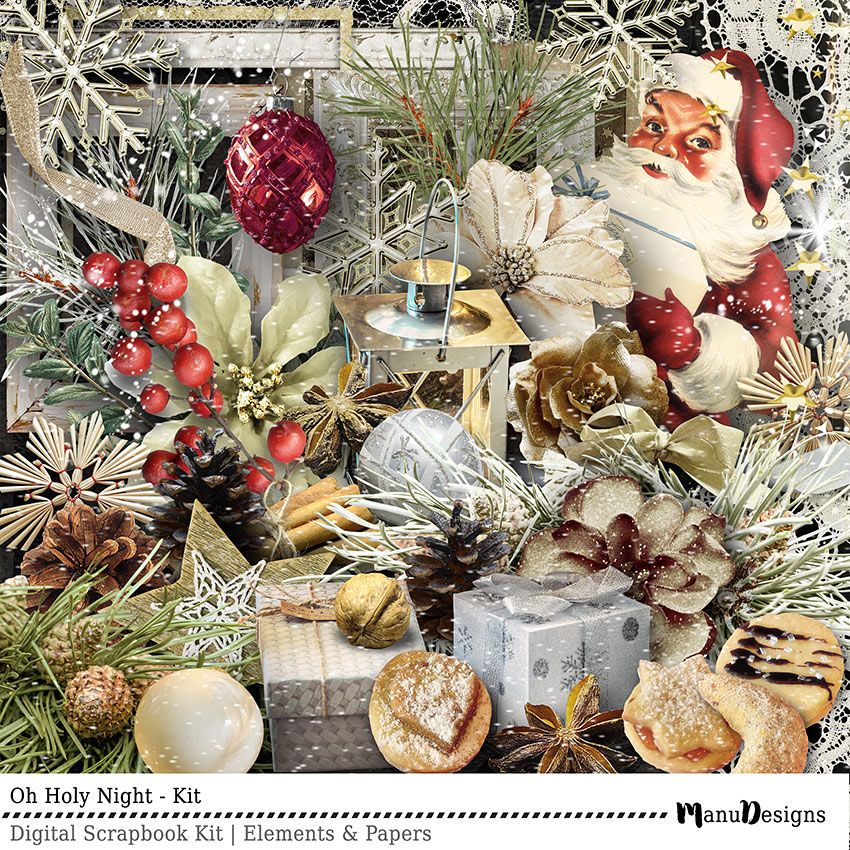 There are so many amazing elements included, you can create endless scrapbook pages or use it also to create your Christmas Cards.
Oh Holy Night – Papers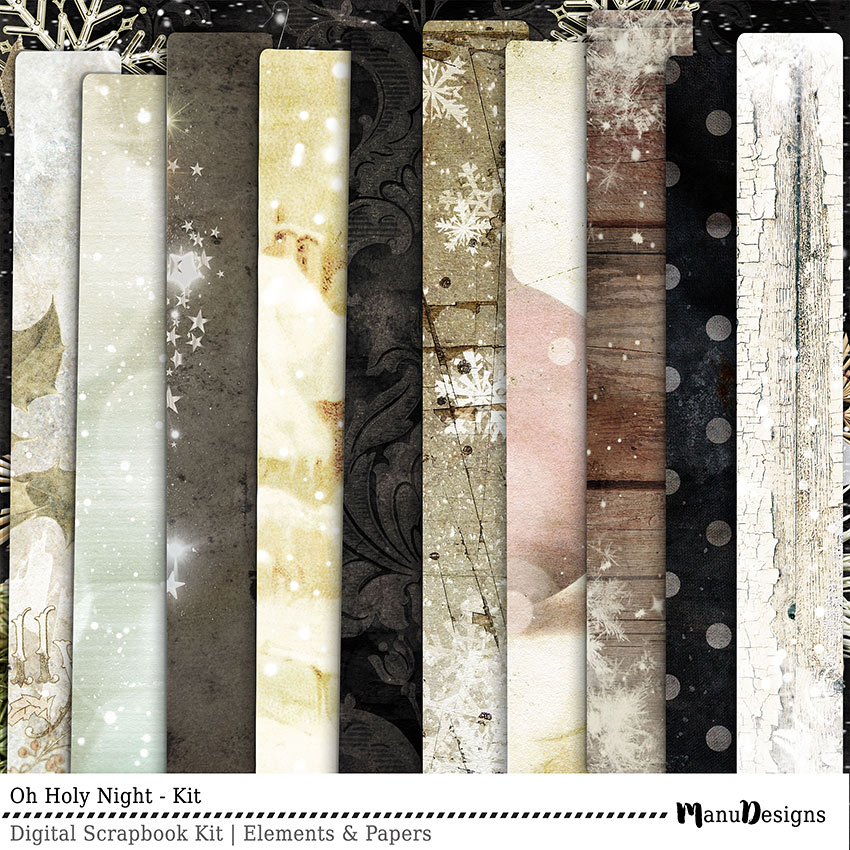 Also included in the kit are 10 beautiful papers.
And as usual also included 10 extra papers.
You can see them all in the previews below: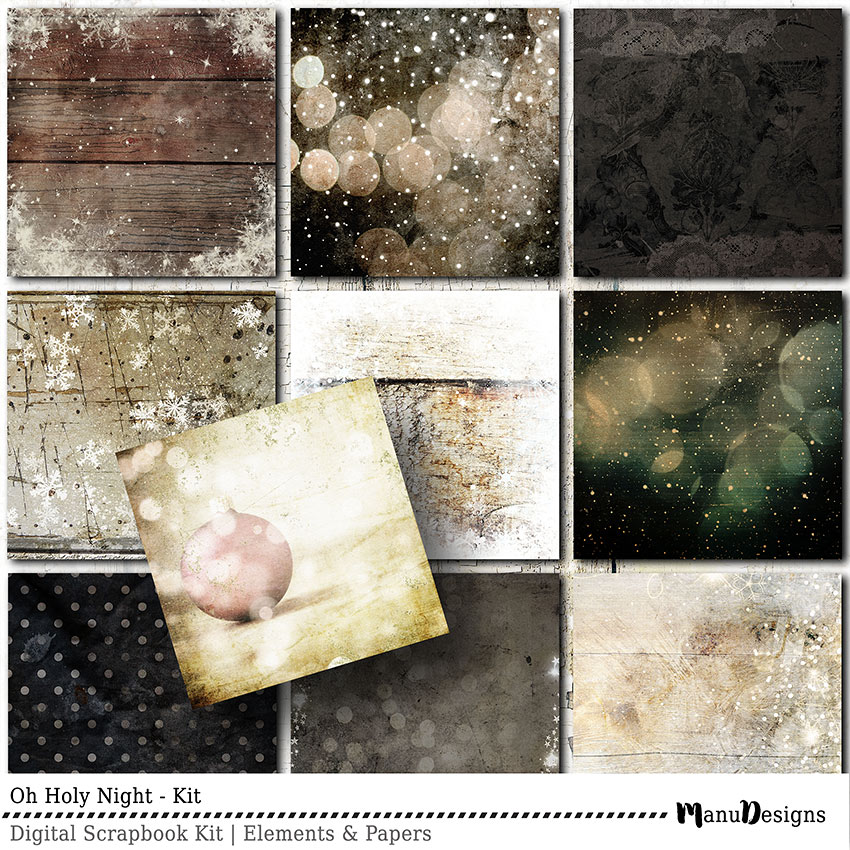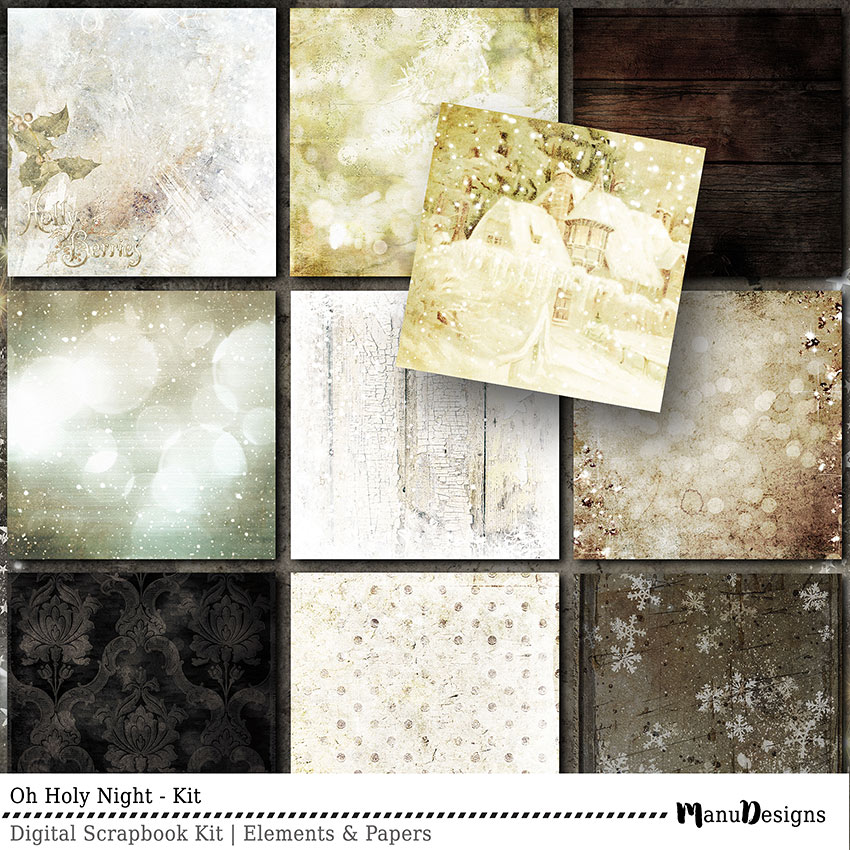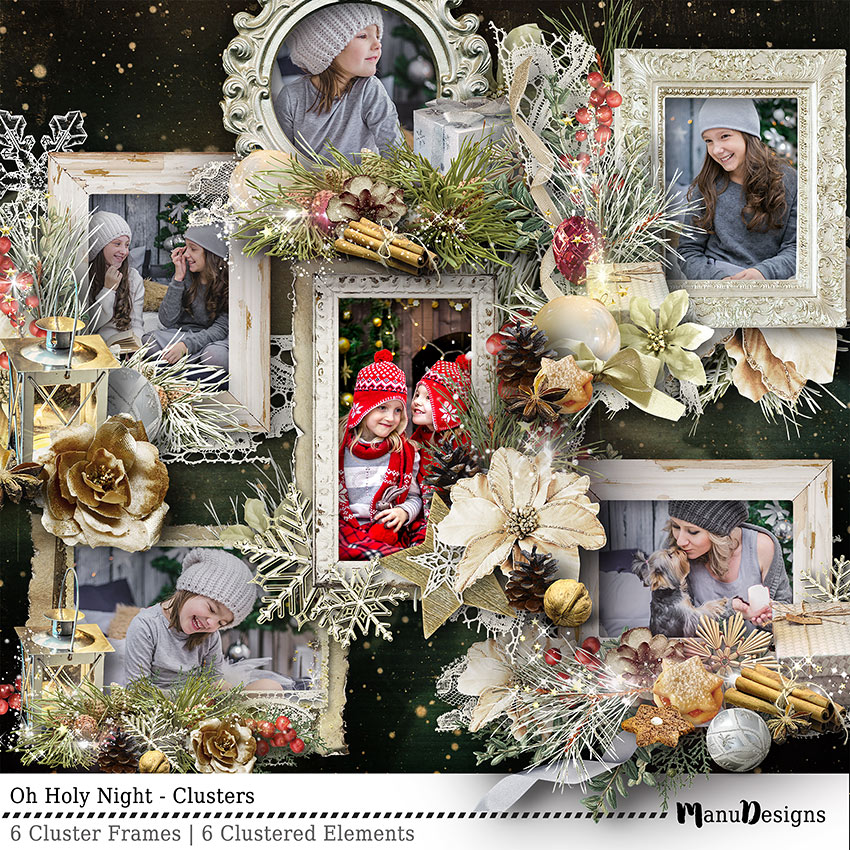 A set of 6 Clustered Elements made with the *Oh Holy Night* Page Kit. Ready for you to use.
Shadows already added.
6 Clusters come without frame and 6 Clusters come with already frame added.
So for your own creativity and needs you can choose your own frames or use the finished Frame Clusters.
Sample Layout: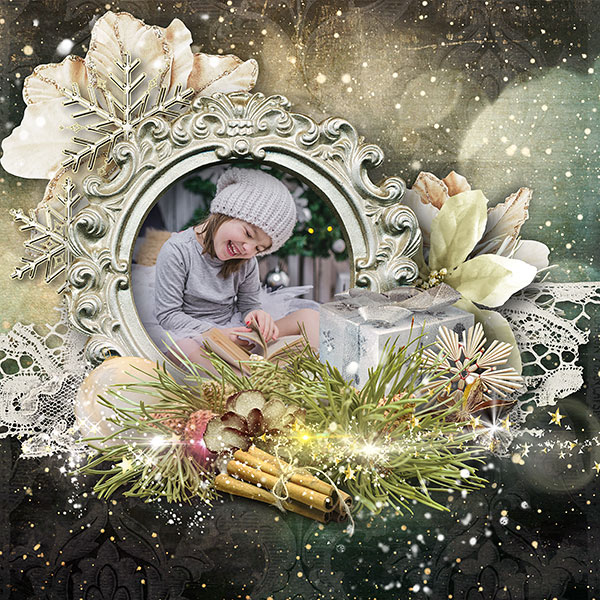 Preview Clusters without Frames added: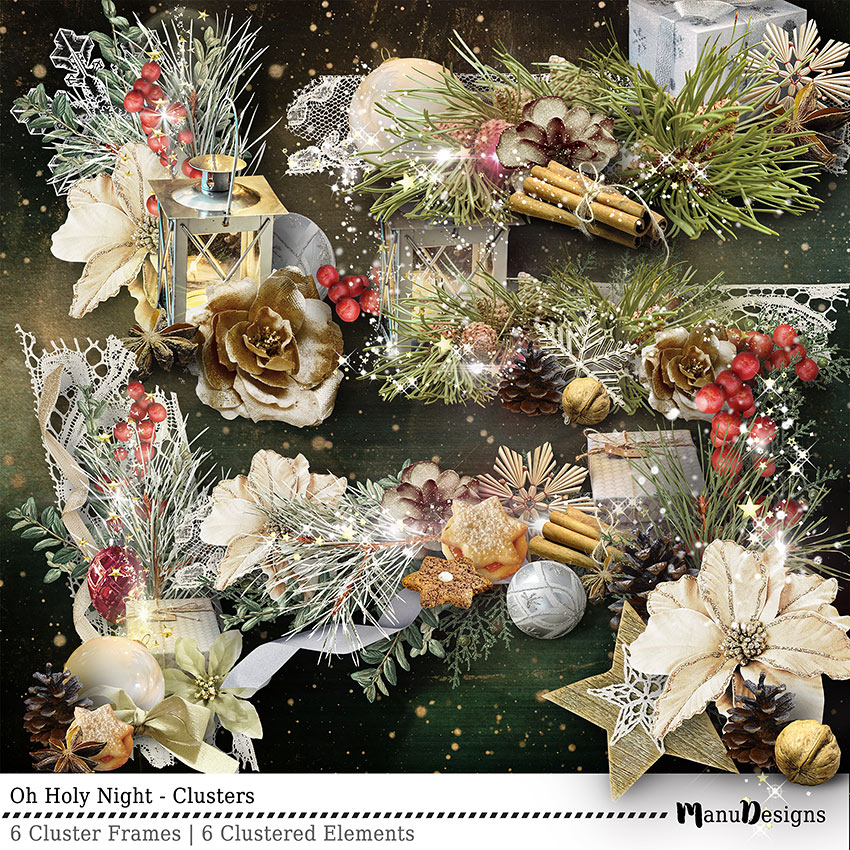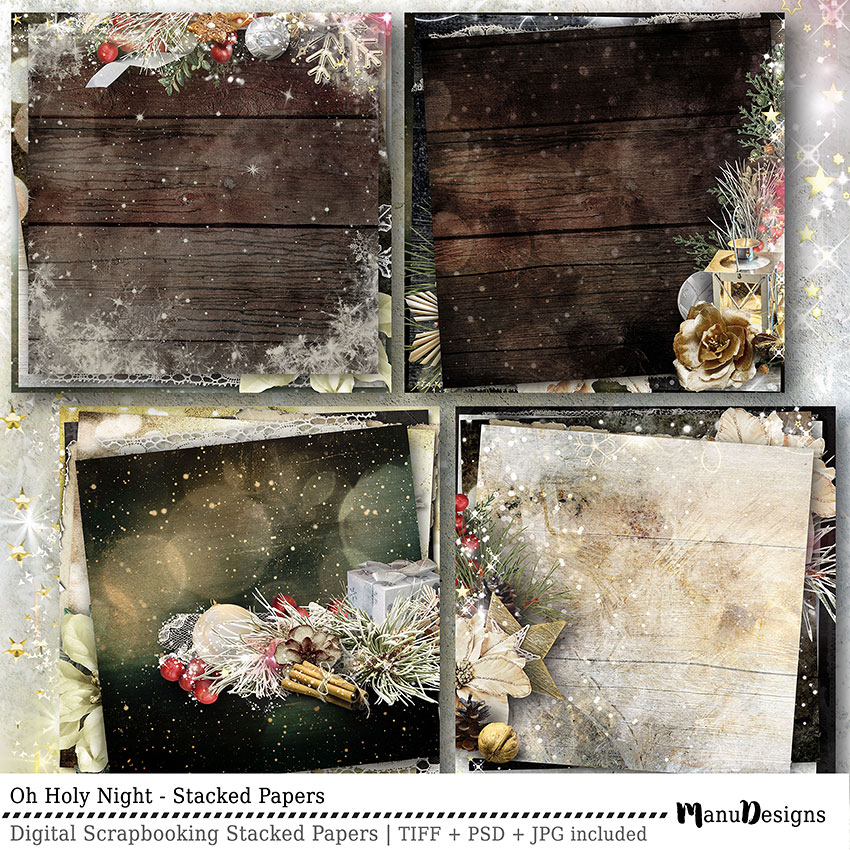 This set contains 4 stacked papers
Included are flattened .jpg files and .psd files as well as .tiff files.
Sample Page: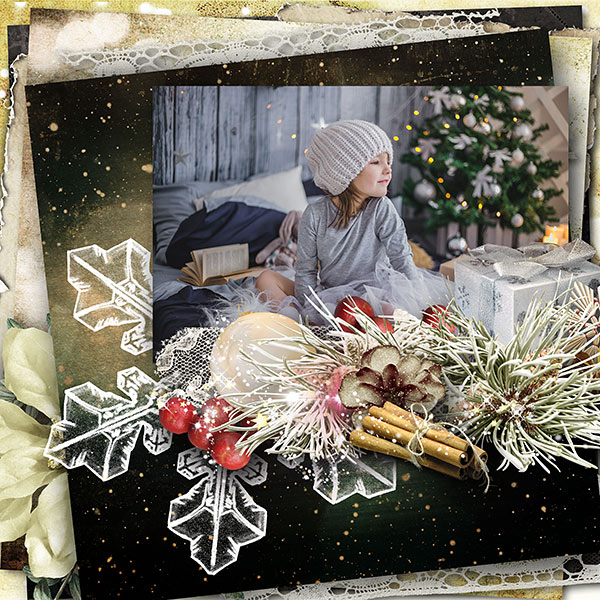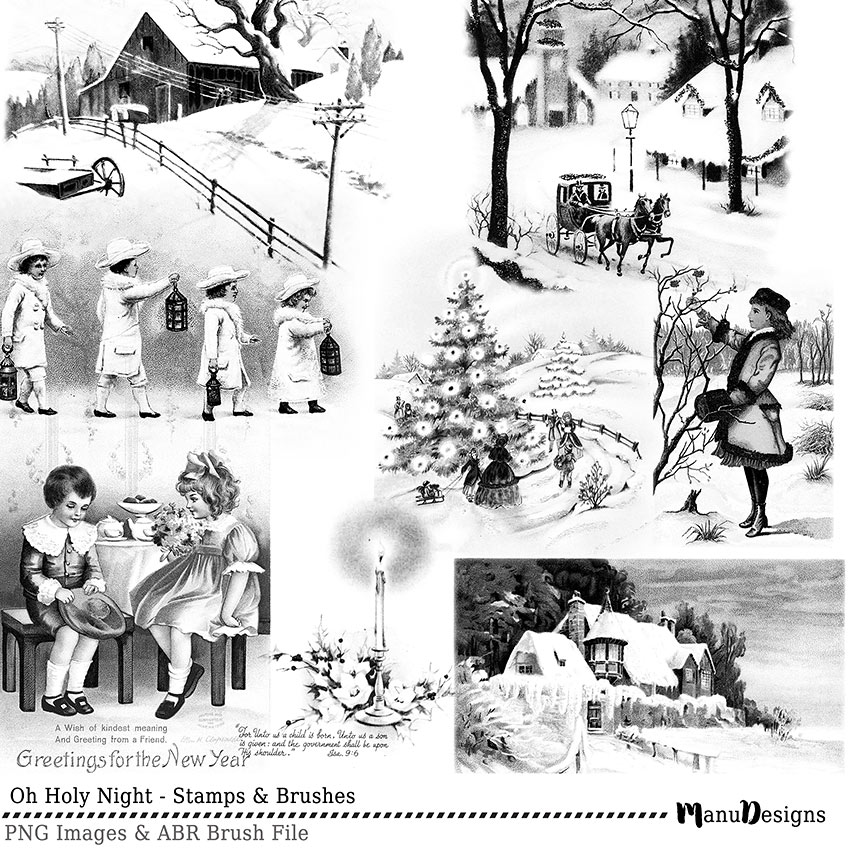 A Set of 8 beautiful vintage Stamps and Brushes.
Included:
8 transparent png files
ABR Brush File
Sample Layout: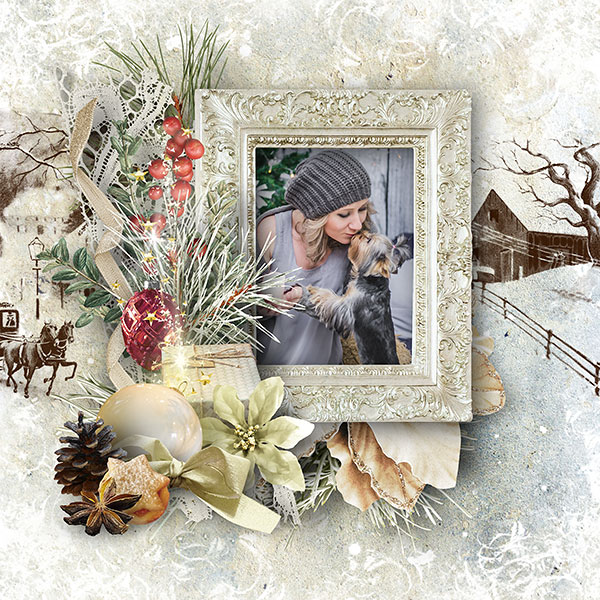 Here is everything included (Kit, Stacked Papers, Clusters, Stamps & Brushes) at a Huge Discount.
Save 50% on the complete collection: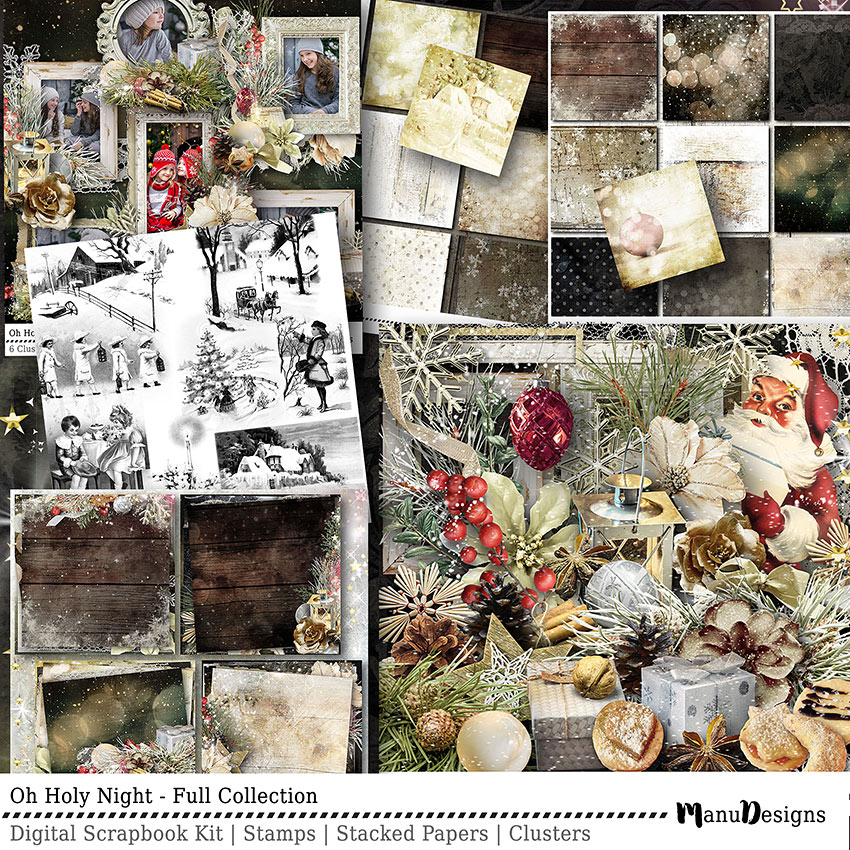 >> Check out the entire collection here

---
Oh Holy Night – Printable Christmas Gift Tags
I also created a new set of Christmas Gift Tags.
Included are 9 tags and the come in printable pdf format.
I've placed them on A4 sheet as well as on Letter Size sheet.
I've also included a background in A4 and Letter Size, so you can print the back of the tags too.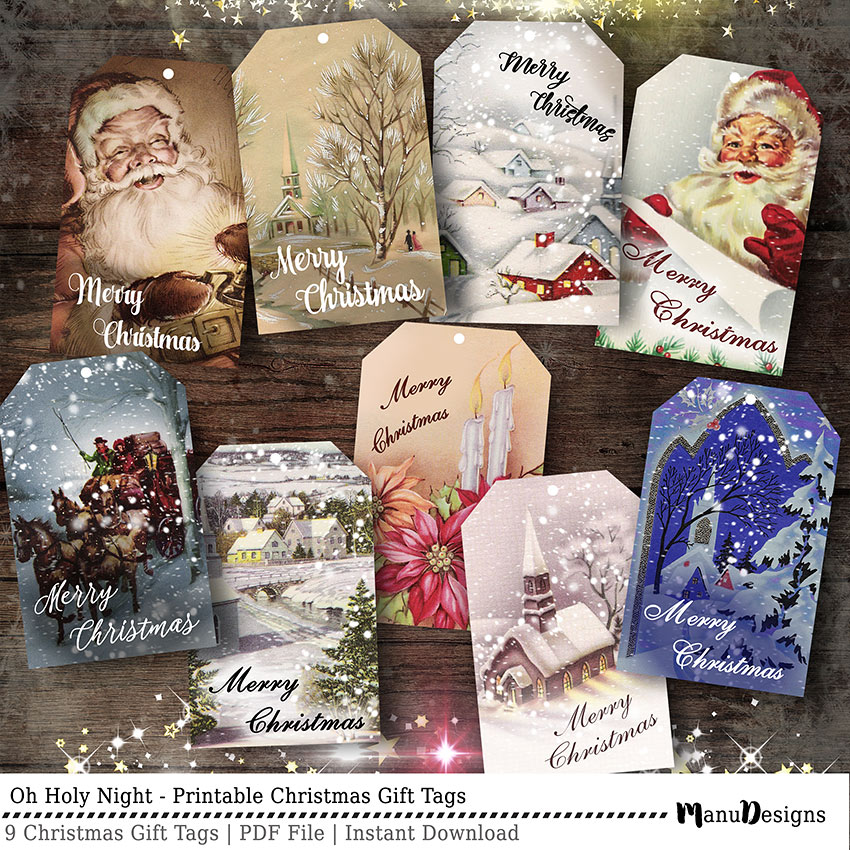 Here you can see how they looked printed: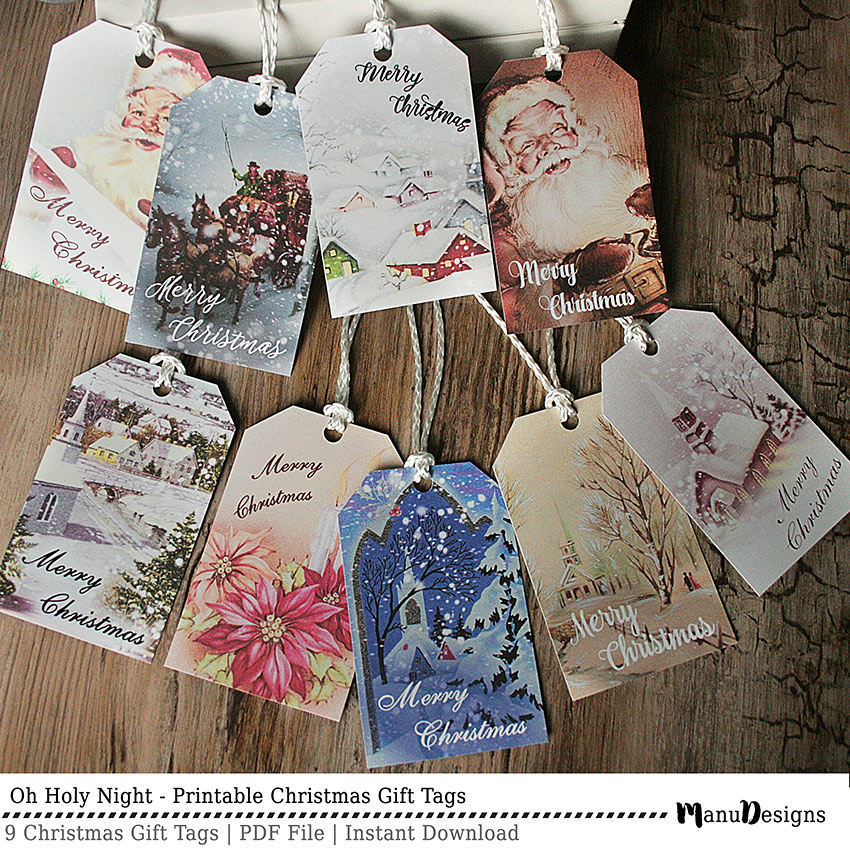 As I already said I really missed looking at all those wonderful Inspiration pages created by the girls:
---
Weekly Planner Inserts 2018
In my Etsy store I offer the updated planner inserts for 2018 as digital download.
But I was asked if it is possible to make a physical version which can be shipped and of course
I did.
So if you wish to get the planner inserts for the entire year 2018 shipped directly to your door
you can do so.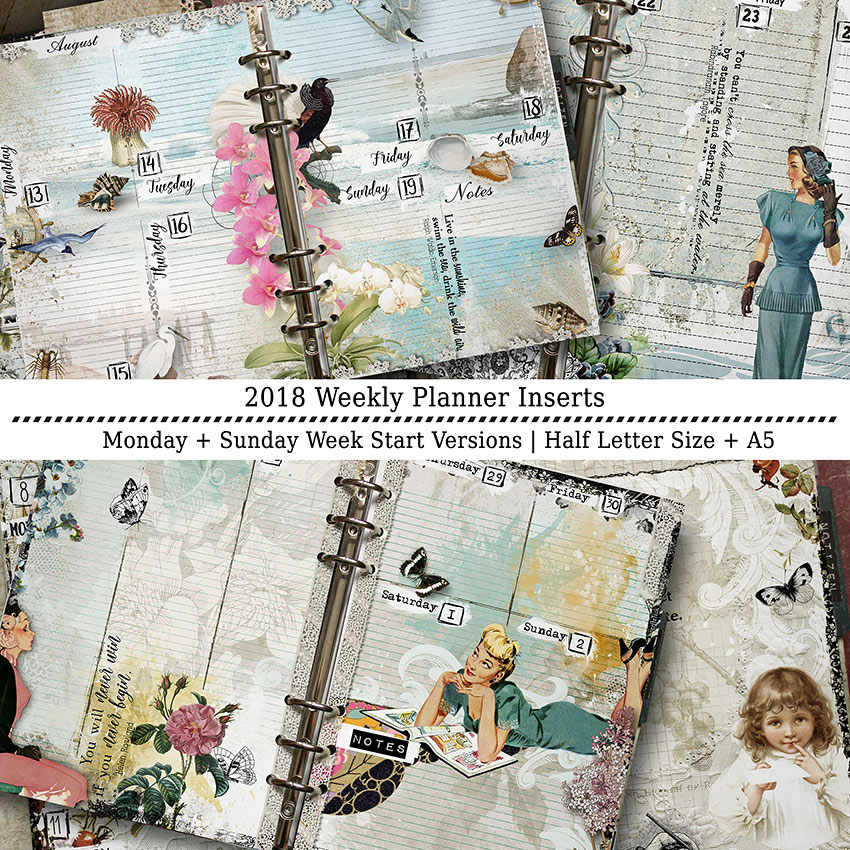 You can choose on the right if you want to have the weeks started by Monday or Sunday and also which size you want to get them.
I already shipped a few sets to the US and also Europe. You'll get a tracking number so you see where the package is and when it will be delivered.
—————————————————
Monthly Planner Inserts 2018
And there are also new monthly planner pages for 2018 available.
I made them this time month on 2 pages. They have space on the right side where you can add important notes or anything you would like to add there.
I just love that retro look and you can also have it shipped to your home: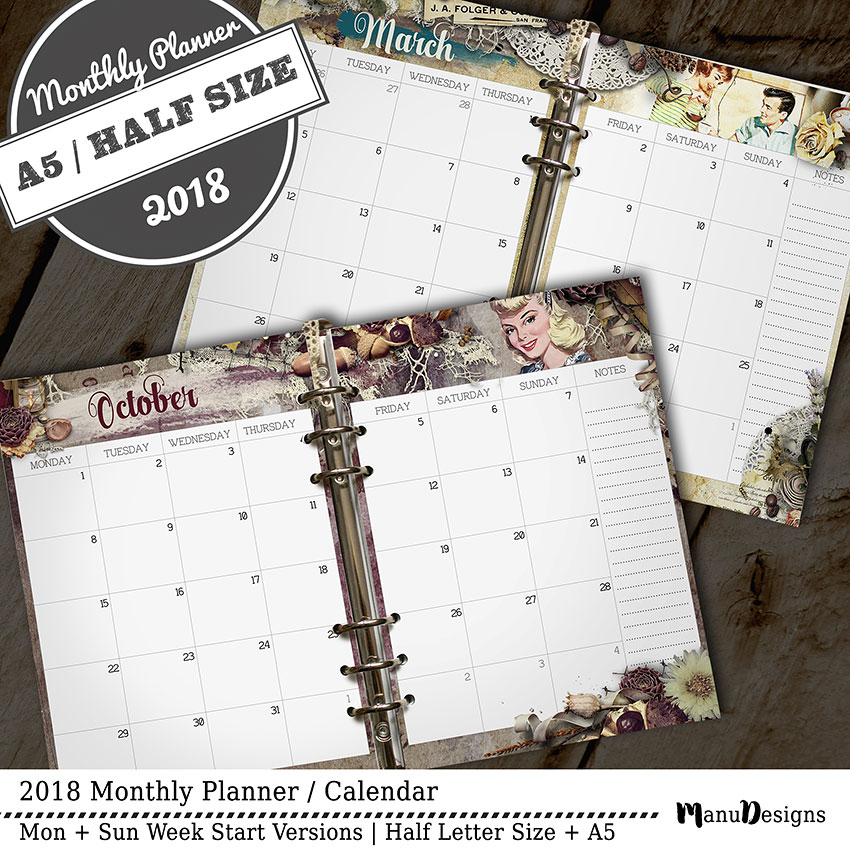 The opening pages are beautifully designed and I added inspirational or motivational quotes on it: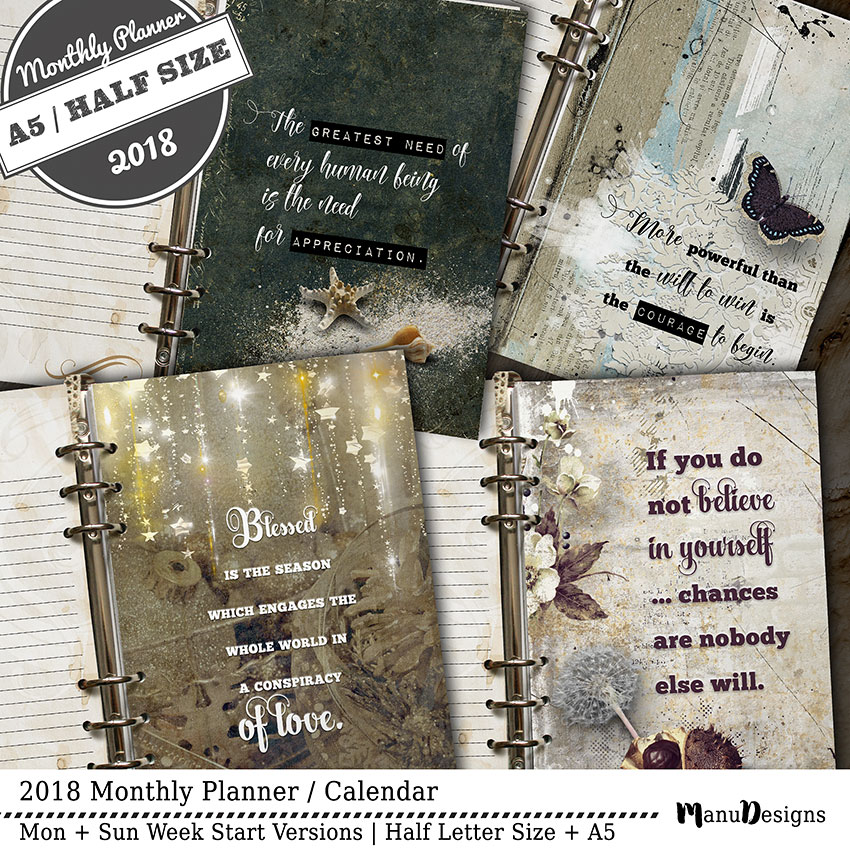 Get a physical version shipped right to your door here
Or download and print yourself here
---
Of course, nothing changed, newsletter subscribers will get an exclusive freebie.
Here is Oh Holy Night Addon, which comes later with the newsletter.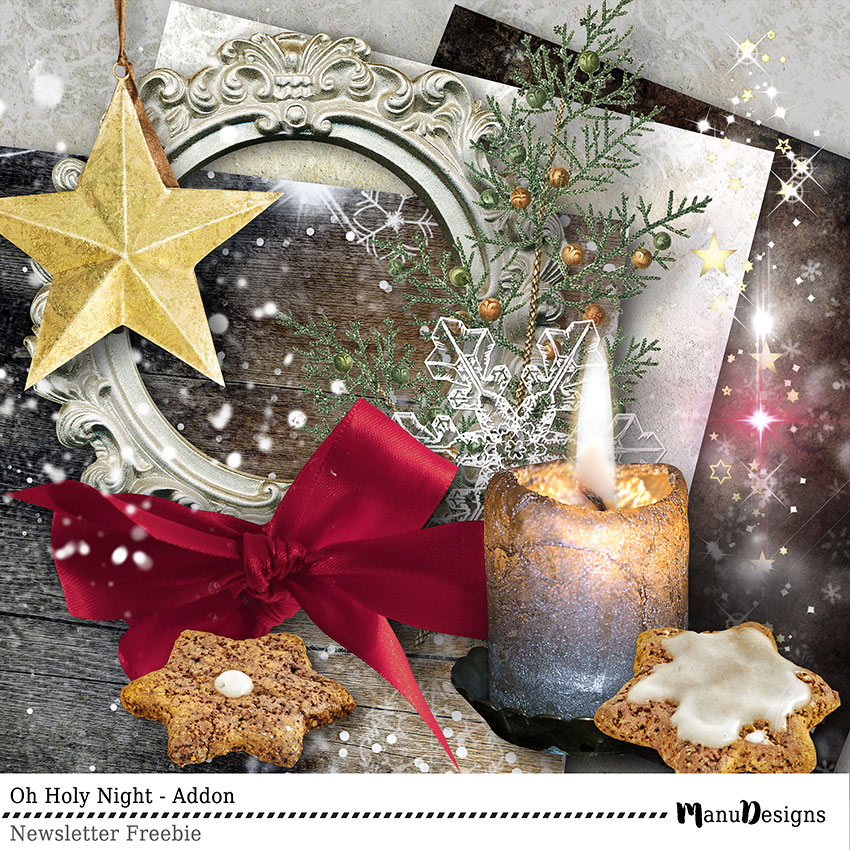 This aboslutely fabulous page is created by Jacqueline.
It is just so cute. I love that deep contrast.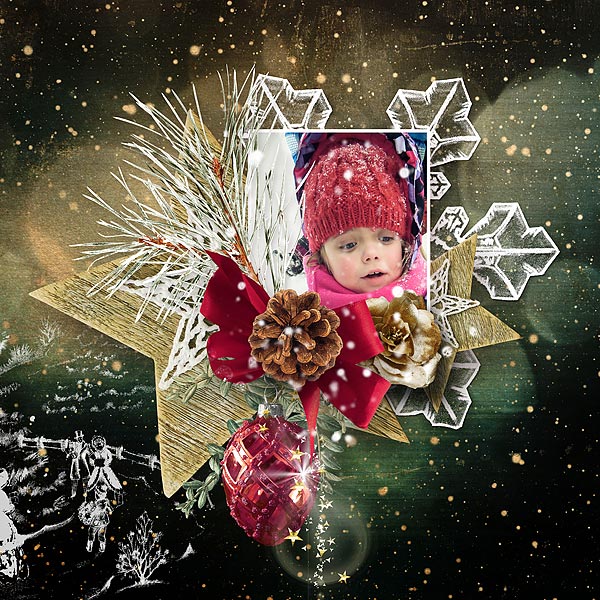 And also nothing changed, she turned her layout in a Quick Page which you can download here right away.
Thank you so very much, Jacqueline.
Please click the preview or the link below: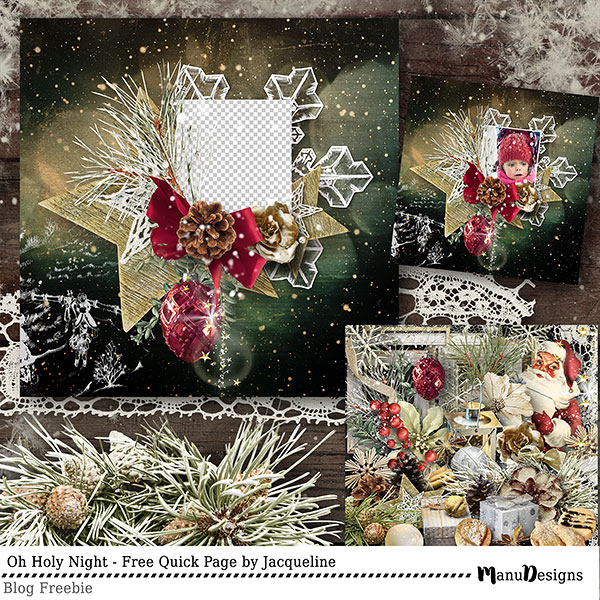 Thank you so very much for your visit.