… is a new kit and a coordinating set of stamps / brushes this week new arrived at Studio Manu.
I's on a big fat intro sale – save 54%  on the Cozy Place Page Kit [just $2.99]
and save 25% on the Cozy Place Stamps [just $2.99]
I absolutely adore each of the amazing Inspiration pages my CT Girls created.
The kit has lots of fun paper stuff inside (curled, crinkled, ripped, trashed) –
it really is so much fun playing.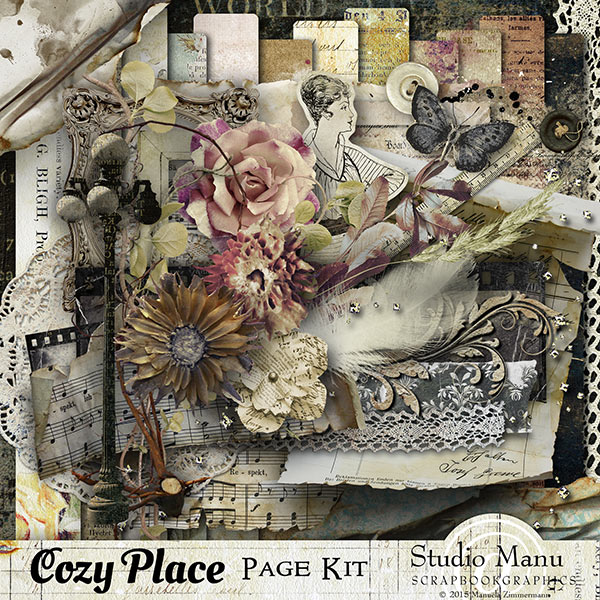 Here is a sample page by Janet and she said:
"I adore this kit!!! It is so perfect in every way with the curled and pleated papers, film strips and your element's shadow work is outstanding!!!!!  As always, your background papers are unique and gorgeous. I especially love the green that you choice as it is my all time favourite color. I know that I will use this amazing kit to make page after page!!"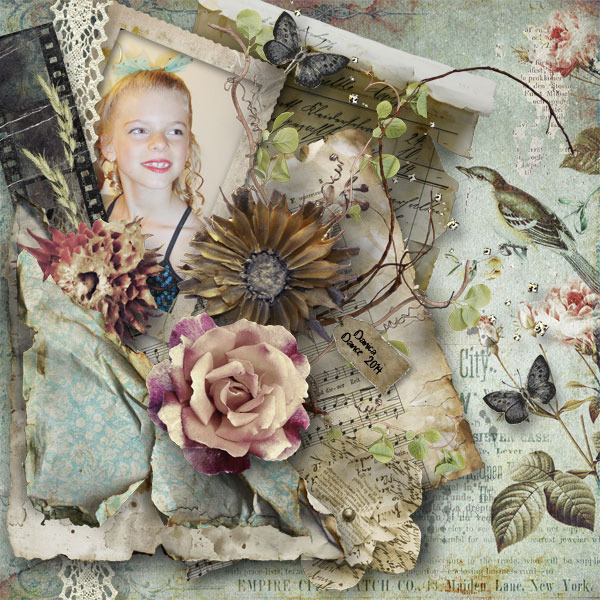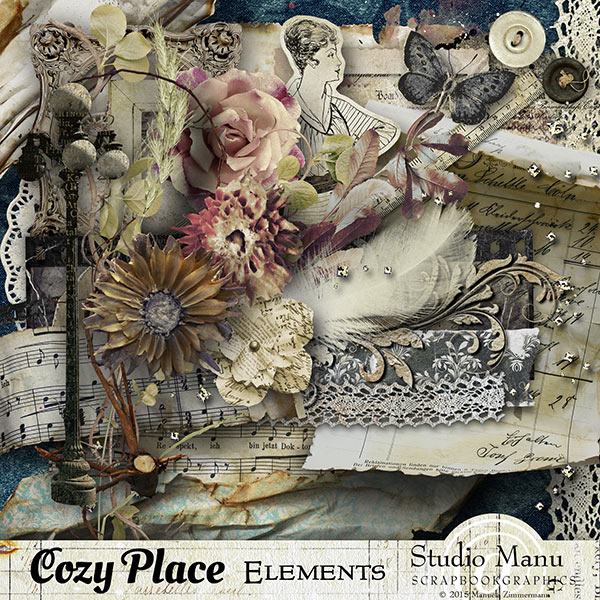 You get: a feather, lace, flourish, flowers, butterfly, buttons, lantern, curled, ripped, crinkled old papers, paper doily, frames, piece of wood (root), grass and a lot of things more and each element comes in a shadowed version as well as non shadow version.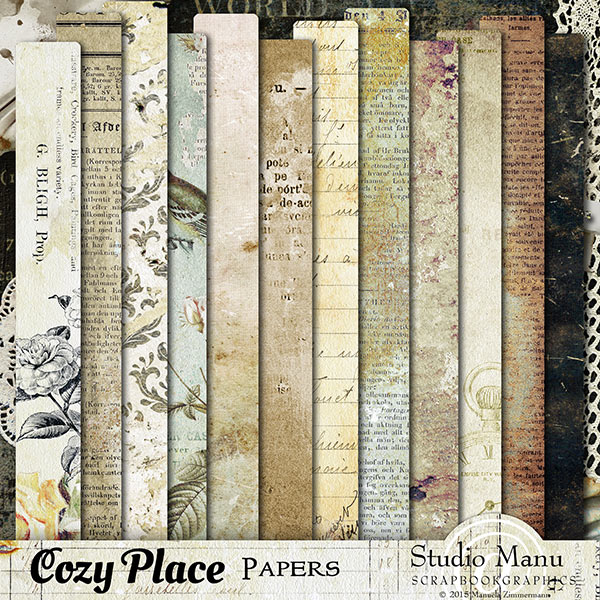 Inside the Page Kit are also 12 backgrounds. 6 original papers and 6 are extra papers which are modified version of the originals.
Inspiration Page by Yvonne – totally love it :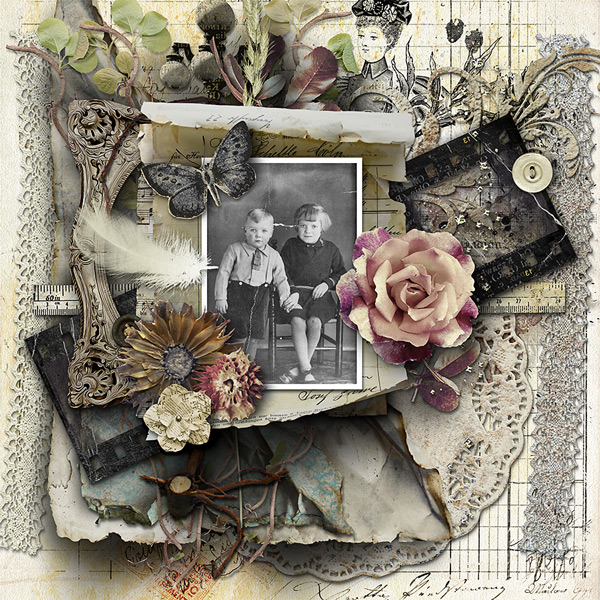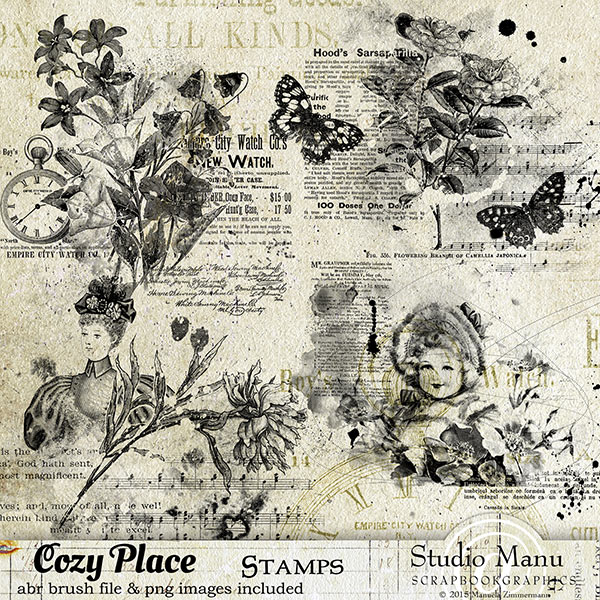 Content:
separately saved .png files and

.abr brush file (up to PS CS5 (max. 2500 px)
as well as PS CS6 + CC)
Cath created the is beautiful page using the kit + stamps: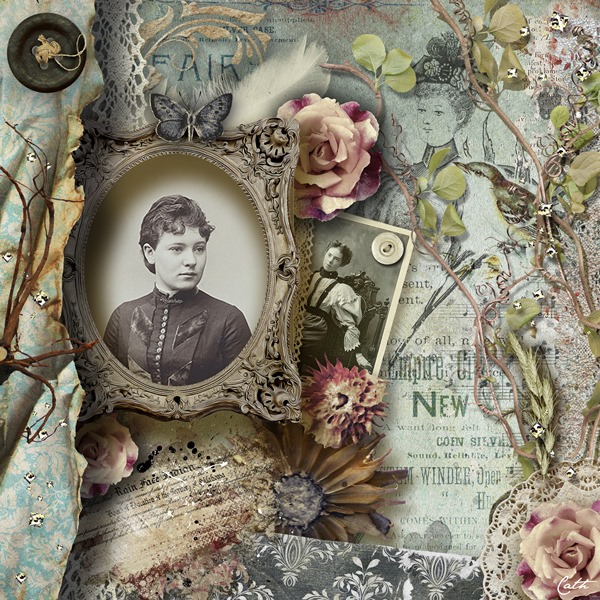 Click here to see the Cozy Place – Kit + Stamps
Here  are some more fantastic Inspiration Pages by my super amazing CT Girls:
By Tracey – love that blend in the background: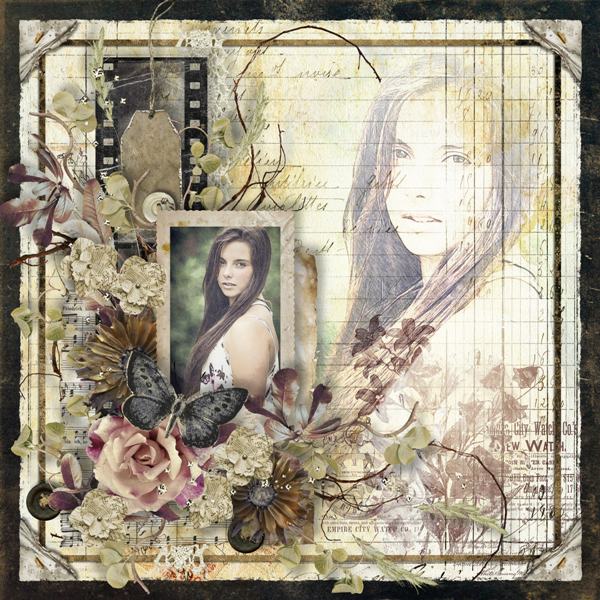 Another one by Janet – with amazing extraction: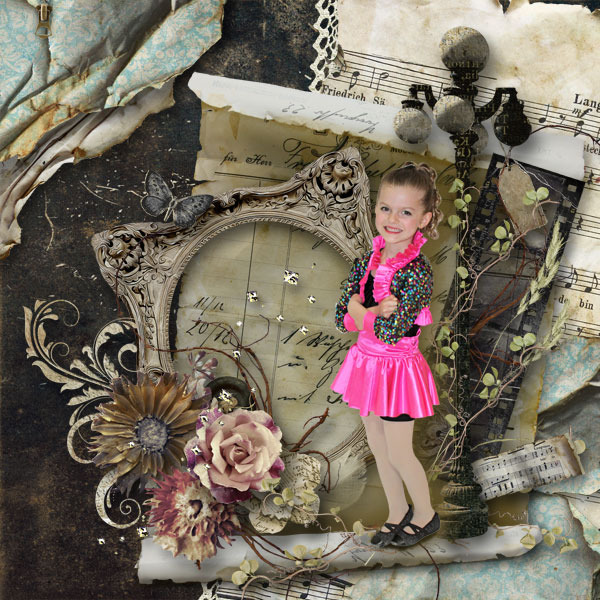 By Irene – so beautiful, fantastic extraction too and love the shadows: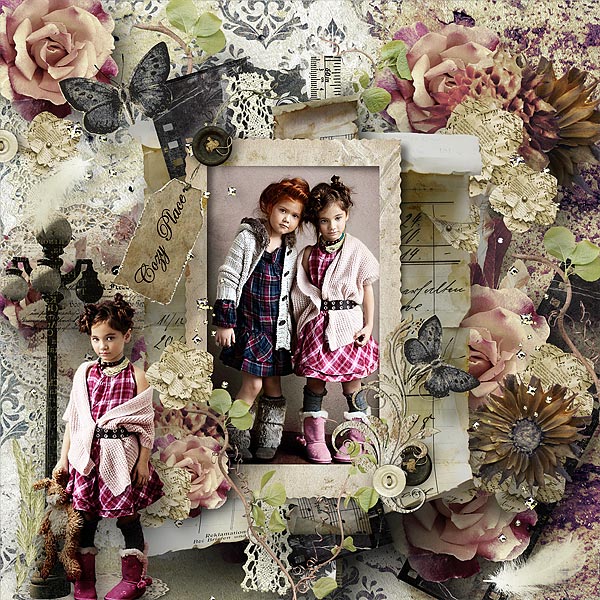 Another one by Tracey – love how she put the photo into the crinkled papers: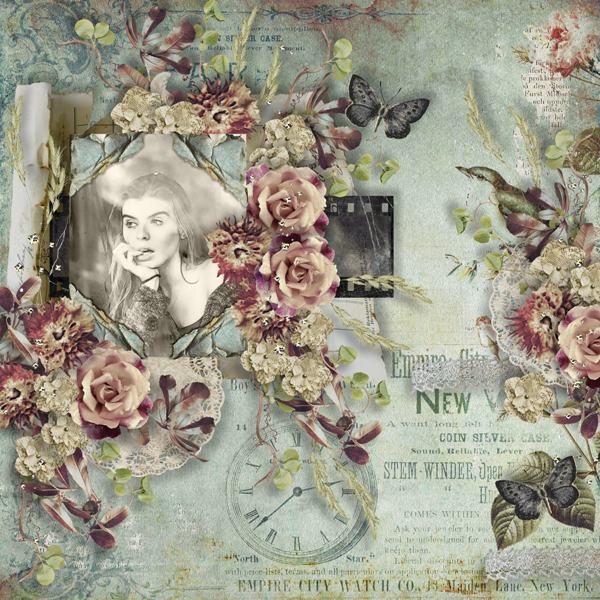 And another two pages by Janet:
"As I said I could do page after page with this kit."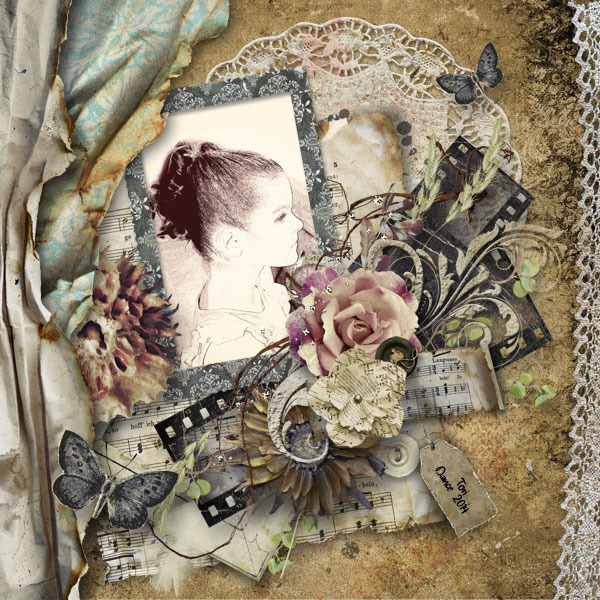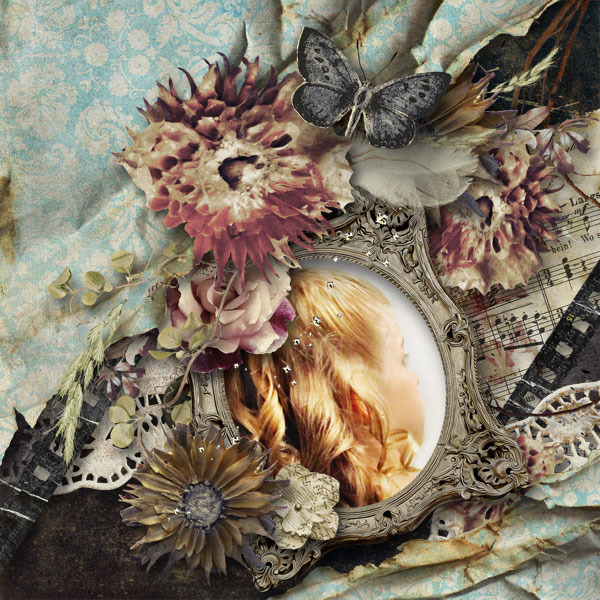 Look at that amazing, curled hair of her beautiful granddaughter <3
Click here to see the Cozy Place – Kit + Stamps
Newsletter Freebie
The newsletter Freebie goes out tomorrow (March, 23).
Jacqueline created such beautiful page using the Cozy Place Page Kit.
Love her shadow work and all the clustering and this sweet photo of her daughter.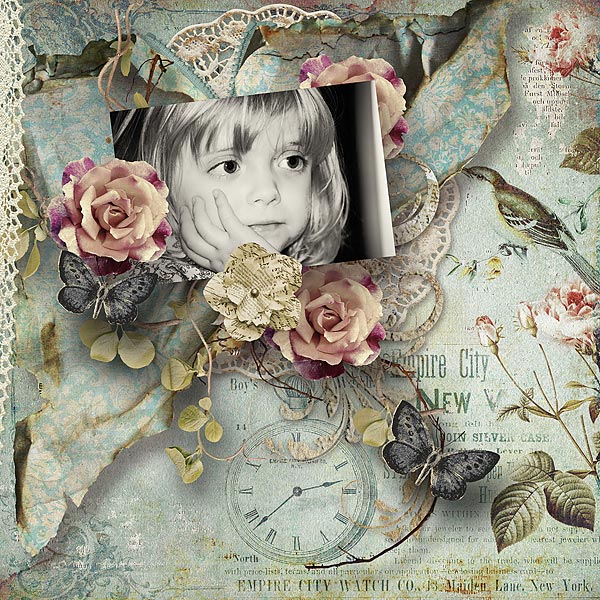 And she made a Quick Page of her layout and all Newsletter Subscribers will get it free!
Thanks so much to Jacqueline <3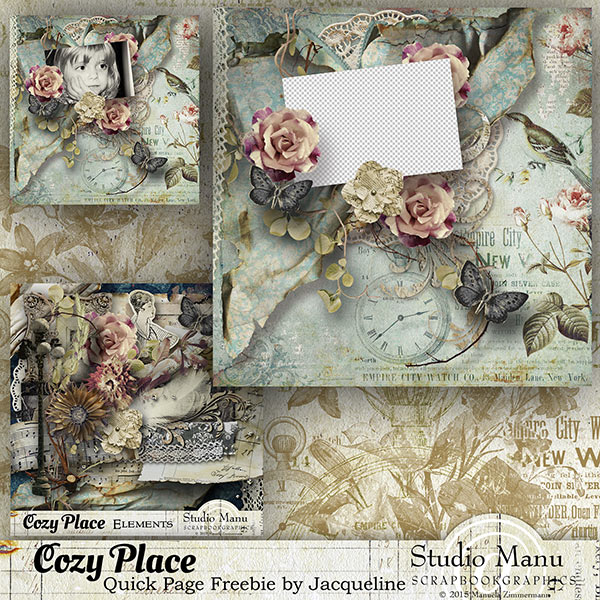 Blog Freebie
And there is also a Blog Freebie for you today of course.
Yuki made such an amazing page – look: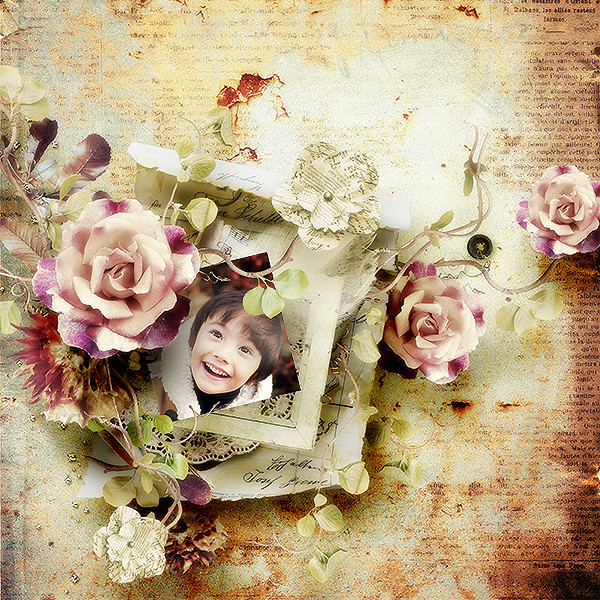 And she also created a wonderful Quick Page of her layout and you can grab it here right away –
please click the preview or the link below:
Thanks so much to Yuki <3