Ja …. es ist war. Ich habe irgendwie dabei ein weinendes und ein lachendes Auge.
Irgendwie ist es doch noch gar nicht so lange her, da hielt ich ihn zum ersten Mal im Arm.
Mein Gott …. und nun ist er wirklich schon 3 JAHRE.
HAPPY BIRTHDAY, Nick!
*****************
 Yes …. it is true. And it is a little bit sad, I have such mixed feelings when I look at him. Always I think he is growing
too fast *lol*. It is not long ago where I hold him the first time in my arms.
OMG … and now he is really 3 years old.
HAPPY BIRTHDAY, Nick!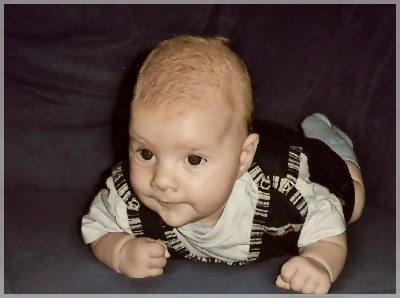 Er ist hier auf dem Foto ca. 2 Monate
Here he is about 2 month – I think so.
***************
Okay … trotzdem haben wir gefeiert, 3 Jahre ist ja auch eine schöne Zahl!
Er hat den ganzen Tag *Happy Birthday* gesungen – und Mama mußte natürlich auch *lol*!
Und nun machen *wir* auch noch einen Sale – man wird ja schließlich nicht jeden Tag 3.
25% off für eine ganze Woche – bis zum 11. Juni —–> Studio Manu
***********
Okay …. however we celebrated a little bit – 3 is also a nice number! He has sung the whole day
*Happy Birthday* – and Mommy of course too *lol*
And now "we" decided to make a sale.
Everything in Studio Manu is 25% off for a whole week. Sale ends June 11th.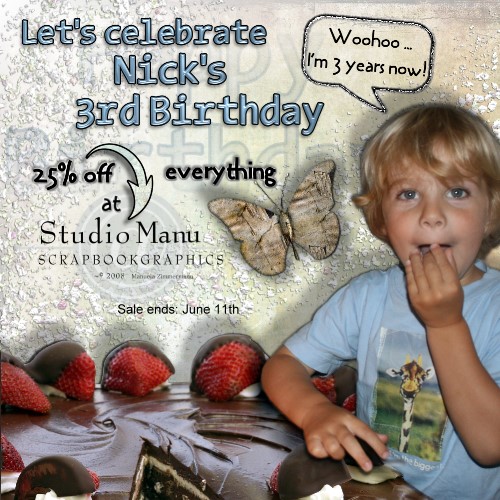 Have a wonderful day 😉