Last day in 2017. Again a year is gone. It was a wonderful year.
We spent a wonderful week in Fuerteventura in February.
April was a sad moment (yes, just a moment) for our daughter Juliane. Her boy friend ended the relation. One month later she was happy he did because she met the love of her life.
In summer we spent 3 wonderful weeks in Croatia.
In August our Nick has started high school. Wow – unbelievable.
In November the closing of Scrapbookgraphics but I look forward and I am full of positive energy.
Christmas was wonderful having the whole family here and visiting my parents and my youngest brother.
Thank you so very much for your continued support and your patronage in 2017!
I wish everyone success, a healthy long life and a fresh new start for 2018!
Happy New Year!
Here is the last set of planner inserts I release in 2017 and the 1st set for 2018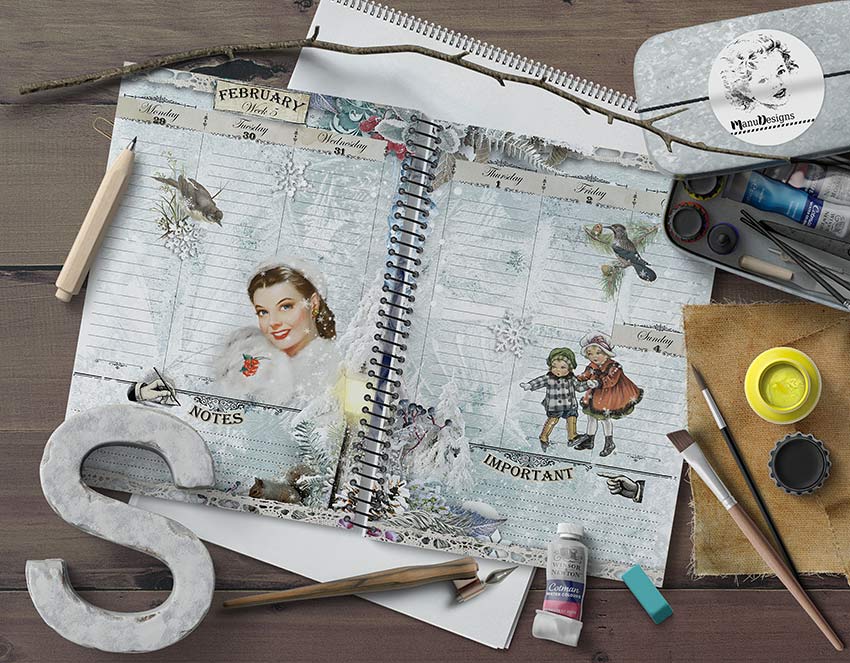 • systematic layout:
I needed a bit more regular system in the planner pages and so I decided to give the inserts an orderly layout without loosing the beauty and the vintage design.
I am so happy with the look they now have.
• more sizes:

And as requested I added two more sizes.
Beside A5 and half letter it is now included also A4 and US Letter Size.
And I changed the naming of the files.
Instead of mzimm they now start with manu followed by the year, set number, number of week and size. Just mention so you will not be confused.
PSD and Tiff files have a separate layer for Sunday and Monday Weekdays and for the Sunday and Monday dates. So it's all in one file and you can just delete what you don't need.
In the PDF and JPG folder you find the Monday- and Sunday Week Start versions. as well as undated sheets. Just delete what you don't need.
---
I created a planner cover or binder myself this time and made a short video what I did.
I just punched the cover and added book rings, that can be opened and closed.
You also see the new planner pages, the dividers,  new notes page and calendar 2018 (follow later in this blog post), the monthly pages I released a while ago and I absolutely like it.
---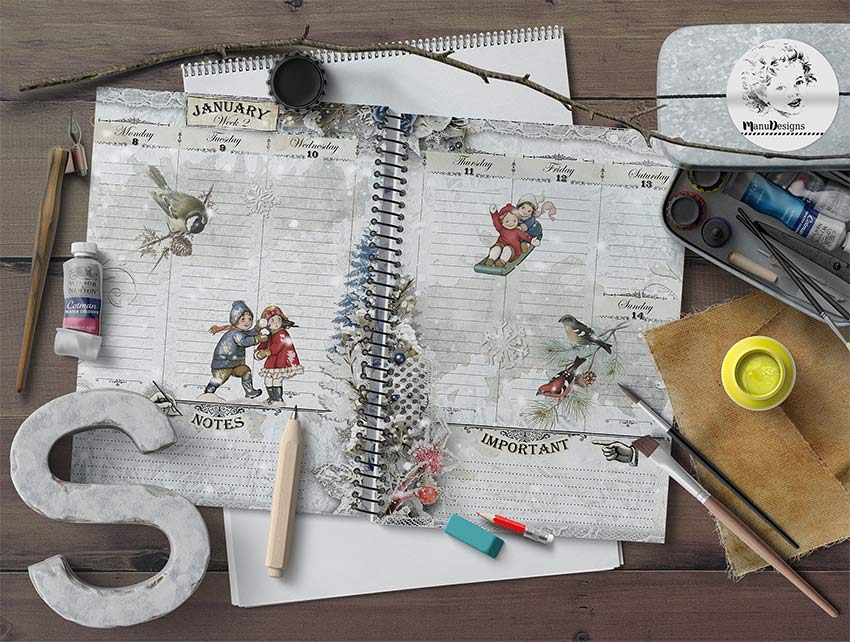 Detailed Content:
Ready To Print:
♦ A5 PDF + JPG  Week Start Monday
♦ A5 PDF + JPG Week Start Sunday
♦ A5 PDF + JPG undated
♦ A4 PDF + JPG  Week Start Monday
♦ A4 PDF + JPG Week Start Sunday
♦ A4 PDF + JPG undated
♦ Half Size PDF + JPG  Week Start Monday
♦ Half Size PDF + JPG  Week Start Sunday
♦ Half Size PDF + JPG undated
♦ US Letter Size PDF + JPG  Week Start Monday
♦ US Letter Size PDF + JPG  Week Start Sunday
♦ US Letter Size PDF + JPG undated
Editable:
♦ A5 PSD + TIFF (layered files)
♦ A4 PSD + TIFF (Layered files)
♦ Half Size PSD + TIFF (Layered files)
♦ US Letter Size PSD + TIFF (layered files)
In view of the content you see that there is everything possible.
You can just take them and print and done!
On the other hand you can edit the pages as you wish (language, dates, font ….)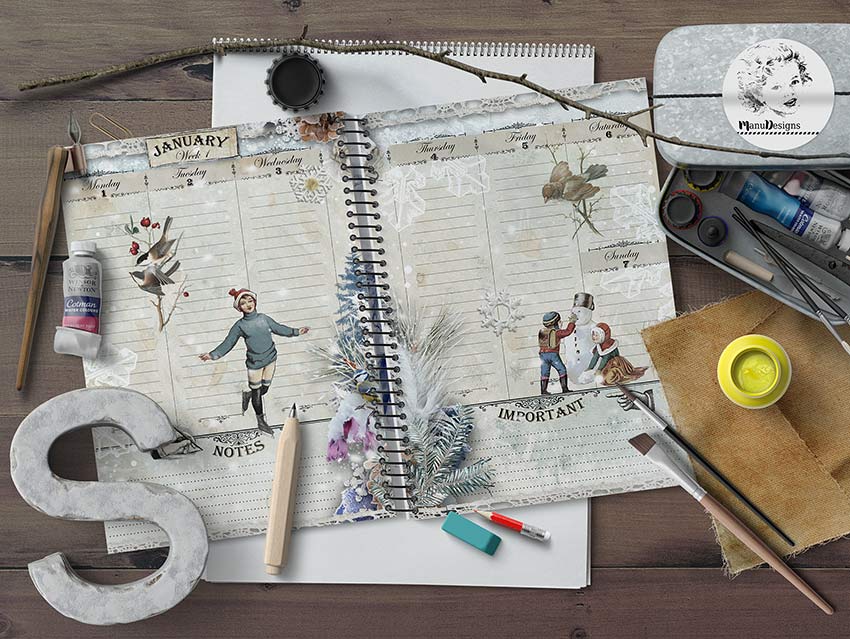 Included are 5 Weekly Planner Spreads to insert in your binder / organizer.
Completely customizable to whatever week/month/year you wish!
Ready made printable versions (Monday – Sunday | Sunday – Saturday) also included
Undated planner as well as with date stamps added:
Starting with week from January 1 – January 7, 2018
last week included from January 29 – February 4, 2018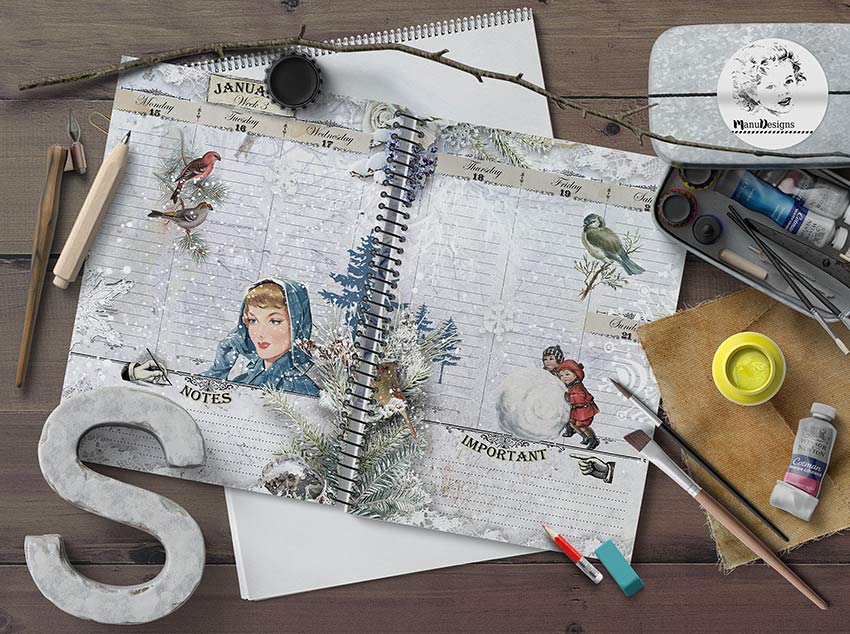 Included are 4 sizes: 
US Letter Size (8,5″ x 11″ | 27,94 cm x 21,59 cm)
Half Letter Size (5,5″ x 8,5″ | 13,97 cm x 21,59 cm),
Full Spread (Letter Size) consisting of both half letter size pages (left and right)
A4 (8,27″ x 11,69″ | 21 cm x 29,7 cm)
A5 (5.8″ x 8.3″ | 14,8 cm x 21,0 cm),
Full Spread (A4) consisting of both A5 pages (left and right)
You can easily choose in download section which format or file you want to download!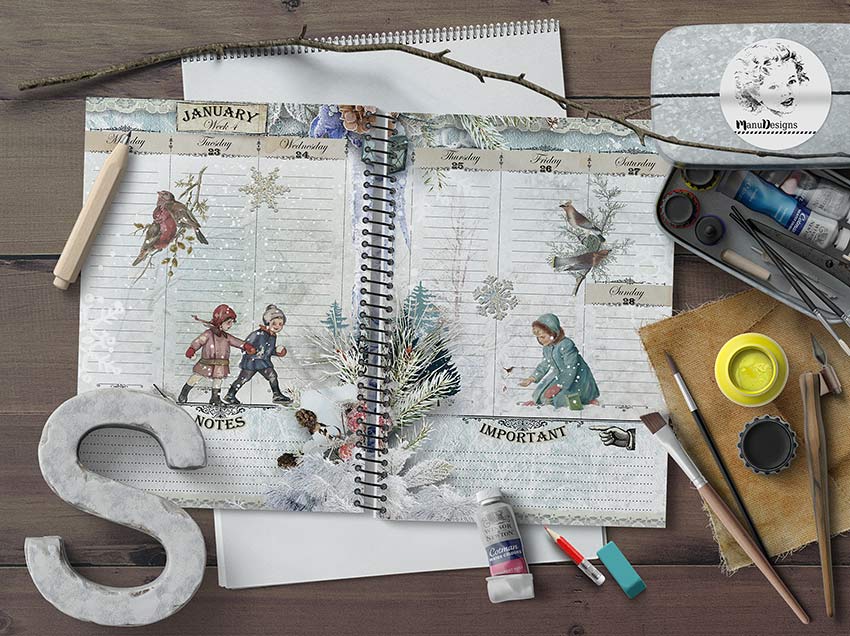 3 Options:
1st – If you have no Graphic Software/Program: 
Just print the PDF or JPG sheets and insert the dates, weekdays and the month manually after printing. Then hole punch and add to your binder/organizer!
Or print the ready made sheets, cut and hole punch.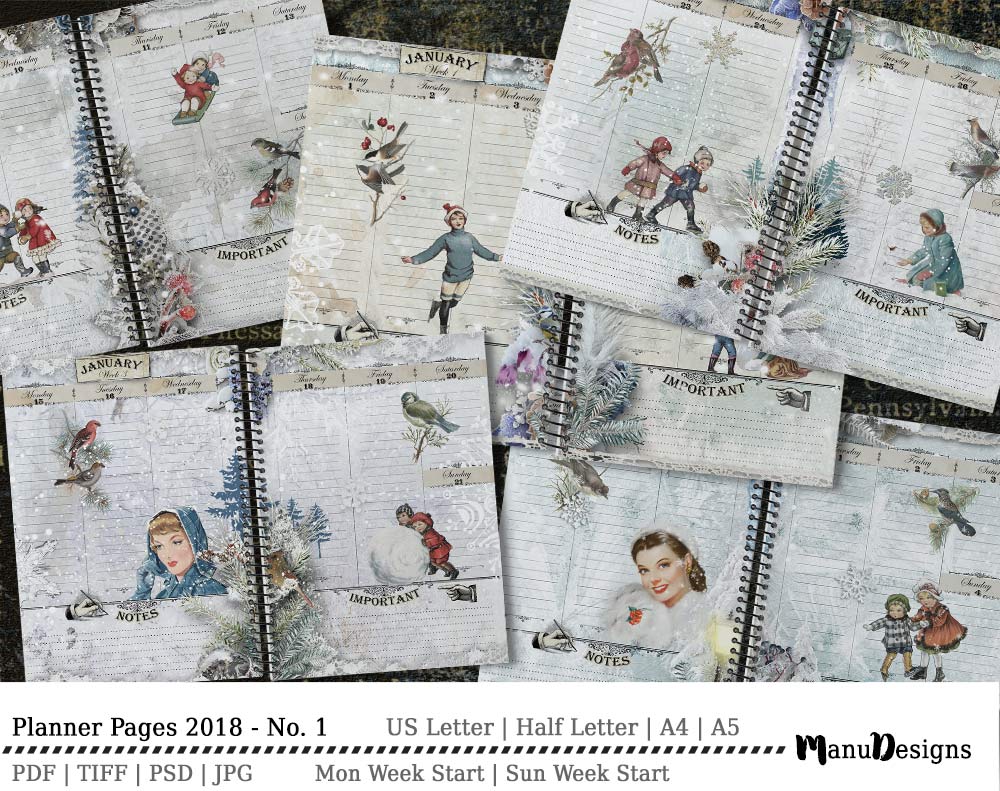 2nd – Your graphic software/program doesn't support PSD or Tiff files:
You need to open the JPG sheet in your graphic program, add the dates, weekdays and name of month. Then save and print!
3rd – If your graphic software/program supports PSD and/or TIFF files: 
Open the layered file. Make the layers in the layers palette visible and start customizing your page. You even can change Monday with Sunday, if your week starts with Sunday!
Add/change dates and name of month. You can use the pages again and again.
Save as JPG or PDF and print and hole punch and done!
>> Planner Pages 2018 – No.1  are 50% off on limited time intro sale!
---
For my planner I also needed some dividers and came up with a wonderful set.
I was thinking for a while how to make the tabs printed back to back.
I couldn't come up with a solution. So I decided to make the back a whole page of pattern and when cutting the dividers shape it will cut the pattern on the back and i don't have to worry about matching up tabs.
Don't they look amazing?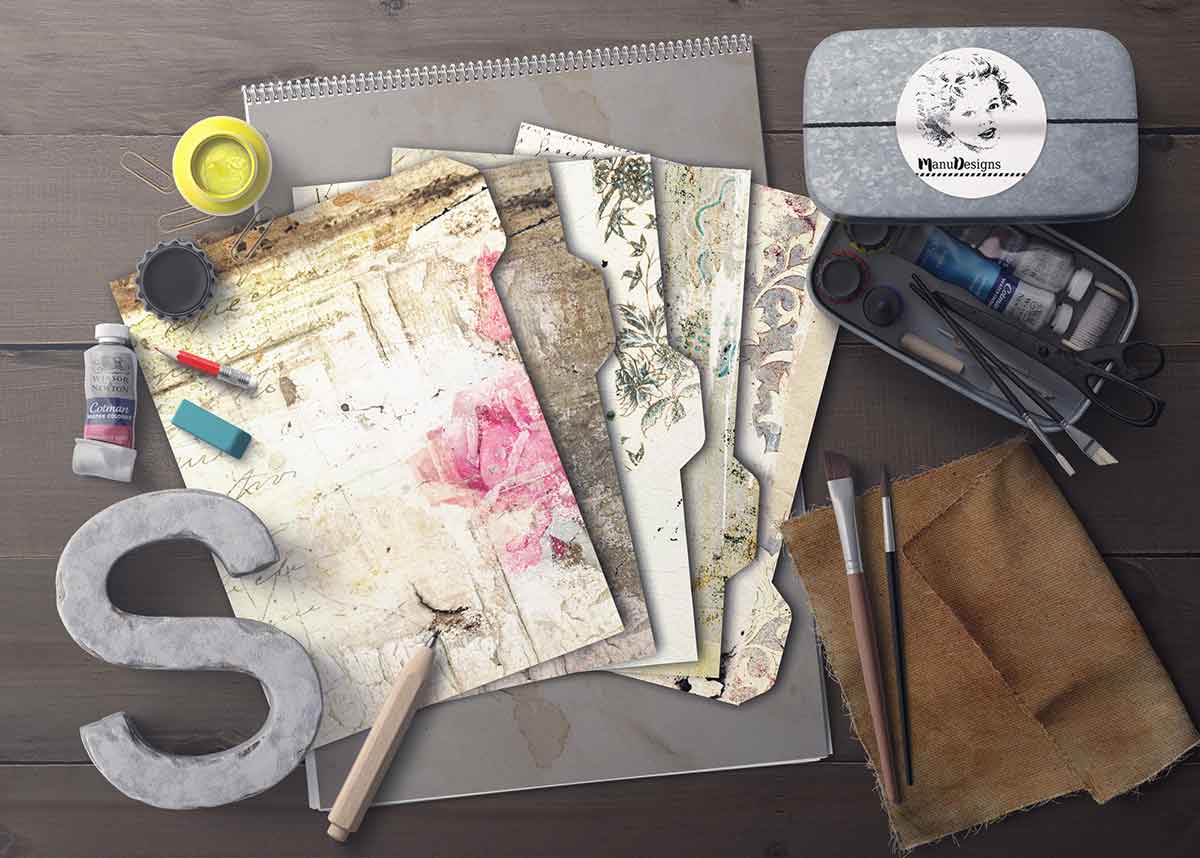 You can open the page first in your graphic program, add a title or name on the tab and then save and print with the name already added.
You can also print and add the name of the divider later by hand or print separate labels and glue them on the tabs. That's up to you.
20% off intro sale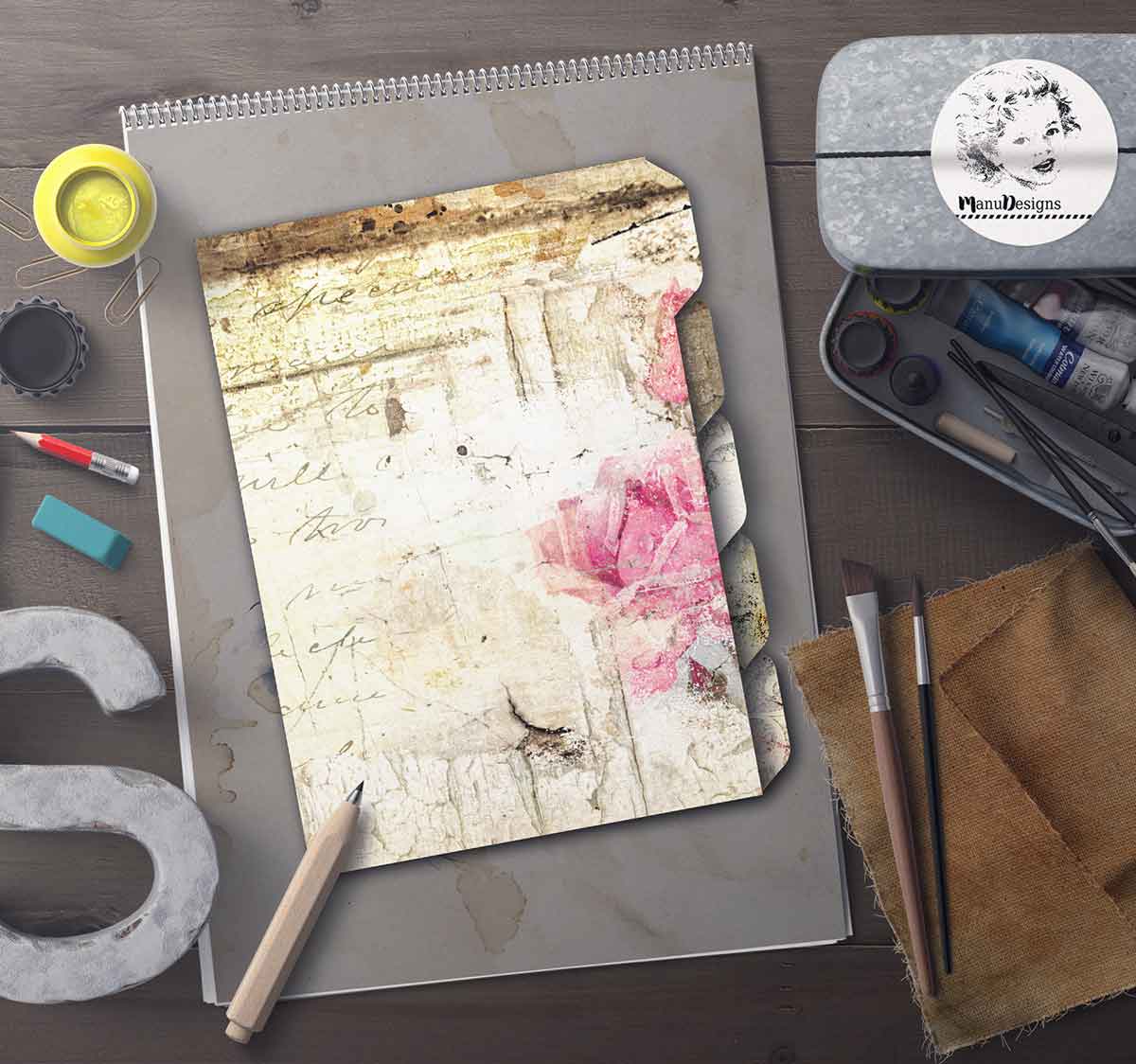 ---
The calendar page that was included in the bundle (contact, notes, shopping list …)
is updated to 2018. If you want to change out, here it is: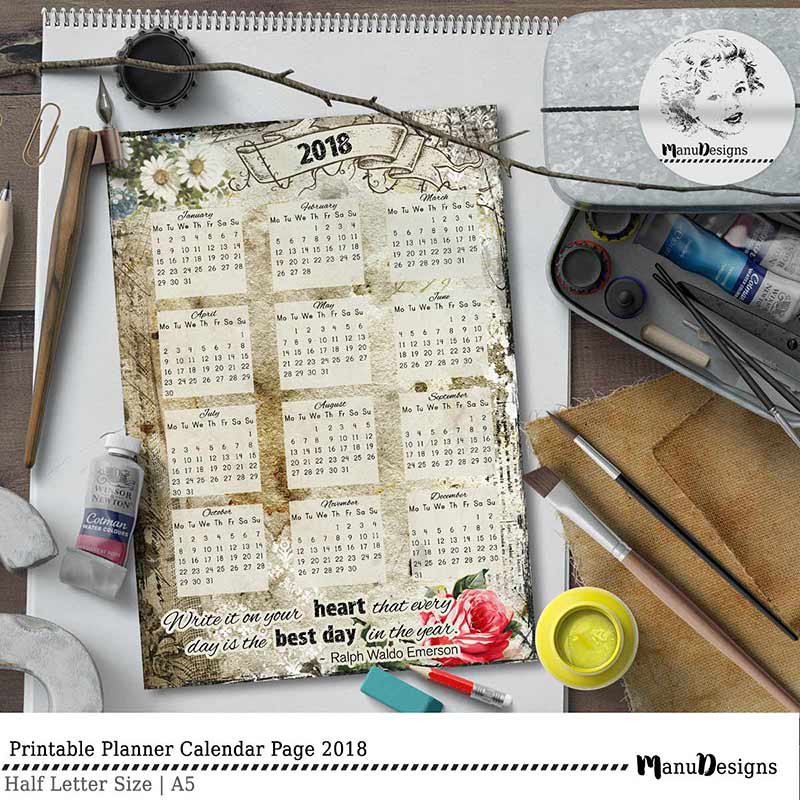 You can choose to download half letter size or A5 (or both of course)
---
That was badly needed: a new fresh design of the note page.
So much fun to write on it: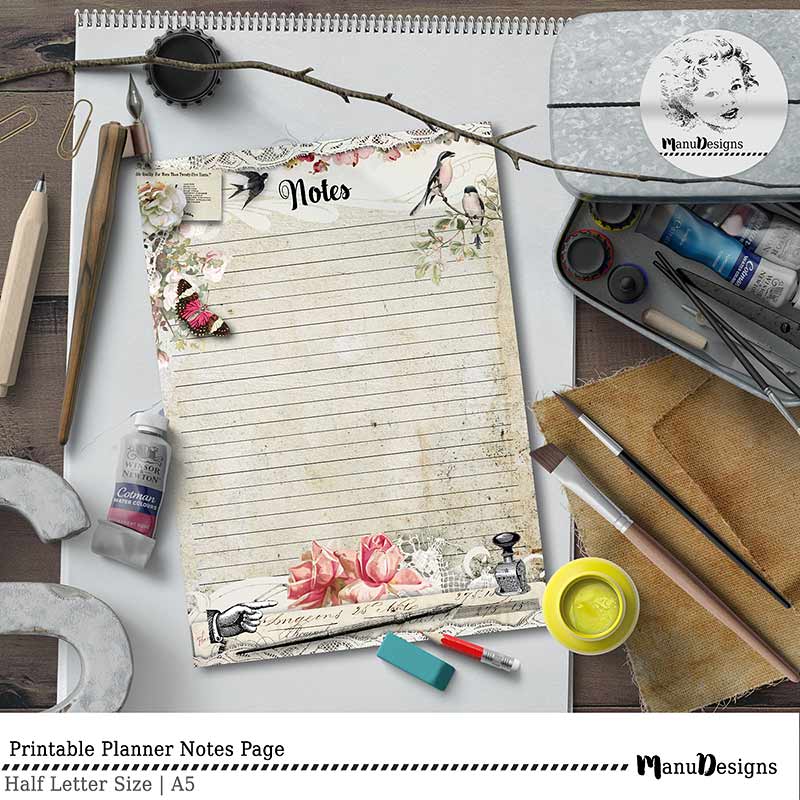 Also in two size available to download: A5 and half letter size
---
Of course I'll not let you start the new year or end the old one without a freebie.
A big thank you to my amazing CT girls, who were so busy and generous and provided
stunning freebies thru 2017.
Here are the last ones for this year and the come from Cath.
This is a newsletter freebie and comes later today right to your inbox.
Cath used a mix of all products released in 2017 and came up with super stunning cluster frames: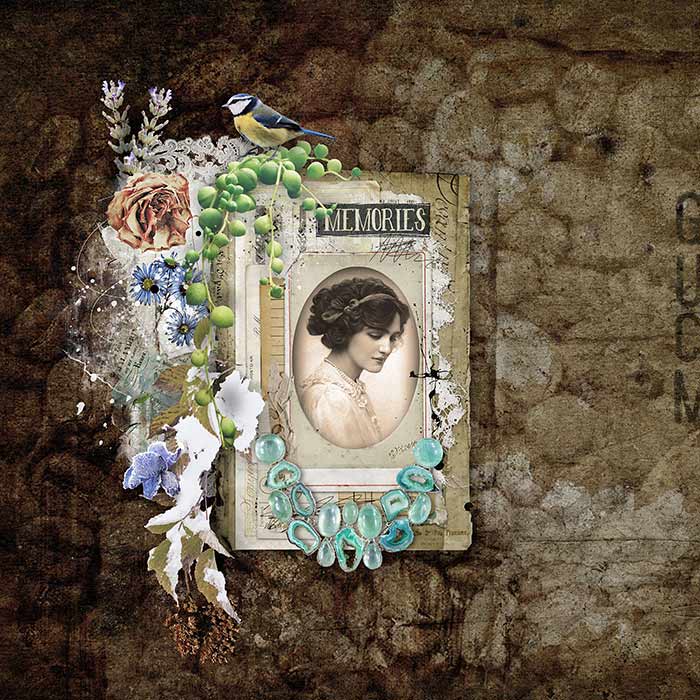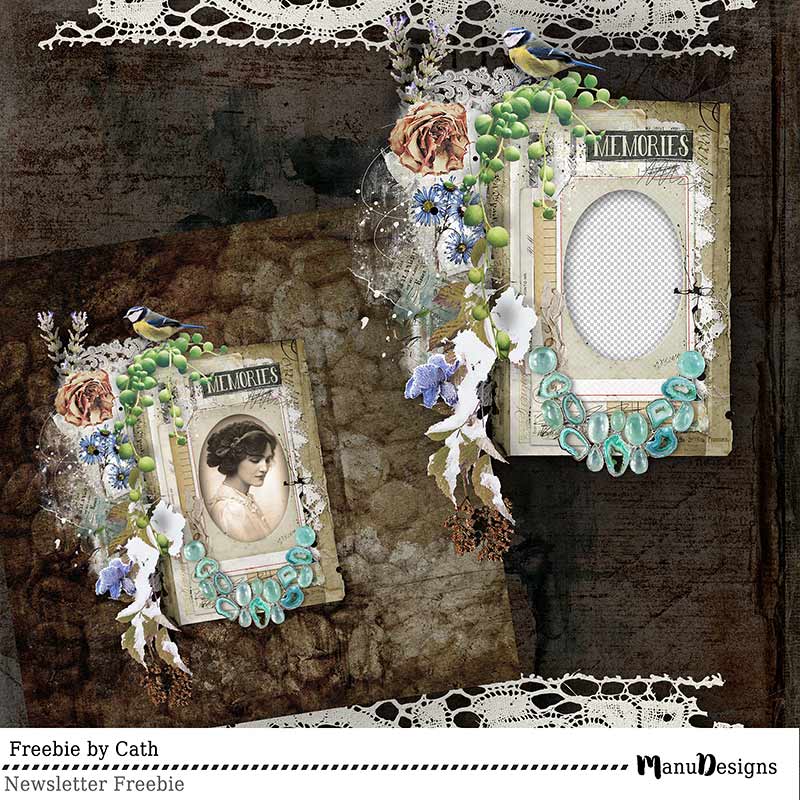 ---
And here is a Blog Freebie; you can download right away.
Cath's page, absolutely amazing as always: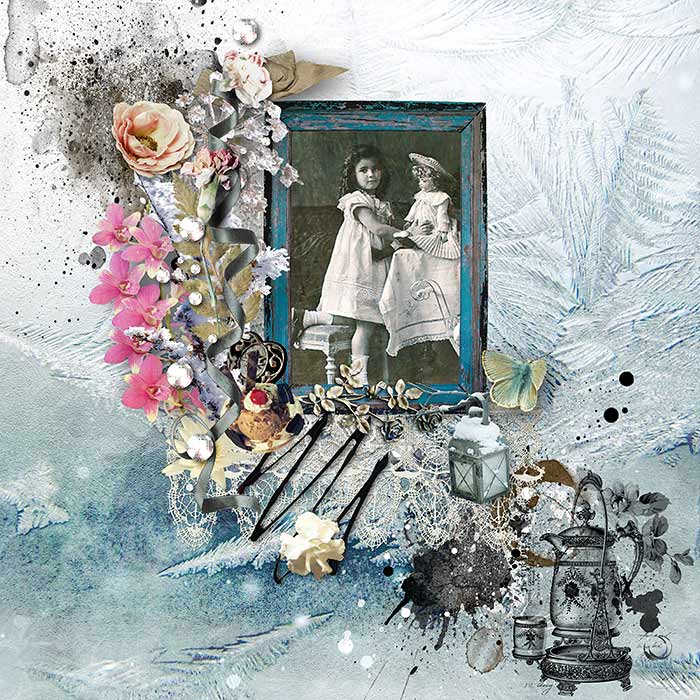 Thank you so much, Cath!
Please click the preview or the download link below: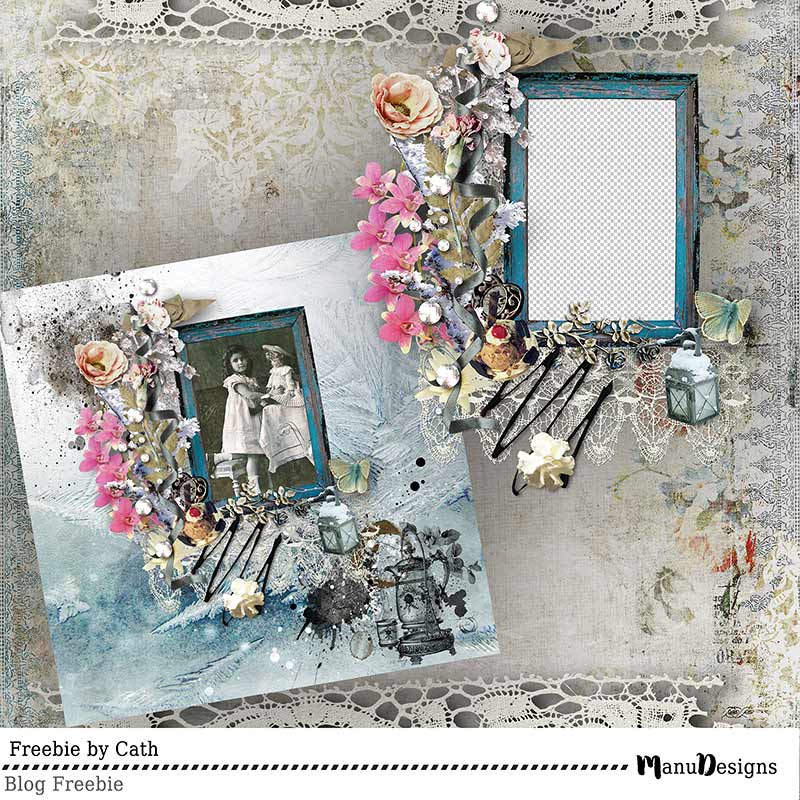 Happy New Year!