It is time to make a bit room in my store.
I decided to retire some of my products for good.
But before they will be gone permanently you have the chance to
grab a HUGE Bundle filled with all those amazing designs.
Included in this Bundle are 7 complete collections and 6 single page kits and some coordinating sets.
The complete Bundle is worth $222.46 – it is now $ 15.99 – save 93%
This is a limited time offer, after that all the products will leave the store for good.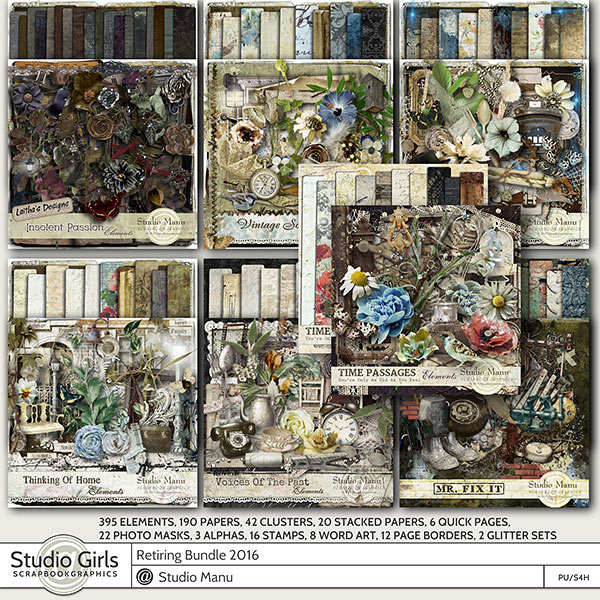 Regular price: $222.46
save % 93
__________________________________________________________________
Total Content:
395 unique Elements
190 Papers
3 Complete Alpha Sets
42 Clusters + 42 Cluster Frames
6 Quick Pages
22 Photo Masks
8 Word Art
12 Page Borders / Overlays
6 Accent Overlays
16 Stamps (png + abr)
20 Stacked Papers  (PSD+JPG versions)
(Clusters, Quick Pages, Stacked Papers come in already shadowed version – ready for you to use)
Included Collections are:
Insolent Passion (with Laitha), Vintage Song, Time Honored Glow, Thinking Of Home, Voices Of The Past, Mr. Fix It, Time Passages
See more details of what comes exactly with each collection in store
Don't miss this HUGE Offer. It is only available for a limited time.
Regular price: $222.46
save % 93