There are less than 3 weeks till Christmas, can you believe?  Time is just flying away.
We are busy baking cookies. If we have 5 baking sheets filled with cookies you can make sure they are empty the next day. And then it starts again. And again …
I was thinking about if you should continue with the Vintage Christmas Series or if there is enough Vintage Christmas I made so far …
Guess what?  I really had to make it, I couldn't sleep with the idea of  not having a new Vintage Christmas Collection this year.
And so here comes Vintage Christmas 5 – and I really really like how it turned out. I can not imagine this set not having released;
I hope you like it too: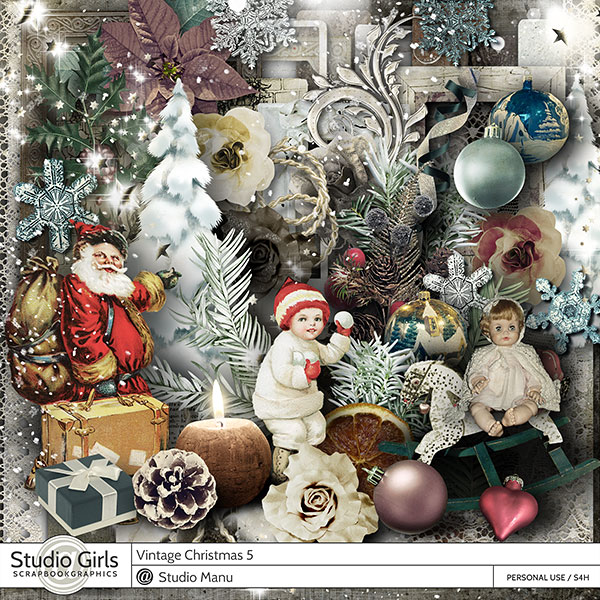 You'll get:  Christmas Balls, Candle, cute antique doll, Flowers, poinsettia, holly, laces, paper doily, rocking horse, a Santa (not to forget), snow overlay and snowflakes, a snowy tree, fir branches and pine cone and a lot of amazing things more …
Vintage Christmas 5 – Papers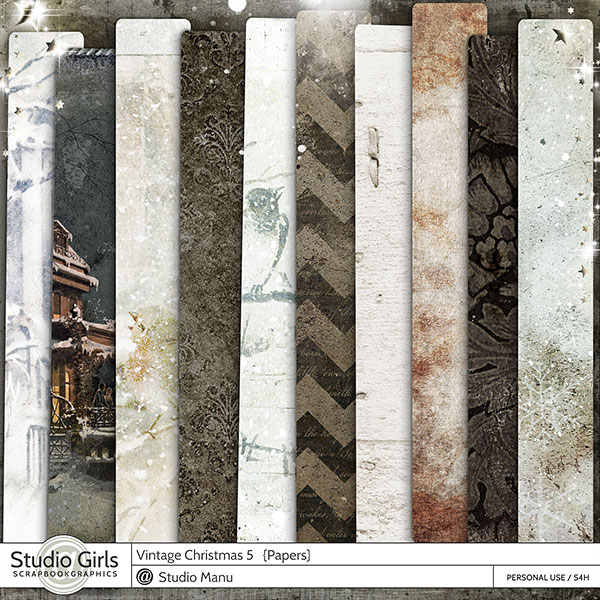 Included in the Page Kit are 10 beautiful vintage like backgrounds. Additionally you get 11 extra papers. These are modified versions of the originals.
See them on the previews below: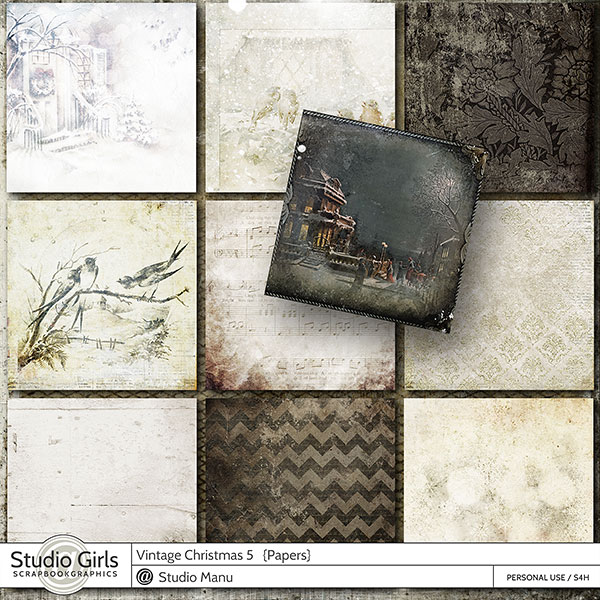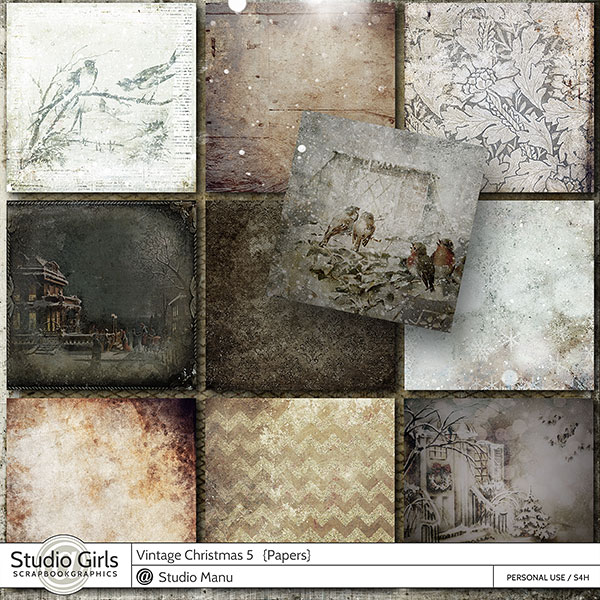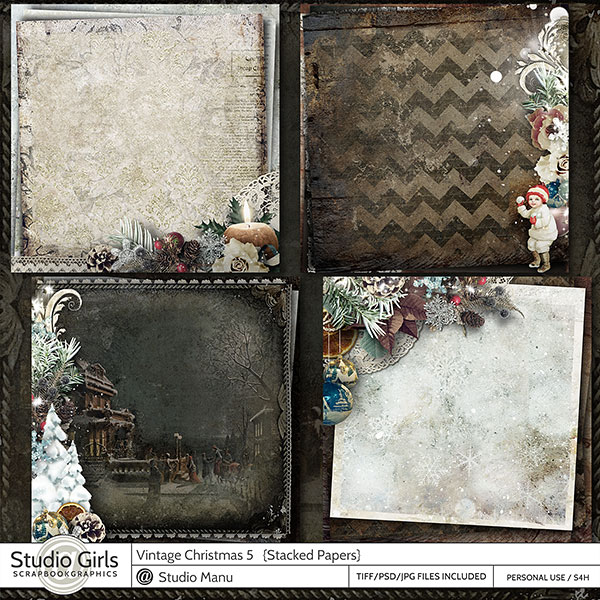 This set contains 4 stacked papers
Included are .jpg files and .psd files as well as .tiff files
You can mix them with each other as you wish because of the layered files.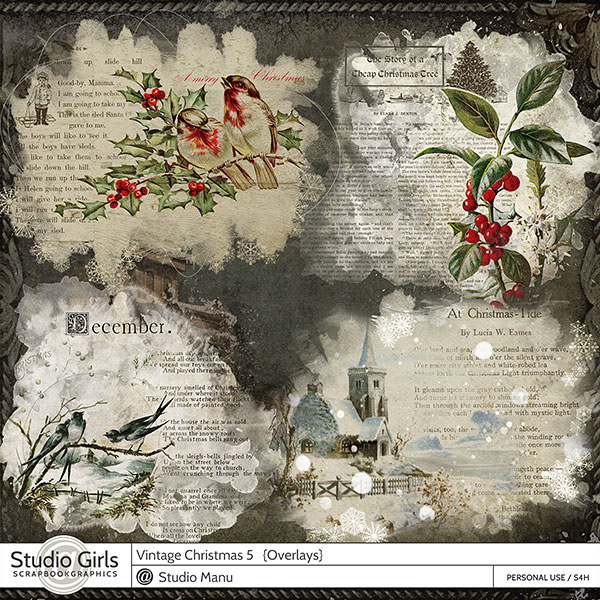 A set of 4 Overlays with pretty vintage Christmas Scenes and writings. Making wonderful backgrounds using the blend mode in your graphic program.
separately saved .png files, created at 300 dpi.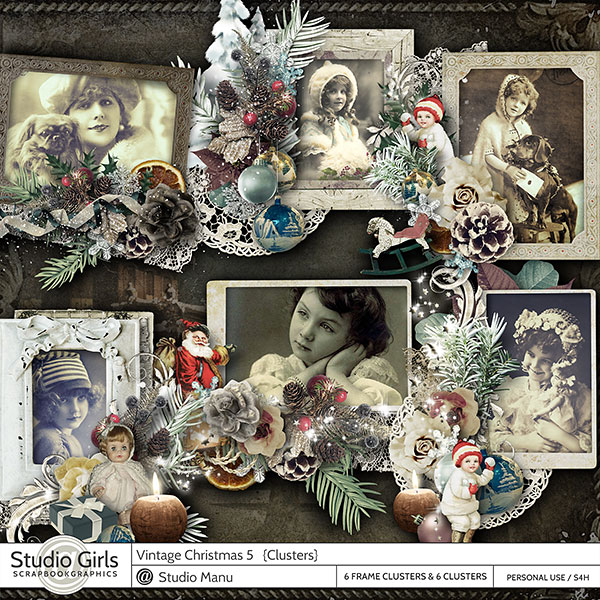 A set of 6 Clustered Elements,  Shadows already added.
6 Clusters come without frame and 6 Clusters come with already frame added.
Preview without Frames: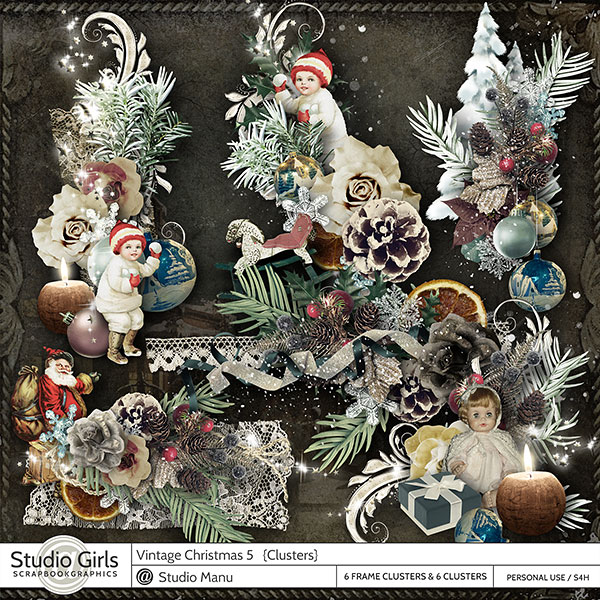 Full collection includes everything mentioned above at a HUGE discount.
Save 51% on limited time intro sale.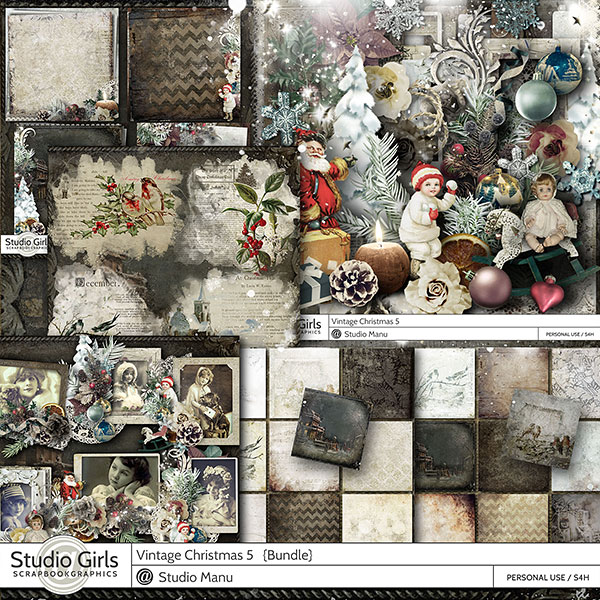 Check out the compete collection:
Inspiration
Oh my … I can tell you, I'm so in love with the pages I saw from the amazing CT ladies:
Black Friday Grab Bag revealed
I've also unpacked the Grab Bag from Black Friday and everything is now separately available.
And psssst … these are also on limited time intro sale. All sets are 20% off and with the newsletter you'll get later additionally 20% off.
There was a complete Page Kit included called Vivid Memento: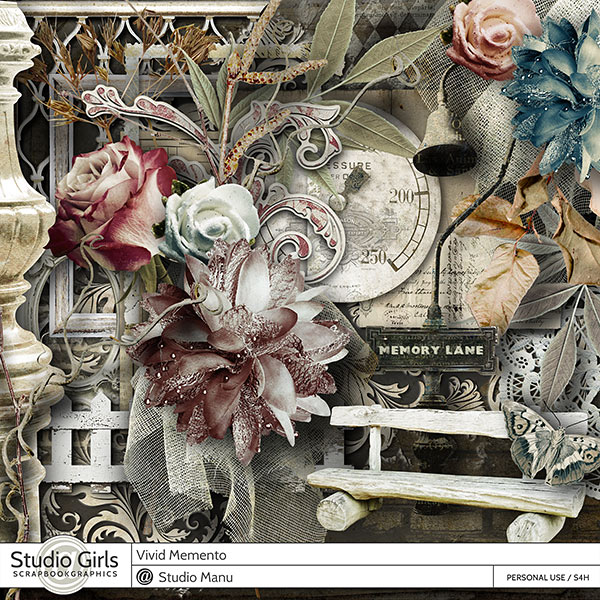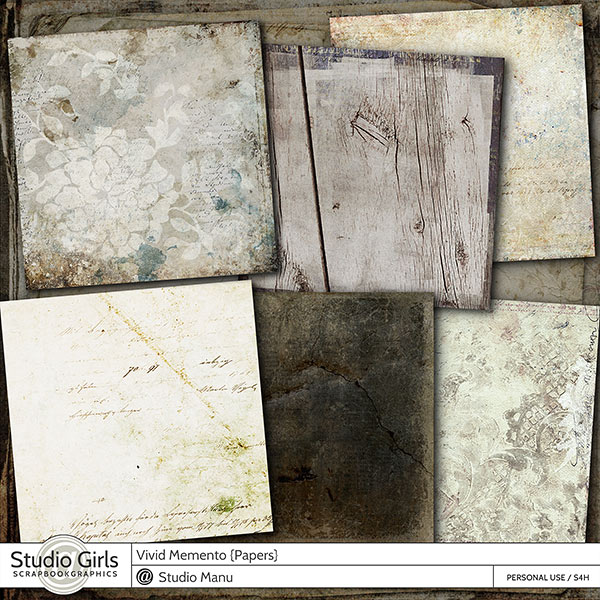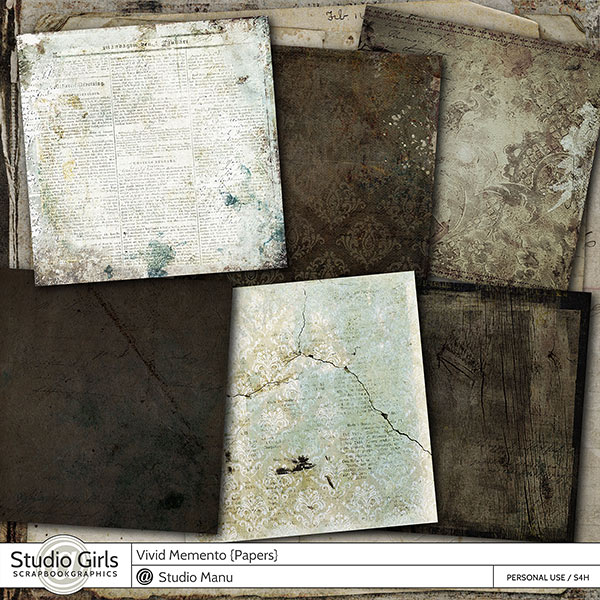 Time Immemorial Clipping Masks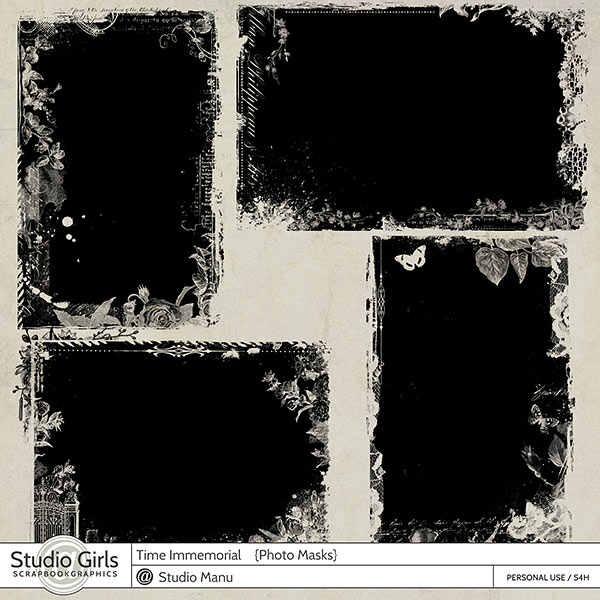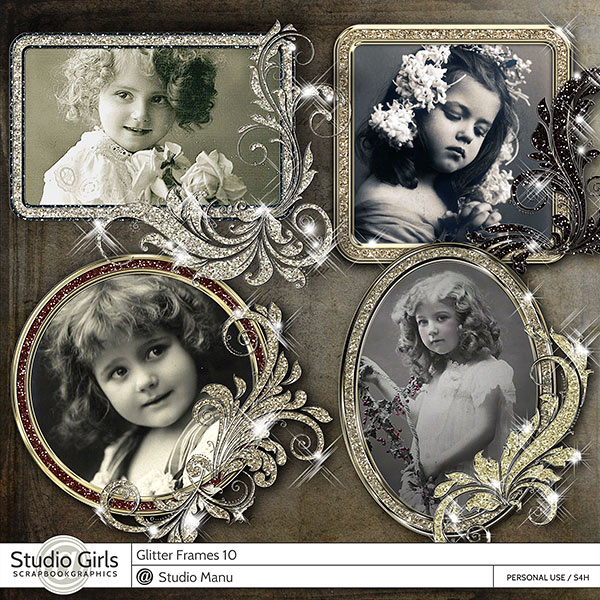 Whispers Of The Past – Page Overlays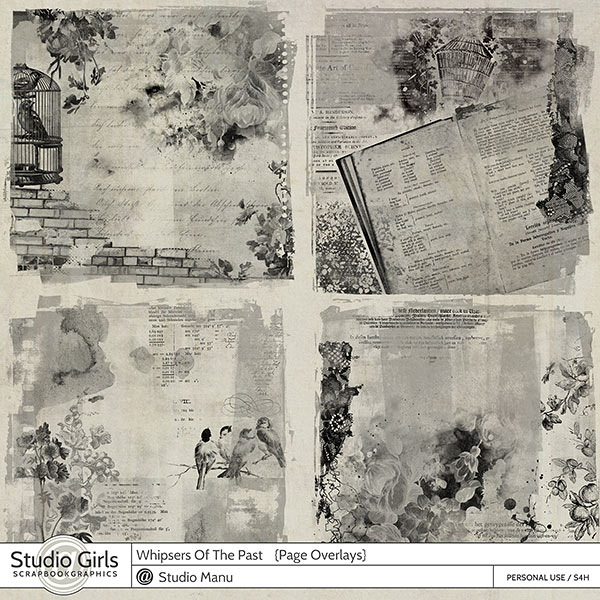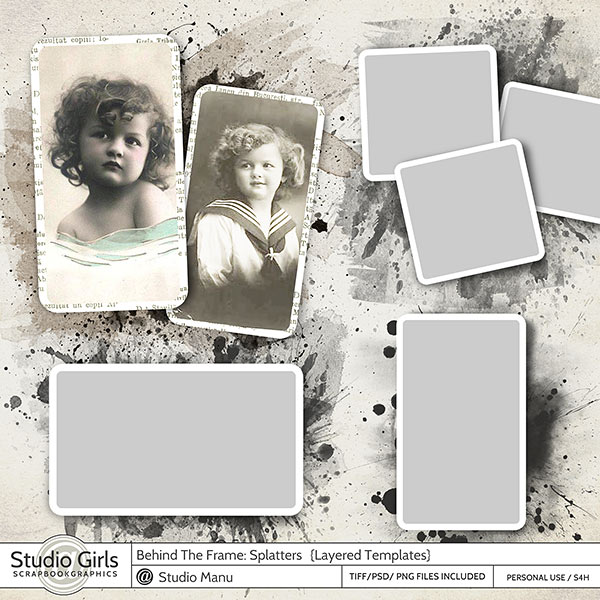 You get here 4 Frames and 4 Splatter Overlays.
Because these are layered files (come in tiff as well as psd files) you can play with them and mix and match them with each other. Each Layer is separately editable: The Frames, the shadows, the splatters behind.
Very fun to play around.
Inspiration
Newsletter Freebie
Today you'll get, if you are a subscriber to Studio Manu Newsletter, this little Vintage Christmas 5 Mini Kit Addon: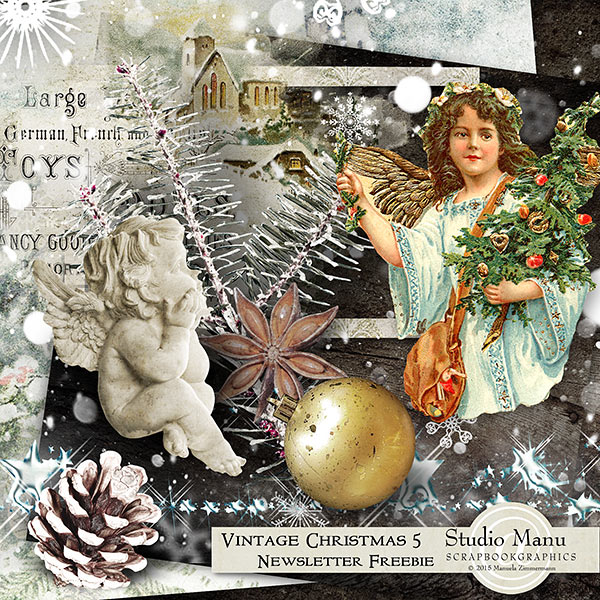 Blog Freebie
And you must take a look at this wonderful page created by the fantastic Jacqueline with Vivid Memento: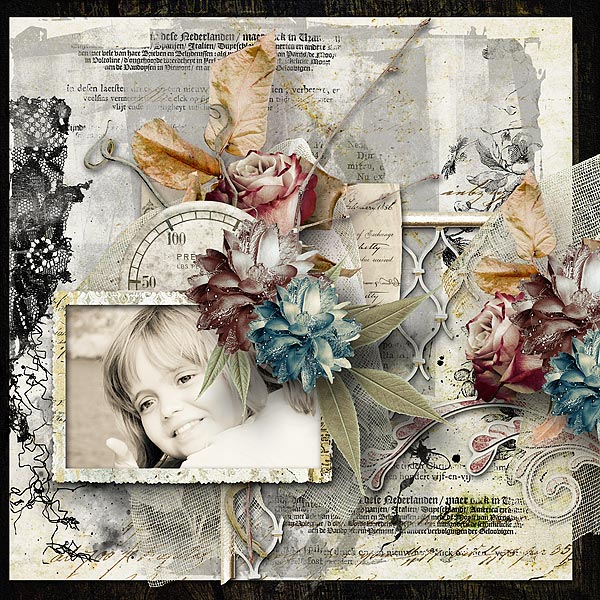 And you guess it … she made a Quick Page of her layout which you can download here right away.
Thank you so very much Jacqueline!
Please click the preview or the link below to start the download: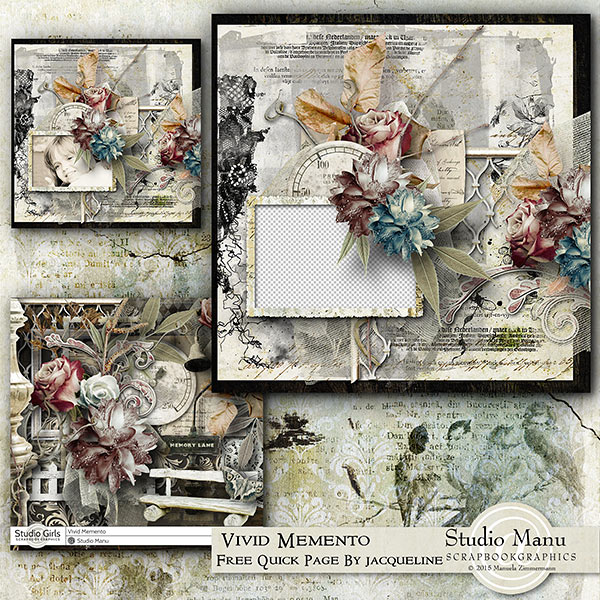 Thank you so much for your visit and reading 😉