I've added new weekly planner pages but gosh … I can tell you, I was so shocked last week as I turned the page in my planner from Sunday to Monday, to the next week. At least that was my plan to start to fill in but then Geez! … There was no new week. My first thought was I forgot to print but already knew that can not be.
I counted the days and weeks back and forth, always thinking that in no way 5 weeks can't be already over. Anytime I realized it is as it is. 5 weeks over and no new weeks.
So that was the start in the last week.
As from now on I mark in my calendar and hopefully it helps.
But I decided to add something new. I got a few requests to add Sunday – Saturday weeks too.
I wasn't sure because the folders are already huge filled with several file formats and size formats but at the end I decided to do so. I know many of you live in North America where the weeks start with Sunday.
So as from now on there will be always Sunday week starts included too.
Lets start to look at the ….
Weekly Planner Pages
Detailed Content:
Ready To Print:
♦ A5 PDF + JPG  Week Start Monday
♦ A5 PDF + JPG Week Start Sunday)
♦ A5 PDF + JPG undated
♦ Half Size PDF + JPG  Week Start Monday
♦ Half Size PDF + JPG  Week Start Sunday
♦ Half Size PDF + JPG undated
Editable:
♦ A5 Week Start Monday: PSD + TIFF (layered files)
♦ A5 Week Start Sunday: PSD + TIFF (Layered files)
♦ Half Size Week Start Monday: PSD + TIFF (Layered files)
♦ Half Size Week Start Sunday PSD + TIFF (layered files)
Included are 5 Weekly Planner Spreads to insert in your binder / organizer.
Completely customizable to whatever week/month/year you wish!
Ready made printable versions (Monday – Sunday | Sunday – Saturday) also included
Undated planner as well as with date stamps added:
Starting with week from Feb. 27 – March 5
last week included from March 27 – April 2, 2017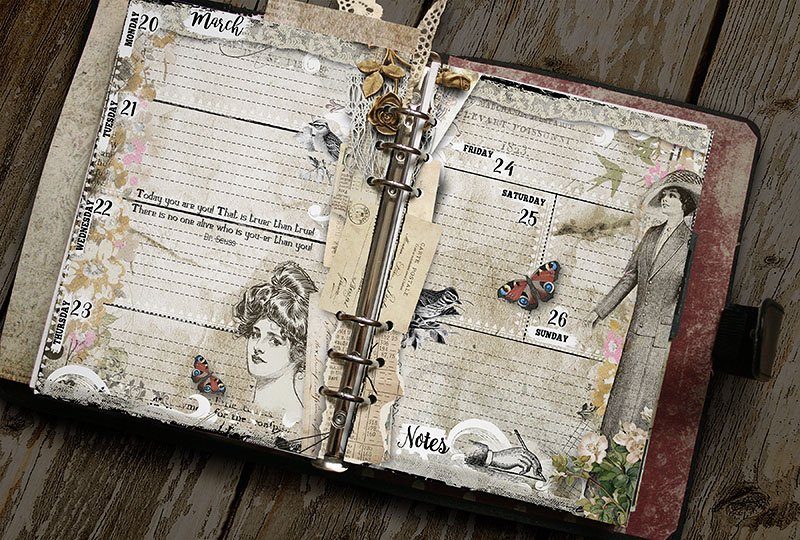 Included are 2 sizes: 
Half Size (11x 8,5 / 5,5 x 8,5),
Full Spread (Letter Size) consisting of both half size pages (left and right)
A5 (2480 x 3508 px / 1748 x 2480 px),
Full Spread (A4) consisting of both A5 pages (left and right)
You can easily choose in download section which format or file you want to download!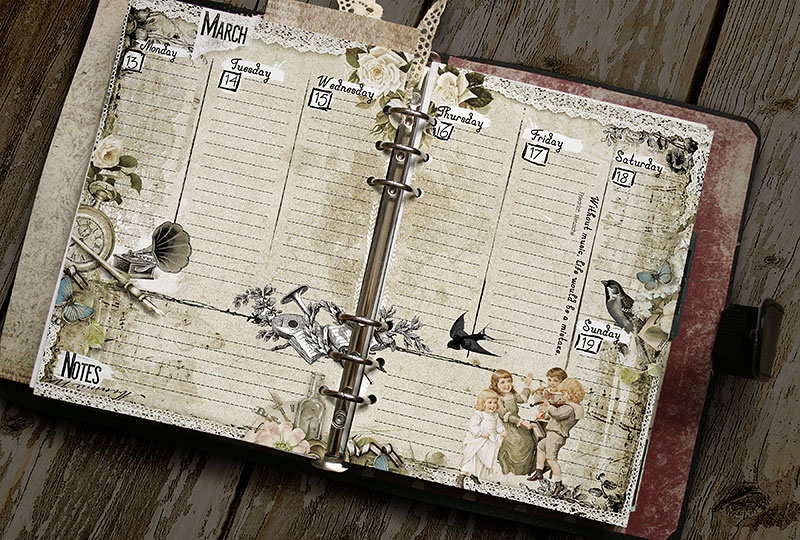 3 Options:
1st – If you have no Graphic Software/Program: 
Just print the PDF or JPG sheets and insert the dates, weekdays and the month manually after printing. Then hole punch and add to your binder/organizer!
Or print the ready made sheets, cut and hole punch.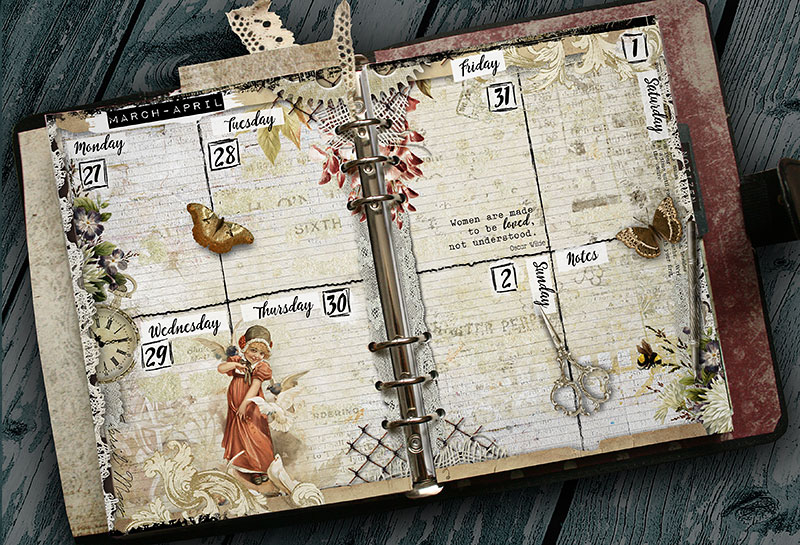 2nd – Your graphic software/program doesn't support PSD or Tiff files: 
You need to open the JPG sheet in your graphic program, add the dates, weekdays and name of month.
Then save and print!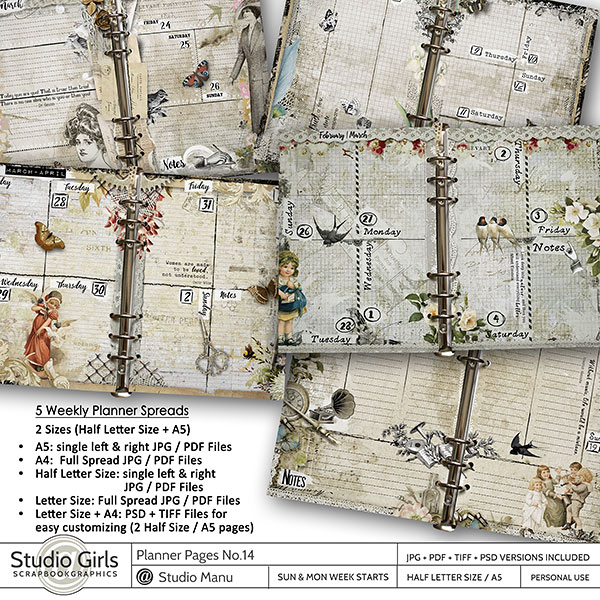 3rd – If your graphic software/program supports PSD and/or TIFF files: 
Open the layered file. Make the layers in the layers palette visible and start customizing your page.
You even can change Monday with Sunday, if your week starts with Sunday!
Add/change dates and name of month.
You can use this page again and again.
Save as JPG or PDF and print and hole punch and done!
>>> The Planner Pages are 38% off on limited time intro sale!
---
I also created a new printable Wall Art in addition to the Hey Mister Collection.
Now that it is ready I notice that it also works great with the Heart Of A Lion Collection.
Anyway – it's a wonderful masculine Wall Art.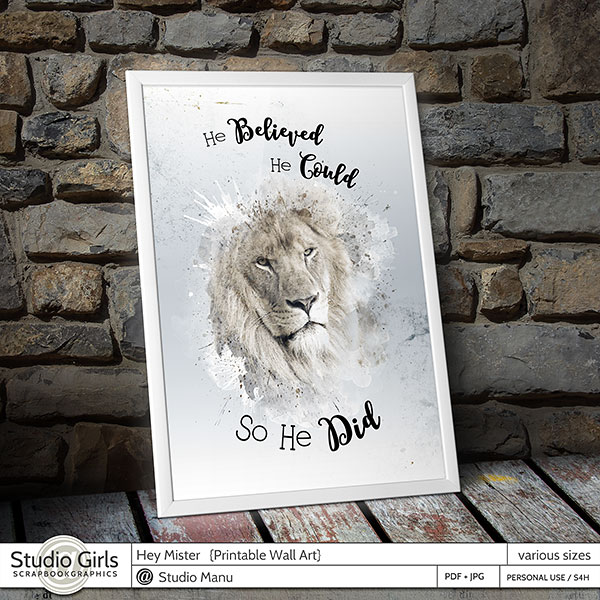 Many sizes to choose from included
♦ 2×3 ratio: 24″x36″ (60x90cm), 20″x30″, 16″x24″, 12″x18″, 8″x12″, 4″x6″
♦ 3×4 ratio: 18″x24″ (45x60cm), 15″x20″, 12″x16″, 9″x12″, 6″x8″
♦ 4×5 ratio: 16″x20″ (40x50cm), 12″x15″, 8″x10″, 4″x5″
♦ 5″x7″, 11″x14″
♦ International paper sizes: A1 (59,4 x 84,1cm), A2, A3, A4, A5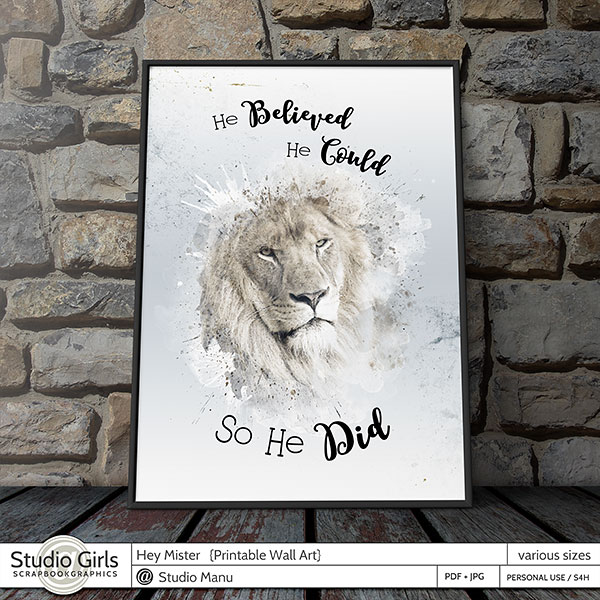 An easy way to decorate your home or office. 
Just print it out at home and frame it and you are done!
Or let it print at your local print store or use an online printing service and
let it deliver right to your door!
Included files:
High res JPG images and PDF files; 300 dpi
>>>  57% off on intro sale
---
Today I'll also send out a newsletter and the wonderful Cath played a bit with the Hey Mister Collection and made 2 amazing frame clusters she wants to share with you: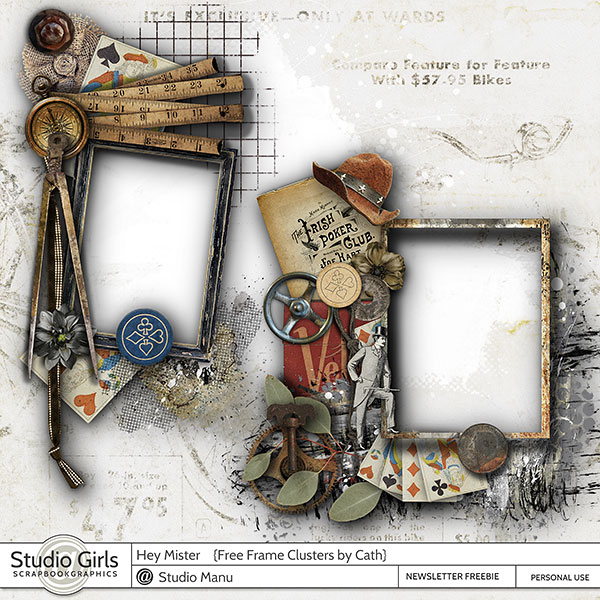 These will come later with the newsletter to all subscribers!
Thanks so much, Cath!