Hi everyone,
1st … I have new Freebies I want to share or better 2 amazing CT girls have Freebies created for you!
2nd … I used a new kit which is coming soon to scrap a page to show you what it will look like.
3rd … there are also new HUGE weekly bargains.
Chance to WIN!
Lets start with a layout I created yesterday using the new
upcoming Page Kit and the chance to win for you!
This page kit and it's additions will be released
in my guest store next week.
After Monday and Tuesday full of stress (my car got broken,
Paul's bicycle got broken in the middle of his way to school, the
cat got diarrhea, I had a medical appointment with such a
looooooong waiting time – you can't imagine) I relaxed yesterday a bit and
played the new stuff.
[singlepic id=2723 w=500 h=500 float=]
So on this layout you can see a bit of the new kit, I really enjoyed playing with it a bit.
If you want to enter for a chance to win the new page kit and it's additions just leave me a little comment here below this post 🙂
Good Luck!
Huge Weekly Bargains
On sale till Tuesday, Feb. 20th  – up to 64% off
–> just click the search button in case it's not there visible right away!
 

 

Our price: $1.90

Market price: $4.80
 

Our price: $1.90

Market price: $4.99

Our price: $2.00

Market price: $5.50
**************************************
 Newsletter Freebie
This package is created by Nathy's Creations!
She used the Wedding Collection to make a wonderful Quick Page
for you and additional she also
added a Frame Cluster and a Cluster without the Frame!
This Freebie comes later to all Studio Manu Newsletter Subscribers!
Thanks so much Nathy's Creations ♥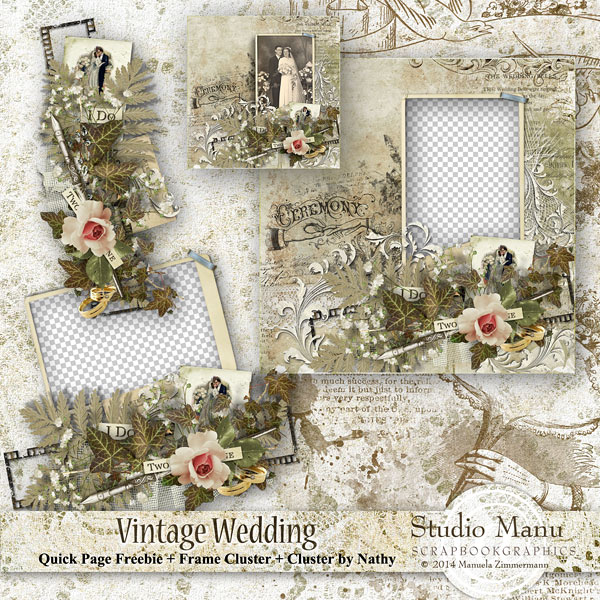 Blog Freebie
And again a super stunning Quick Page is made by the amazing Jacqueline!
I so love her beautiful pages, so creative every time!
Thanks so much, Jacqueline ♥
Click the preview to donwload or the link below: