Wishing you a very Happy Easter that is filled with plenty of love and happiness.
I have this week new Planner Pages for you, just in time I could finish them.
My 5 weeks I created in advance are coming to an end. So I needed new ones.
I so much love how they turned out, can't wait to fill them with ink.
And  there is a Special, very egg-citing Easter Offer for you:
Free Word Art Set with any paid purchase
Free Page Kit of your choice with any order over $15.00
Let's start with the Planner Pages No. 4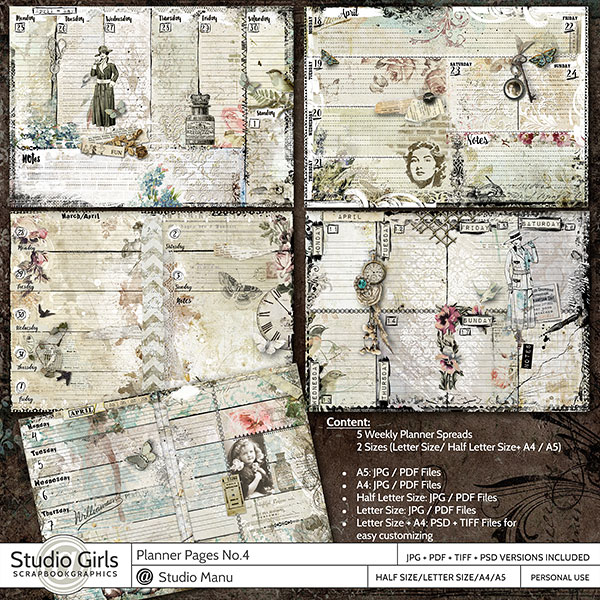 If you have no Graphic Software/Program:
Just print the PDF or JPG sheets and insert the dates, weekdays and the month manually after printing. Then hole punch and add to your binder/organizer!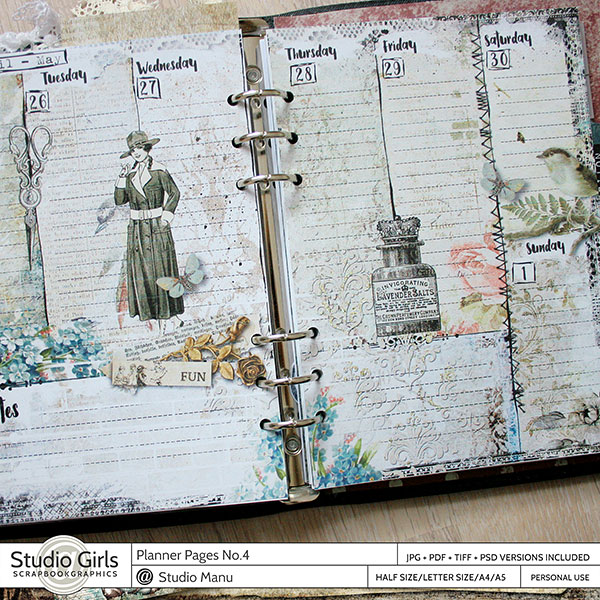 If your graphic program / software doesn't support psd and/or tiff files:
Open the JPG sheet in your graphic program, add the dates, weekdays and name of month.
Then save and print!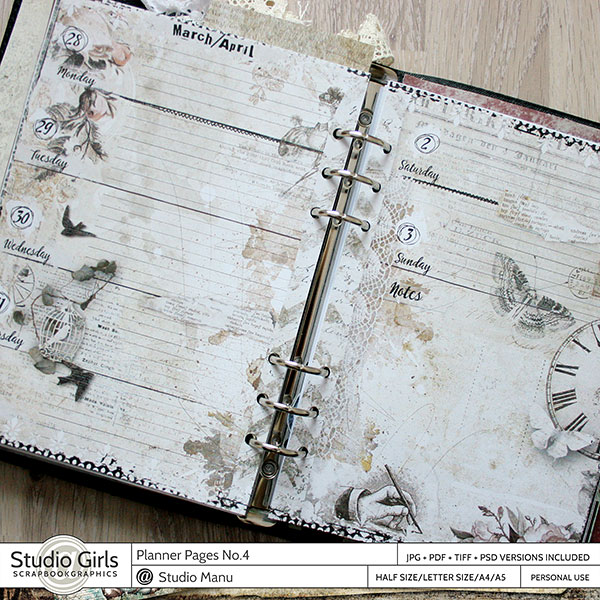 If your graphic software/program supports PSD and/or TIFF files:
Open the layered file. Make the layers in the layers palette visible and start customizing your page.
You even can change Monday with Sunday, if your week starts with Sunday!
Add/change dates and name of month.
You can use this page again and again.
Save as JPG or PDF and print and hole punch and done!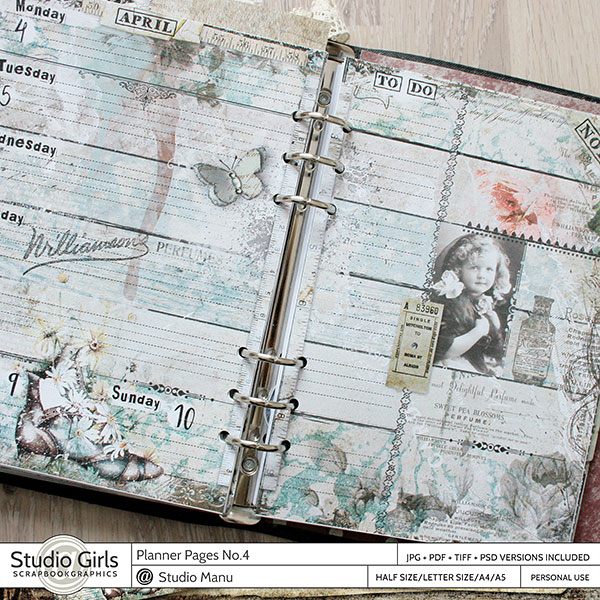 Included are 2 sizes:
Letter Size / Half Size (11 x 8,5 / 5,5 x 8,5)
A4 / A5 (2480 x 3508 px / 1748 x 2480 px)
(you can print the half pages separately or the full pages and then cut in half)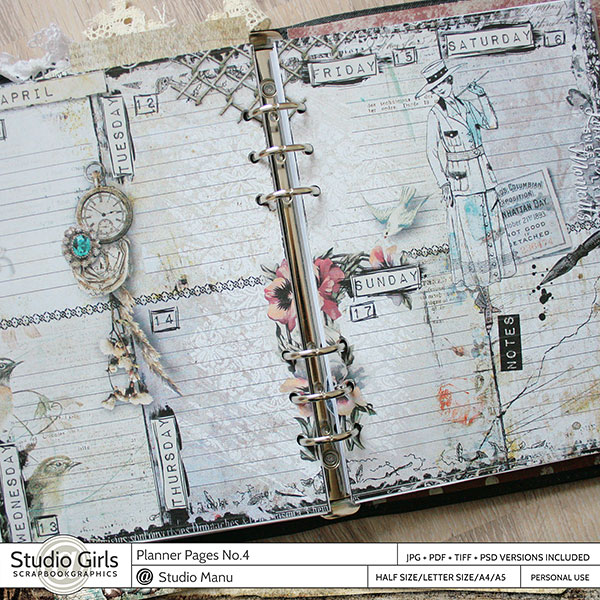 Each page comes as half page as well as full spread.
Included versions of each page:
PDF, JPG, PSD, TIFF
(PSD + TIFF Versions have the full sheet, half sheet, weekdays, dates and month on separate layers)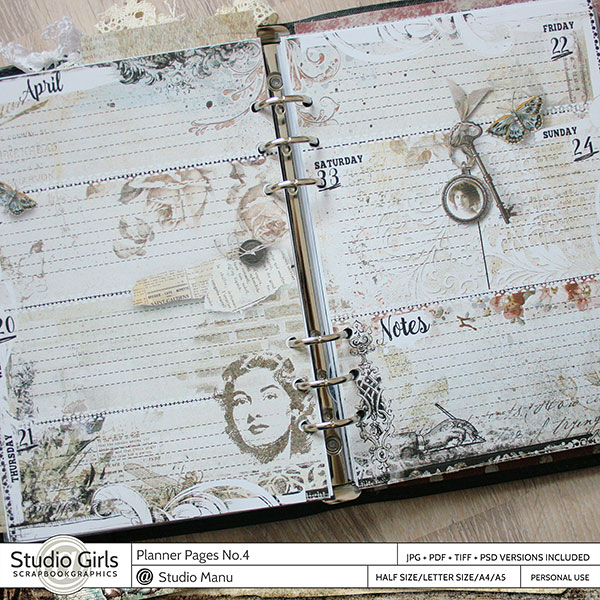 44% off on intro sale!
Sense Of Bliss – Word Art
Get it Free with purchase
I created these Word Art Set coordinating with the Sense Of Bliss Collection.
Get this product FREE with any paid purchase you make at Studio Manu
Offer ends March, 30
These are Quotes by Mark Twain, absolutely love his sayings.
So true always, makes you thinking sometimes and funny other times.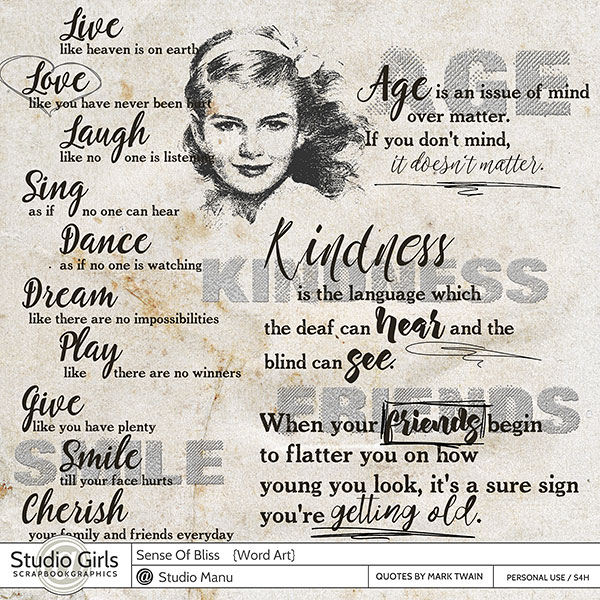 Included:
4 Word Art
1 Girlie Face Stamp
4 Single Words
5 Decors
Grab this product FREE with any purchase you make.
---
Here is another special and huge deal for you:
Grab a complete Page Kit for FREE with any order you make over $15.00
How it works:
1st  – Put anything in your cart
2nd – Put the Word Art Set in your cart, you see it's FREE
3rd – If your cart exceeds the amount of $15.00:
Go to the Kits Category and add additionally a Page Kit for FREE in your cart too
Look at this sample cart: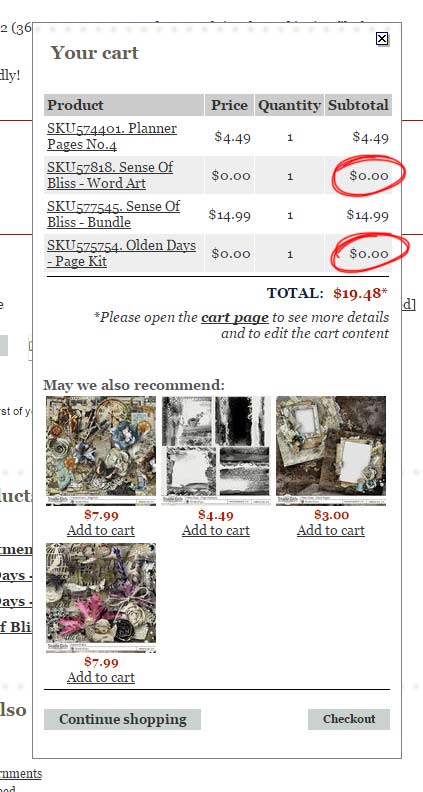 Offer ends March,  30.
I played a bit with the Page Kit and the Word Art: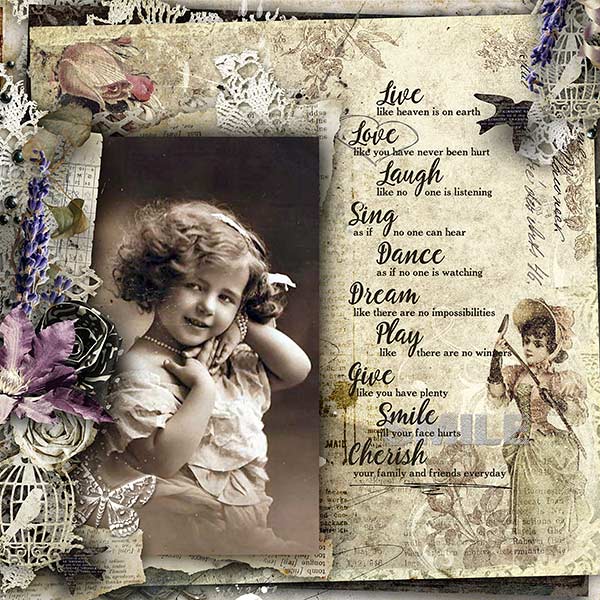 The Easter bunny brought this Quick Page today for you.
The best – you even need not to search around: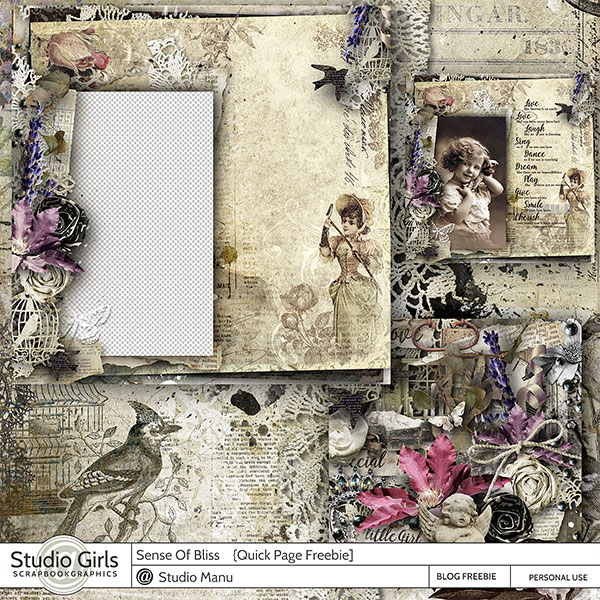 Please click the Preview or here: