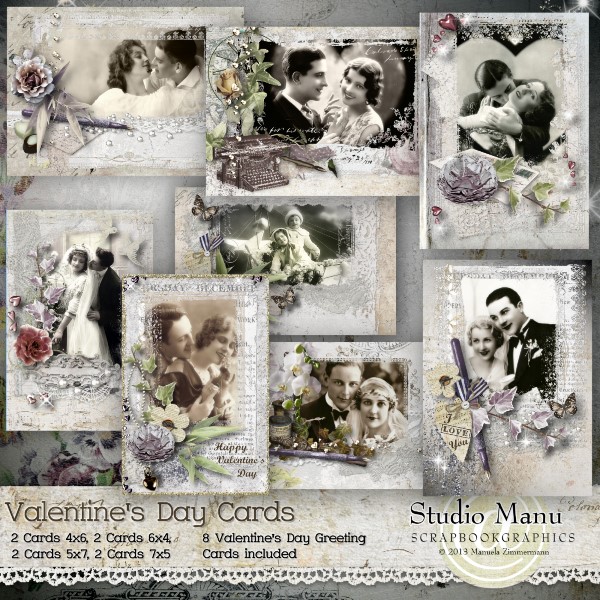 Valentine's Day Greeting Cards
Happy weekend!
I know there is still a bit time till Valentine's Day – but now it's the time to prepare everything.
How about to surprise your dearly loved ones with a personalized card? These cards are very special and they have a wonderful soft look. Except one card they come all without text so youhave the freedom to add your own words. And because they come without text on it they are also usable for other occasions. My Mother in law is getting 65 today and I printed 3 of the cards. So each of her grandchildren has his own card for her. You see – also for birthday wishes these cards are great usable.
Inluded 8 Cards in total, they come with front and back cover as well as the front only. Use them folded or just as card or post card. 4 cards are 4×6 and 4 cards are 5×7.
Valentine's Day Cards
Professional License for Photographers is also available!
********
Ein wunderschönes Wochenende!
Ich weiß, bis zum Valentinstag ist es noch etwas Zeit aber langsam kann man ja schon mal an das Vorbereiten denken.
Wie wäre es z.B. mit einer  wunderschönen personalisierten Karte für den/die Liebste(n)? Solche Karten sind wirklich sehr speziell und sie haben einen tollen soften look. Außer einer Karte kommen sie alle ohne Text drauf, so dass man auf jede Karte seine eigenen Worte schreiben kann. Deshalb sind die Karten auch wunderbar für andere Gelegenheiten nutzbar. Z.B. habe ich jetzt 3 Karten mit Bildern von unseren Kids "bestückt", ausgedruckt und jetzt bekommt Oma von jedem ihrer Enkelkinder eine eigene Geburtstagkarte. Also sie sind nicht nur für den Valentinstag, sondern echt vielfältig einsetzbar.
Drin sind insgesamt 8 Karten. 4 kommen in 4×6 (1200 x 1800 px) und 4 Karten sind 5×7 (1500 x 2100 px); 2 jeweils im Quer- und 2 Hochformat. Und im Paket enthalten sind Vorder- und Rückseite zusammen zum Falten in der Mitte und auch nur die Vorderseite – könnte man super als Postkarte verwenden.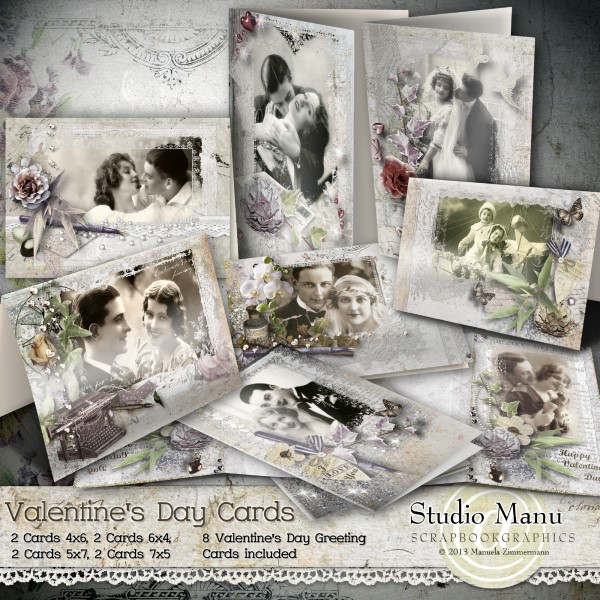 Check the cards out here —> Valentine's Day Cards
Then I have this week also some coordinatind sets with the never Forget Me – Page Kit.
First there is a set of … wow … awsome Vintage Frames.
Included are 5 pieces in total. Just love this old, antique, vintage look:
Dann habe ich diese Woche noch ein paar passende Sets zum Never Forget me – page Kit.
Als Erstes ist da ein Set mit wunderschönen Vintage Rahmen. Drin sind 5 Rahmen insgesamt.
Ich liebe einfach diesen alten, antiken, vintage look: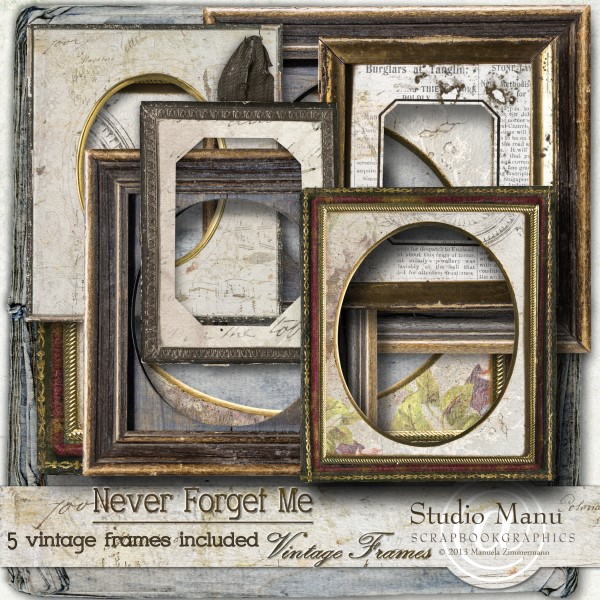 You can check out the frames here —> Never Forget Me – Frames
Here is a sample page using the Frames: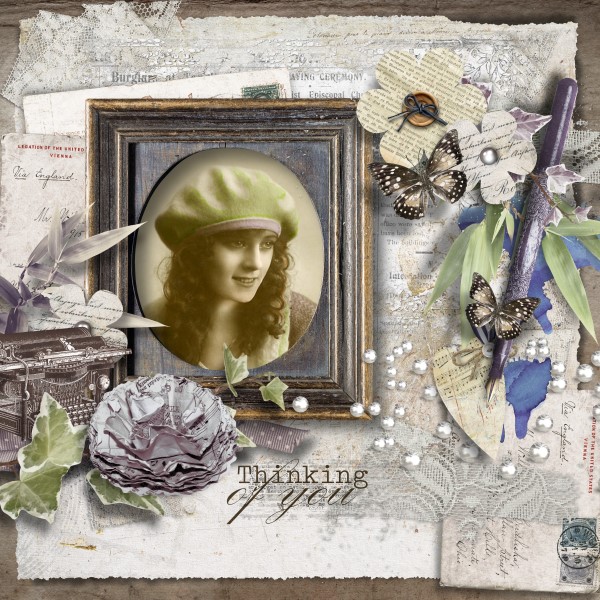 Never Forget Me – Photo Masks
And I also made a set of super fantastic Photo Masks coordinating with the Never Forget me Page Kit
Included are two versions of each Photo Mask. Included are 5 pieces and they come in plain and clear as well as shabby and distressed version.
Here the preview of the distressed Photo Masks: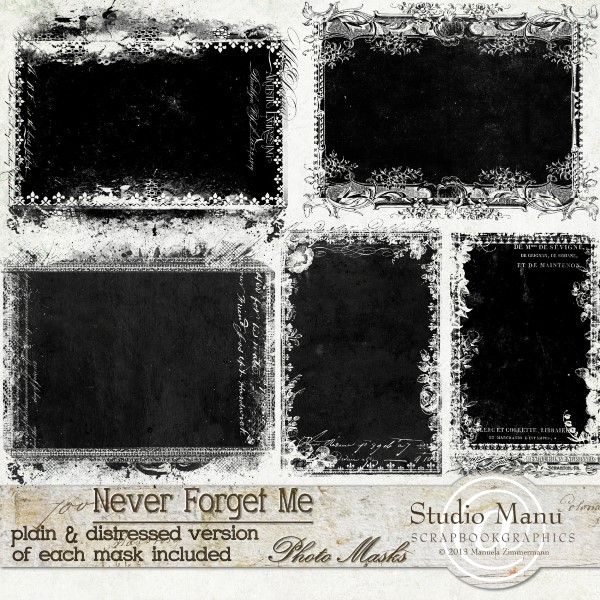 And here are the plain and clear photo Masks: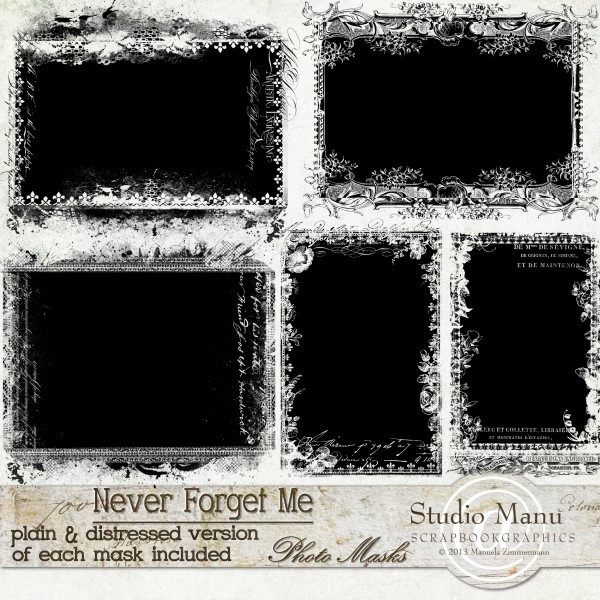 A sample page using the Never Forget Me – Photo Masks: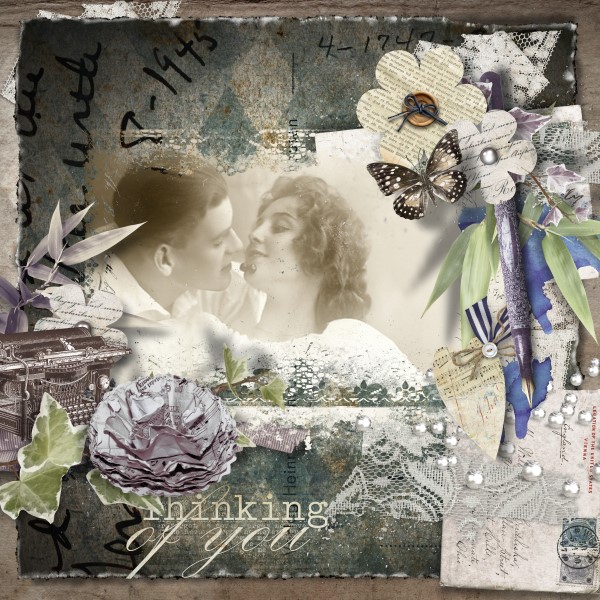 With today's newsletter all subscribers will get this wonderful QUick Page for free created by Yuki Nagato using the Never Forget Me Page Kit!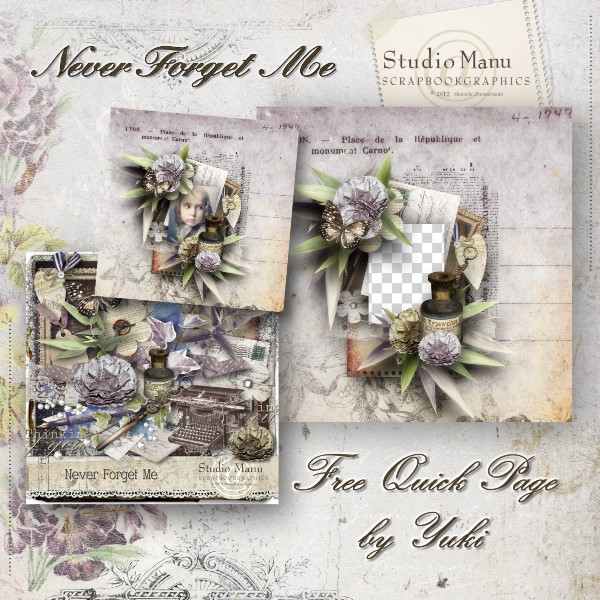 February Desktop Calendar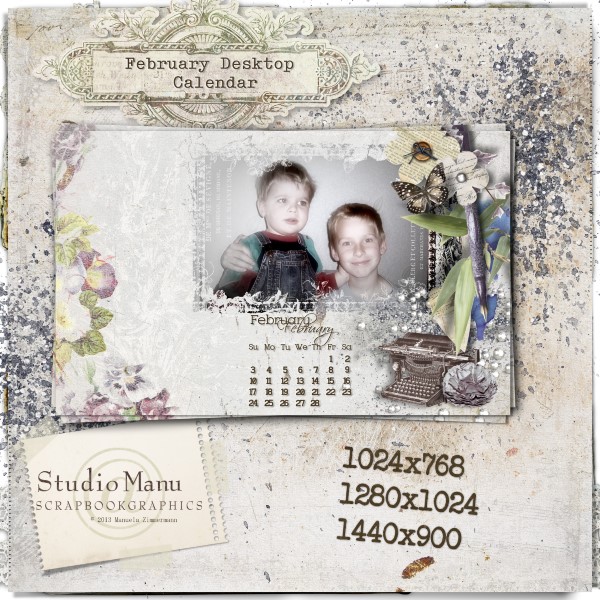 I know it's one day later … but anyway here is your January Desktop Calendar – comes in 3 sizes and each size comes with as well as without the calendar on it.
Have a wonderful weekend!